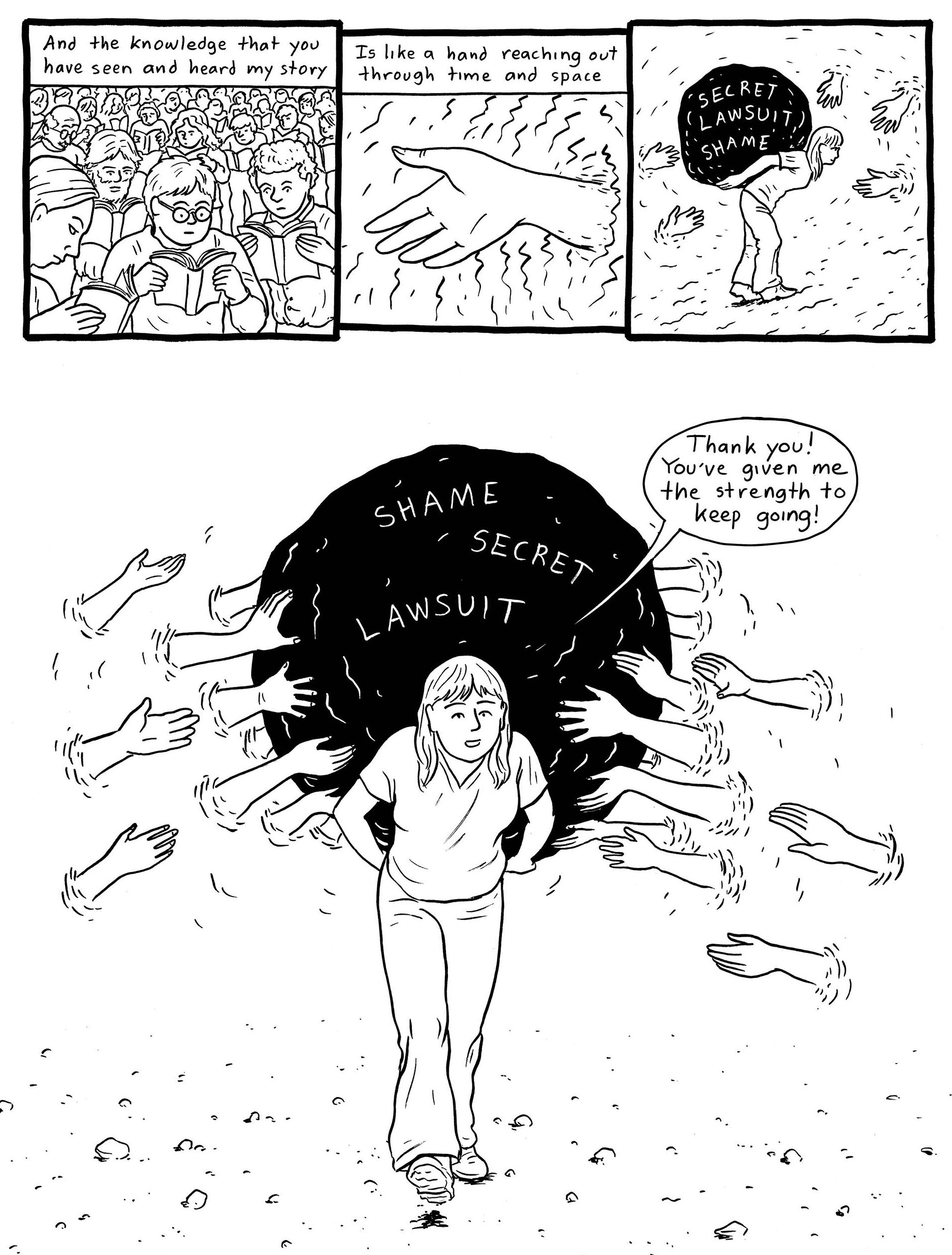 Our Little Secret is featured in The Eastern Graphic!


It has been a life-long journey for author Emily Carrington in dealing with childhood sexual abuse and now her hope is her graphic novel can in some small way help others. The British Columbia resident who previously lived in eastern PEI released 'Our Little Secret,' her first graphic novel earlier this year.




When Ms Carrington began sketching her story during a class in 2019, she didn't know it would become a full account of her experience that would eventually be published.


"The legal proceedings I started were dragging on for so long without a resolution I felt like it was more and more of a burden - a weight to carry the story - and it was becoming harder and harder to keep the story inside," Ms Carrington said.


Ms Carrington's novel is a powerful tool for survivors, said Kate Eastman, co-founder of Turn on the Lights, a PEI based non-profit dedicated to helping families and victims of childhood sexual abuse.




Both women agree more emphasis needs to be put on survivors and their well-being.




It was going through her own legal proceedings when Ms Eastman, also a survivor, noticed gaps in supports for victims.




In the beginning the organization's main goal was to show survivors they weren't alone. It has evolved into also providing financial support and helping individuals navigate through the courts. One aspect of that is aiding in the procedure to lift publication bans.




Typically when a sexual assault case enters the court system the crown requests the ban. This prevents the publication of any information that would identify the victim or witnesses. The justice system indicates the ban is for the benefit of victims and witnesses, but Ms Eastman, who had the ban lifted on her case, said it can be counter productive in helping the survivor.


"Sexual abuse is such a hidden topic that is so covered up a lot of the time. It is swept under the rug and people are uncomfortable talking about it and in my opinion that really does hurt survivors," Ms Eastman said.


Ms Carrington said putting her story down on the pages has helped take away some of that hurt for her.




"My hope is to bring more awareness to the topic and have people understand a little bit better what is going on," Ms Carrington said.




She said the messages are important not only to survivors, but for all of society.




"There are a lot of small messages and each person who reads it is going to get something different out of it. I think my biggest feeling with the book is there doesn't seem to be enough care and attention in society to protecting children," Ms Carrington said, noting she takes readers on a journey of how one child slipped through the cracks in a lot of ways.




She said it is important for people to realize every single person who has been abused is affected and supports need to be there. For herself, telling her story through the medium of a graphic novel has helped create a clearer picture of her experiences, she added.




"I could use the way I drew it to express emotion," Ms Carrington said, explaining how it would have been difficult to convey those same emotions through words.




Ms Eastman said 'Our Little Secret' helps put a face on survivors which in turn shines a stronger light on the abuse.




"We don't see a lot of stories like that," Ms Eastman said.




"It is an amazing story about how she survived it and how in her own way she has gotten justice for what happened to her and that she can actually heal by sharing her experience."