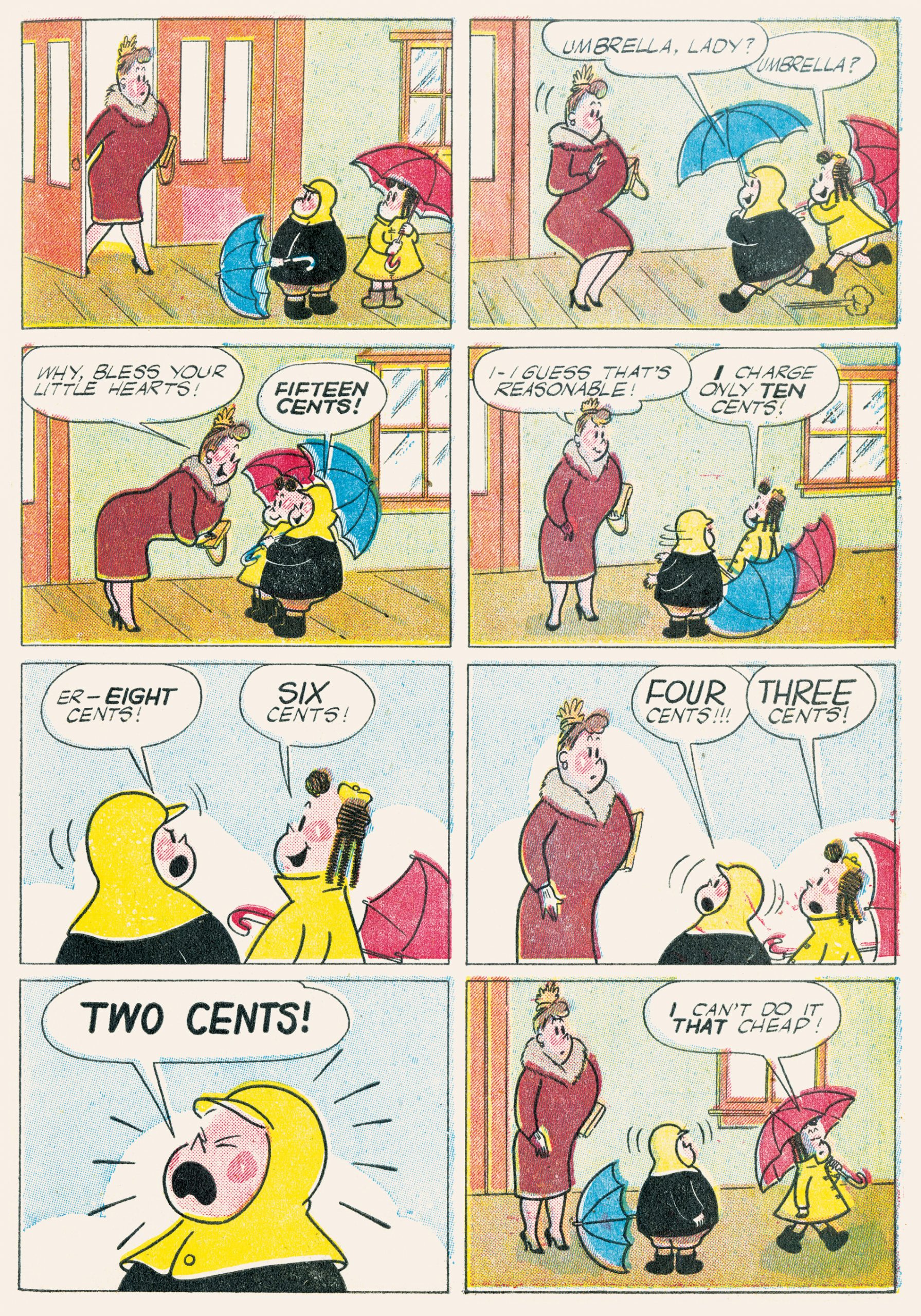 Winnipeg Free Press on Lulu 2!
The 1940s comic strip character Little Lulu is the feminist hero we need for our times. She uses her wits and draws on the collective power of neighbourhood girls to defeat boy bullies and break down the door (sometimes literally) to the boys-only clubhouse. She can be sensitive about her appearance and scared of ghosts, but she overcomes her insecurities with cheerful optimism, always pulling off a winning stunt in the end. And she is big-hearted and generous, even to younger kids like the pesky Alvin, for whom she spins wonderful tales that take over the strip. This is the second of five Little Lulu hardcover reprint collections from Montreal's Drawn & Quarterly.
It includes over two dozen stories first published by Dell comics between 1949-50, each of them between eight and 10 pages, occasionally interrupted by illustrated pages from "Lulus Diry." Fans will appreciate the comic book covers included at the end as well as an excellent overview essay by American writer and graphic novelist Frank M. Young. Little Lulu was created in 1935 by Marjorie Henderson Buell, a Philadelphia-born cartoonist and illustrator who started working under the pen name "Marge" in the 1920s. Little Lulu began in 1935 as a single panel cartoon for the Saturday Evening Post, and was then turned into a strip in 1945. When the strip was picked up by for newspaper syndication in the 1950s, a number of new artists and writers came on board. John Stanley, who drew all the strips in this collection, expanded the Little Lulu cast for the comic books by Dell.
In addition to the comics, Little Lulu also appeared in animated cartoons from the 1940s to '60s, and was heavily merchandised for products like Kleenex and Pepsi-Cola. Little Lulu is also a snapshot into a different era of childhood: parents let the neighbourhood kids run amok outside all day because they know they'll come home for supper eventually. They also leave them home alone to go out on the town, which inevitably results in broken vases, burned eggs and other domestic hijinks. Like the world of Charles Schulz's Peanuts gang, and more recently Lynda Barry's Marlys and Gilbert Hernandez's Marble Season, these suburban kids lead intense lives amongst themselves and make their own fun, for better or worse. But even when she's bad, Little Lulu's naughtiness serves a greater good, and she gets the best of pompous and conniving adults — such as the fame-hunting amateur botanist intent on stealing the rare "Fuzzythingus Poopi" flower that gives the collection its title. The bright four-tone colours have a retro feel supported by the 1940s clothing, hairstyles and background details. Stanley's layouts and storytelling structure build suspense and use comic repetition to good effect.
The language — Lulu loves to tell boys when they're being "fresh" — dates the strips, but this just adds to their charm and the pleasant surprise at how current many of the stories are. In her preface, poet Eileen Myles shares her love of Little Lulu and singles out the character's vivid storytelling as something she aspired to as a child. She also reports this female protagonist was much loved by both girls and boys when she was growing up. Despite the battles between the genders often on display, Lulu's resourcefulness and resilience has a universal appeal and these strips are pure pleasure. Candida Rifkind is professor in the Department of English at the University of Winnipeg, where she teaches and researches comics and Canadian literature and culture.