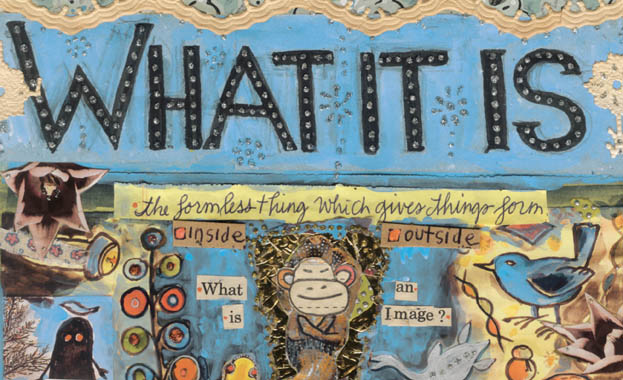 WHAT IT IS reviewed by Pop Candy
Lynda Barry is one of the artists who got me into comics. While living in Chicago, I read Barry's weekly strip in the Chicago Reader and instantly fell in love with her characters, which evoke layers of childhood wonder, curiosity, humor and sadness. Over the years, I have devoured Barry's books, including The Greatest of Marlys (my favorite), One Hundred Demons (read it in one sitting), The Freddie Stories (also awesome) and Cruddy (a heartbreaking, disturbing coming-of-age novel).

I don't have any tattoos, but, if I ever get one, I've considered inking myself with a Lynda Barry-drawn octopus. They are the best.

Anyway, Barry's new book just arrived in stores, and it's a part-memoir, part-creativity guide called What It Is (Drawn and Quarterly, $24.95). In it, the artist shares her life story and art-making advice via colorful collages and narrative pages. If you're stuck on an artistic project, this might help you get out of that rut. The book could also make a fun gift for that artsy person in your life.

Below is an exclusive, seven-page excerpt from the new work. Click the images to enlarge them. If you want a signed copy, Barry will be appearing at this year's MoCCA Art Festival in New York.