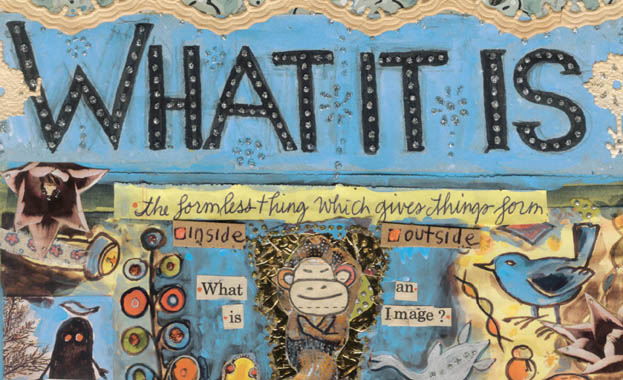 WHAT IT IS reviewed by Philadelphia City Paper
Lynda Barry once wrote that the good times were killing her, but the bad times seem to have brought her back. With her comics falling out of print (CP dropped her syndicated Ernie Pook's Comeek in 2006 after a 20-year run) and her publisher rejecting new work, Barry channeled her creative energies into teaching a workshop called "Writing the Unthinkable," which in turn formed the basis for What It Is (Drawn and Quarterly, $24.95).

Part memoir, part manifesto and part workbook, the pages of What It Is overflow with text, collage and brightly colored images, which, she writes, are "alive in the way thinking is not, but experiencing is." Using pictures to key memory (as ever, the basis of her work), Barry explores the artistic impulse at its root: What makes us create, and how can we free that impulse from the fetters of self-doubt? At once inspired and inspirational, What It Is is a shot in the arm for artists and admirers alike.