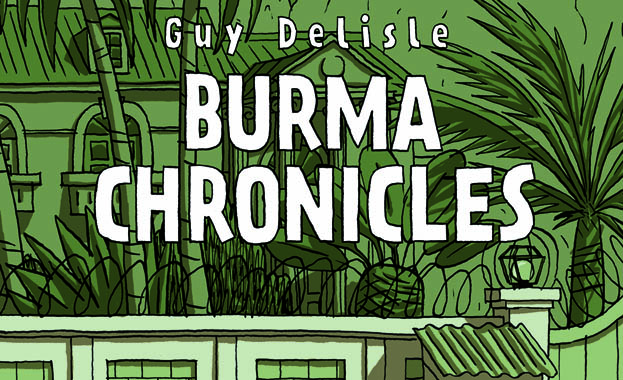 WHAT IT IS, BURMA CHRONICLES, GENTLEMAN JIM and BERLIN 2 reviewed by Globe and Mail
The best books are often hard to classify. Lynda Barry's autobiographical, instructional and inspirational graphic novel What It Is (Drawn & Quarterly, 210 pages, $24.95) is one of these, because it's both an intensely personal memoir of Barry's creative life and a writing guide. Oh, and it's a DIY creative activity kit too. So where to shelve it? The newly minted graphica section? Art? Psychology? Activity books? Memoir? Although the most autobiographical of Barry's books, What It Is is also a creative text presented in a very original way, so it most naturally belongs next to Julia Cameron's The Artist's Way.

Regardless of where it's shelved, What It Is is unique. It starts with Barry herself, whose creative life has stalled. Working through and diagnosing her malaise and writer's block, she becomes introspective. "The thing I call 'my mind' seems to be kind of like a landlord that doesn't really know its tenants, " she begins. Her path as an artist began in childhood and Barry establishes a connection between the importance of imaginative childhood play and art and creativity in adulthood; both, she argues, are essential to well-being.

Art and embellishment fill page after page of yellow legal paper, divided into three distinct sections identified by the colour of page borders. Over these 200 pages of dense, personal material, Barry examines the nature of imagination and memory, combines comics and collage and blurs the distinction between drawing and handwriting. It's much the same way someone might doodle while talking on the phone. Barry thinks most adults continue to do this long after they've given up on art, "because it helps us maintain a certain patient state of mind and there is a part of us which has never forgotten this ... a place where one line can still follow another without a plan."

Stamps and postmarks appear both as decoration and reminders of the passage of time when Barry considers memory and its use in creativity. Here, she poses many questions: "Is a dream autobiography or fiction?" "What makes us able to imagine something?" and the two supreme questions that haunt every artist, whatever the medium: Is this good? Does it suck?

The middle section, called Activity Book, is filled with the exercises Barry uses in her popular creativity workshops: helping others mine their creativity functions as an inspiration to her own. In the final section, Barry provides the essentials of a DIY writing kit, such as words to cut out and tips on materials (a three-ring binder and loose-leaf paper - all in Barry's unique baroque collage style.

Text and image interplay in many ways: Text lies inside an image (unlike a word balloon) and strips of found typography add texture. Ad slogans, sentence fragments, lists of names and random words become a sort of poetry, interspersed with product advertisements clipped from old newspapers and magazines and even glitter. Occasionally, Barry uses vintage primer page for practising children's letters as her sketch paper, superimposing her recurring menagerie of fish, squid, dogs and monkey sketches or cutout pictures of birds. All these images decorate Barry's text rather than merely illustrate it, like an illuminated manuscript. It's an extraordinary peek into the mind of the artist.

…


After visits to Pyongyang and Shenzhen, Guy Delisle shifts his autobiographical travelogue shtick with Burma Chronicles (Drawn & Quarterly, 264 pages, $19.95). By now a habitué of culture shock, Delisle is chocked by nothing. His talent is noticing the peculiar mundane details of whatever latest totalitarian milieu (this time Rangoon, thanks to his partner Nadège's year- long posting with Médecins sans Frontières).

This time, their toddler son Louis is in tow and Delisle is a househusband, which enables him to add a few new notes to his repertoire of Seinfeldian nothingness, as when he pushes Louis's stroller up to armed guards at a barricade ("a white-skinned baby is a big draw here") to get close to the world's most famous political prisoner, Aung San Suu Kyi, a dissident under house arrest since 1988 and Nobel Peace Prize laureate.

Delisle's observations are at once banal and absurd: Currency is in denominations of 15, 45 and 90 kyats, a "nice way to drive people nuts or make them math wizards." At the supermarket, Nescafé's ubiquitous grinning cow is "the real face of globalization," and he points out the irony of a grocery store playing the songs of anorexic fatale Karen Carpenter in constant loop for ambience.

Nathalie Atkinson is a Toronto freelance journalist who very much wishes she could draw.

***

A cluster of comix

BERLIN
City of Smoke: Book Two
By Jason Lutes, Drawn & Quarterly, 210 pages, $19.95
This long-anticipated sequel to Berlin: City of Stone (2001) recreates the Volatile Weimar Berlin of 1929, a world of Nazis and communists, Jews and gentiles. Lutes handles the sense of menace with delicacy and force.

GENTLEMAN JIM
By Raymond Briggs, Drawn & Quarterly, 32 pages, $14.95
A welcome reissue of a 1980 work by the wonderful author of Ethel & Ernest marks the first appearance of the Bloggs family, stand-ins for Briggs's own parents. Cartoonist Seth adds an illuminating introduction.

Martin Levin

© 2008 CTVglobemedia Publishing Inc. All Rights Reserved.