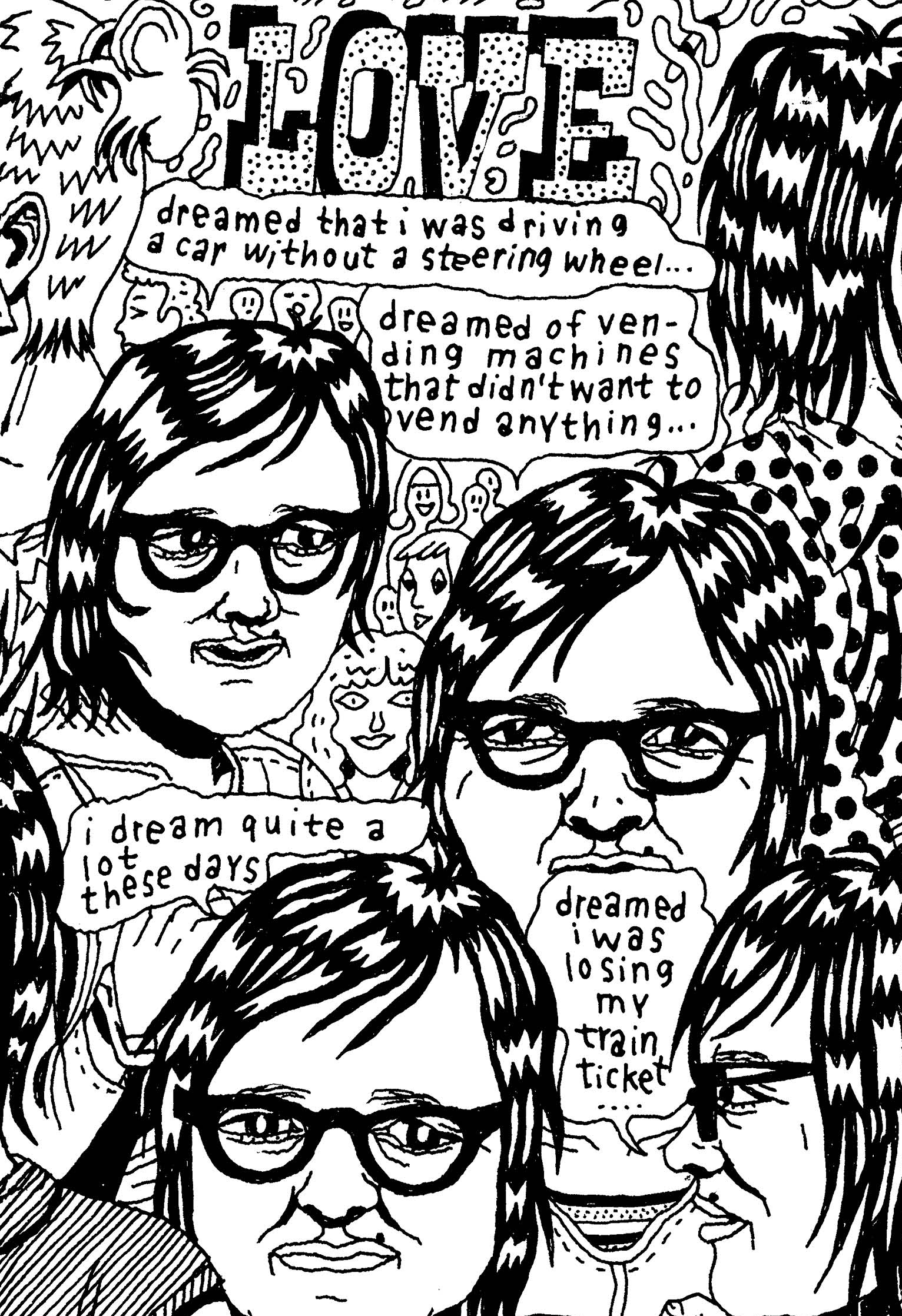 Time Zone J reviewed by Chicago Reader
In 2018, the Reader ran a cover story: "Julie Doucet is done making comics." The underground artist famously abandoned the scene in 2006, leaving fans of her cult-classic series Dirty Plotte and graphic novels like My New York Diary bereft. Through the years, her autobiographical comics became renowned in the canon. She explored other art forms like poetry and collage. But fans didn't dare to hope for her comics return.

Which makes her 2022 graphic novel release even sweeter. After our long wait, Julie Doucet is back! On April 19, publisher Drawn & Quarterly released Time Zone J.Through densely illustrated pages and a stream-of-conscious monologue, 52-year-old Julie dredges through the chaos of her memories—focusing specifically on a frighteningly intense love affair from her early twenties. The book feels like sifting through the junk drawer of Doucet's mind: the random phrases, patterns, dreams, and faces she's squirreled away over the years, ready to be examined in stark black and white.

The book does not crumble under the pressures of a 16-year-long break. Time Zone J is a triumph of nostalgia and memory. It's the ideal follow-up to a long hiatus: a new work that builds on her past, while simultaneously elevating her entire (already very impressive) oeuvre.

The first page begins with a remembered promise: "I had vowed to never ever draw myself again." She immediately, spectacularly, breaks this vow. Every page compulsively features her face drawn as she appears today—in her fifties, with thick-framed glasses and side-swept hair. From this vantage point of middle age, she dissects the complicated memories of her twenties.

Narrator Julie recently reread her diaries. She's been dreaming of old friends. The full-bleed pages crowd with black-and-white illustrations, every inch packed with chaos. It feels like she sawed the top off of her skull and dumped the contents across the page. The French fold binding allows the illustrations to flow from one page to the next. If you could lay them out side by side, they would form one continuous image. This feat imbues every spread with wild momentum, but the drawings don't necessarily tie to Julie's written narrative. There are no sequential comics frames, no recurring characters besides Julie herself. Instead, the drawings feel like organic additions to her written word, figurative connections rather than literal representations.

From her tangle of memories, a central plot emerges. The postal service played a huge part in the 90s underground comics world. During the Dirty Plotte heyday, Julie becomes pen pals with a young French soldier called the Hussar, and their overseas correspondence quickly turns romantic. When Julie visits Paris the two meet, and fall into a months-long grappling between lust and violence, romance and obsession. She never draws a human version of the Hussar. Instead, he appears as a bird, word bubbles spilling from his beak as he flits from page to page.

Read the rest of the review here!