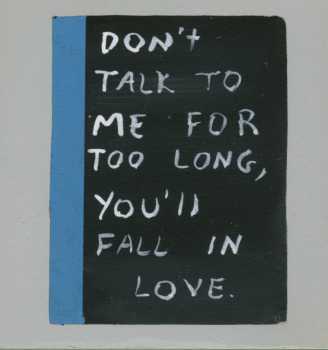 Three D+Q fall titles featured in CBC Books
Library is a collection of paintings by two of Canada's most influential contemporary artists. From the simple premise of the book title comes a series of funny images. Book covers with titles painted in simple handwritten fonts are displayed on brightly coloured hardboards. Each book forms part of an ongoing series Dumontier and Faber started in 2009.
When you can read it: Sept. 14, 2021
Dumontier and Farber are founding members of the art collective The Royal Art Lodge and have been collaborating on art projects for more than 15 years. Dumontier is a contemporary artist based in Winnipeg. He is best known for his minimal paintings and collages. Farber is a contemporary artist based in Winnipeg. He is best known for his ink and watercolour drawings.
--
This is How I Disappear offers a glimpse into the ways millennials cope with mental health struggles. Clara's at a breaking point. She's got writer's block, her friends ask a lot without giving much, her psychologist is useless and she is burned out from work. The book is a portrait of a young woman wrestling with psychological stress and the trauma following sexual assault.
When you can read it: Oct. 5, 2021
Mirion Malle is a French cartoonist and illustrator who lives in Montreal. She has published three books. The League of Super Feminists is her first book translated into English and it was nominated for the 2020 Prix Jeunesse at the Angoulême International Comics Festival.
--
Leonard Cohen: On a Wire is a graphic biography of the legendary musician and poet. Written with details and drawn with rich colours by cartoonist Philippe Girard, Leonard Cohen is an engaging portrait of a cultural icon.
When you can read it: Oct. 26, 2021
Girard is a comics artist from Quebec. He published his first comic in a children's magazine when he was eight and has since published more than 20 books. His comics have received awards such as the Joe Shuster and the Bedeis Causa Awards.