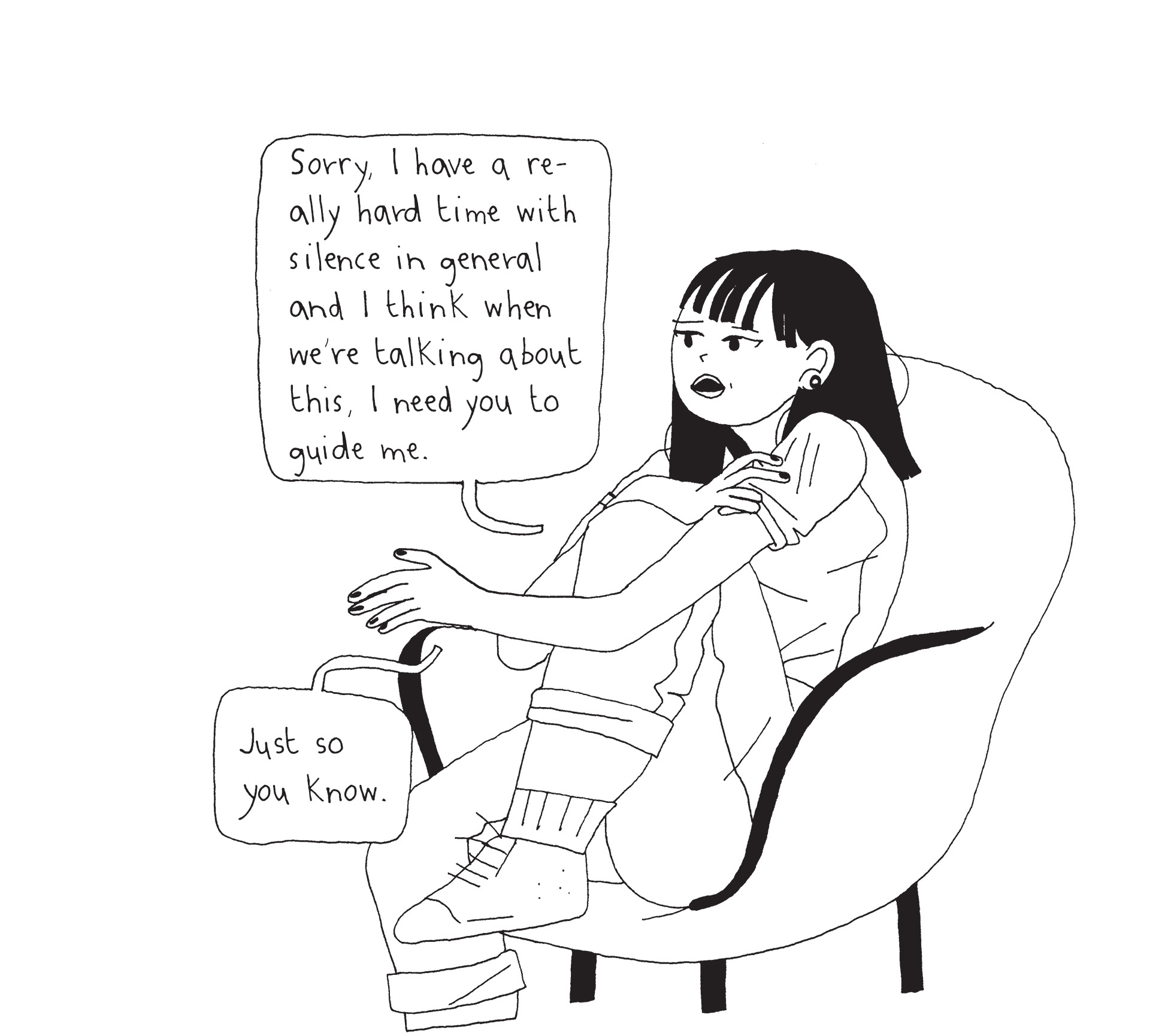 This is How I Disappear reviewed by Terry Hong
Twenty-something Clara could seem content with her life: caring friends, social invitations, cozy apartment, a career in publishing, even a book contract. But French Canadian cartoonist Mirion Malle (
The League of Super Feminists
) introduces her protagonist with a speech bubble--a disturbing confession revealing "the first time I felt like I wanted to die, I was probably, like, twelve?" Translated by Aleshia Jensen and Bronwyn Haslam, Malle's satisfying graphic novel deftly captures the struggles of a young woman battling depression caused by sexual violence.
Malle's stark black-and-white line drawings are mostly just outlines, as if Clara is literally missing the substance necessary to ground her. Indeed, she's barely getting by, withdrawing into isolated darkness. Most of her friends want too much of her energy; her boss doesn't respect her time or accomplishments; her writing leaves her (and her screen) blank. When she can, Clara attempts to get out, provides a shoulder to cry on, does her job, but more and more, being miserably alone is easiest. "I can't even remember what it it's like to feel good," Clara desperately divulges to an empathic friend who's ready to listen fully, to understand without judgment even when she reveals "that dying feels easier." Help, she concedes, might be possible to accept.
Malle writes with exposed vulnerability, her art aptly raw, almost chaotic with unstaunchable tears, overwhelming emotions. Her panels vary from page to page--framed or uncontained, unpredictably sized--deliberately eschewing consistency. Pages turn blank, reflecting Clara's empty exhaustion; pages become black, mirroring unbearable torrents of sadness. The result is haunting--and yet by book's end, surprisingly uplifting. --Terry Hong, 
Smithsonian BookDragon
Discover:
 Mirion Malle's raw, stylized b&w line drawings incisively capture the breaking-point vulnerability of a young woman suffering depression resulting from sexual violence.