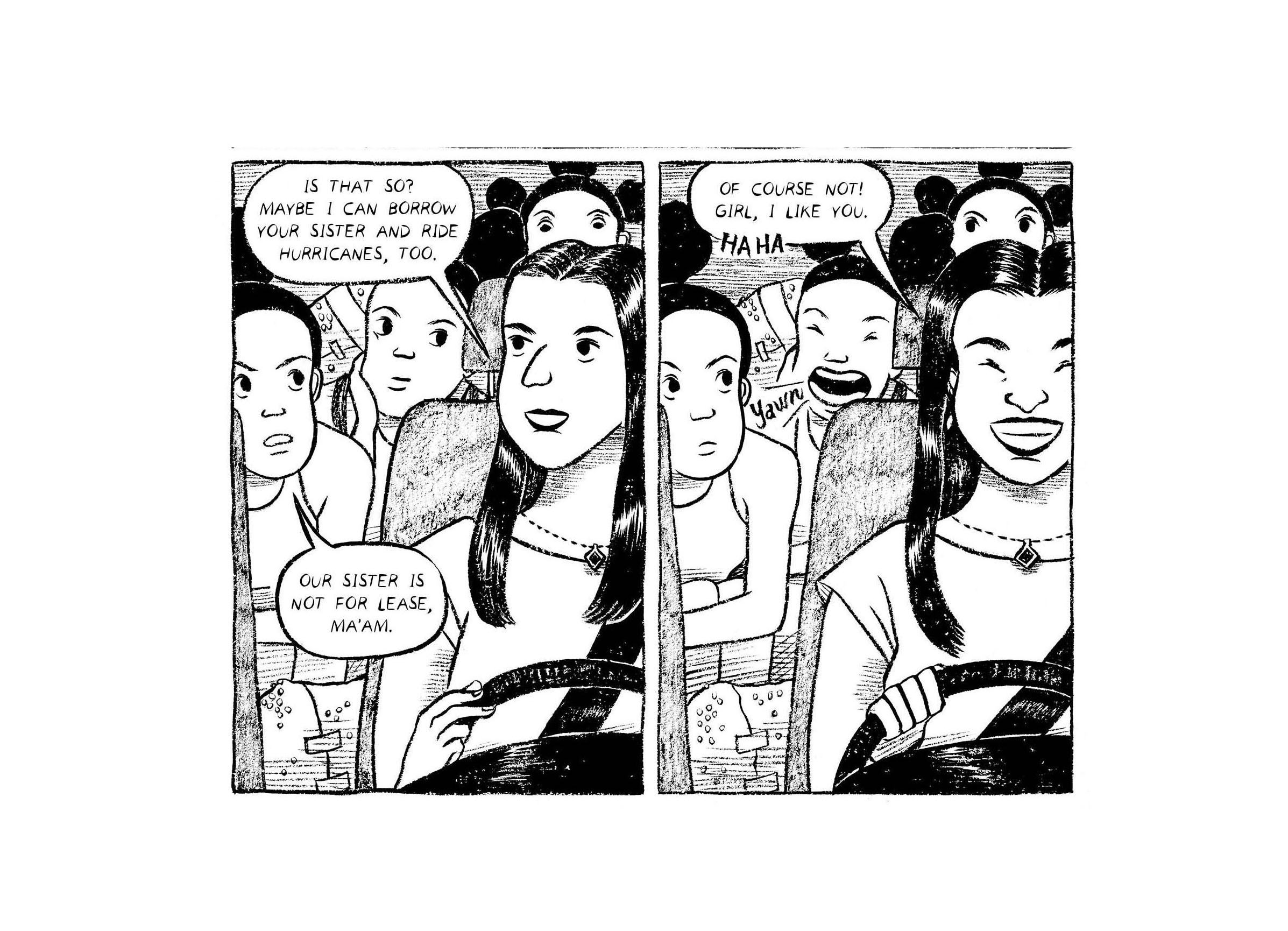 The Peanutbutter Sisters receives a rave review in Winnipeg Free Press
After her stunning debut story collection Nori, Japanese-American cartoonist Rumi Hara returns with The Peanutbutter Sisters and Other American Stories, a genre-bending, eye-catching collection that showcases Hara's imaginative eye for detail and deft ability to blend surreal elements with everyday life.
Like Nori, this work also began as a series of minicomics before its collection here, and the transitional pages between stories maintain a 'zine-like quality by way of two-dimensional, repeated images of "Builders," inked in black and white with pops of colour. These static images also evoke traditional Japanese ukiyo-e, or "floating world" woodblock prints, complete with flora, fauna and increasingly risqué content.
The titular Peanutbutter sisters are also a repeated visual motif, the three of them often drawn as a singular entity that contrasts with surrounding objects. One panel shows bottles of Coke, sketched in triplicate, their status as cultural Americana echoing how the girls' father wanted his daughters to "have a true American name. A name that evokes heritage and love in this country. So he ditched his foreign name and made [them] the Peanutbutters."
As Hara remarks, both places and names are crucially important to stories, but the girls' iconic names (Mississippi, Georgia and Alabama) are also fitting for three sisters with superpowers. They can read winds and ride hurricanes to alternate locations, and Hara depicts their journey with unabashed joy and an impressive sense of motion.
Though they may be superheroes, the Peanutbutters are also young women, and resorting to hitchhiking is not without danger; in one instance, the sisters steal a predator's car and list it for sale on the same online storefront he recognized them from. The item description reads that the car was "retrieved from a villain," a caption that restores reality to an otherwise whimsical story.
As a collection,
The Peanutbutter Sisters
is grounded in a very real sense of place, from vivid New York landscapes of billboard-laden Times Square to the less glamorous Newton Creek area. Often, objects in these panoramic illustrations also double as panel borders, as a streetlight, a parking sign or a treeline cleverly segments the storytelling, while retaining the same fluidity and momentum as Hara's characters.
Read the rest of the review
here!