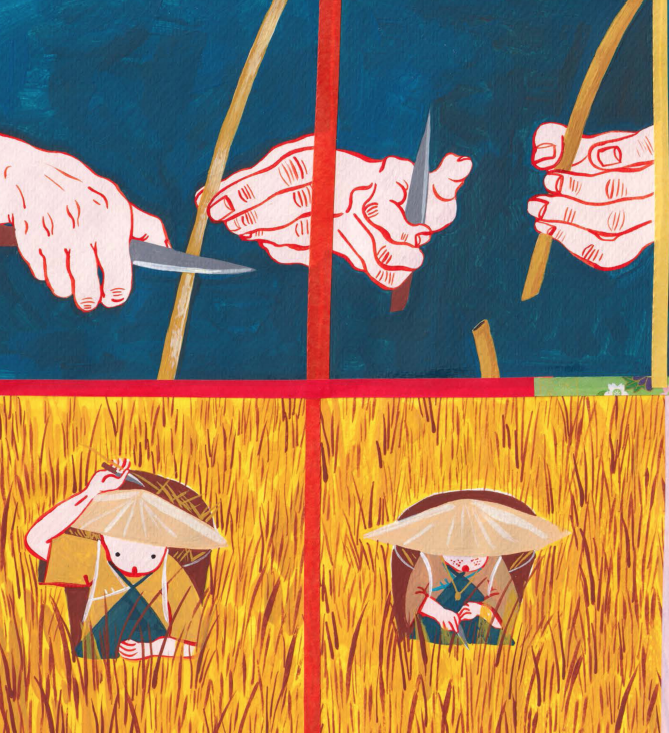 Tender and vulnerable: Weng Pixin in conversation with Los Angeles Review of Books
Weng Pixin's comics are tender. With acrylic paint, watercolors, and paper remnants, she creates vibrant and verdant landscapes: the rice fields of South China, the streets of La Plata Argentina, and more. In her first book Sweet Time, one story features a boy and a girl on a small boat floating down a river at night. They have a heady conversation about fate and pass a mysterious corpse burning on the wooded bank. "There is no full picture of the future," the boy says. "Just dots on paper." This, like many of Weng's snapshots, is elusive and evocative, and lingers in the mind.

In her new book Let's Not Talk Anymore, Weng threads together five generations of women from her own family, each at age fifteen. Fifteen is a moment of heightened vulnerability and helplessness for young people, as they experience tension between a longing for volition and dependence on their caregivers. For Weng's characters, there is also a context of separation and trauma. Her great grandmother Kuān, for example, migrated away from her family in South China, and her grandmother Mèi was adopted by a neighbor to help with housework. Trauma repeats itself, but each consecutive time is experienced without understanding the preceding pain and similar struggles. In Let's Not Talk Anymore, Weng's paintings haunt with the aching silences that hang between generations.

I wrote to Weng to ask about tracing her family's migration history, blending nonfiction and fiction, and her tools for making comics.
¤
NATHAN SCOTT MCNAMARA: In your previous book Sweet Time, you worked with different painting styles. In Let's Not Talk Anymore, you settle upon a consistent method for a sustained five-generation story. What was the process for developing and deciding upon this aesthetic?

WENG PIXIN: For Sweet Time, it contains a selection of short comics (or short stories) made between 2008 and 2017. The varied style was because they were made at different points in my life, where the visual outcomes were also largely influenced by the situation or place I was in. Comics made in watercolors were likely due to my making the comic while at another person's studio or space, so I tend to bring materials that were light and easy to clean up.

Other comics that were painted (with acrylic paints) were mostly made during art residencies abroad. The space provides a better working environment where there's less worry of making a mess, so I would use the opportunity to paint more.

Some diaries featured in Sweet Time were made from paper remnants found at the residencies. Residencies tend to store leftover materials from previous visiting artists, which is always a great place to source for materials. For the paper remnants I found, I liked how the oddly shaped formats help turn the diaries into objects too, giving it a sense or reminder that the diaries can be held in your hand.

For Let's Not Talk Anymore, the more consistent style (by comparison to Sweet Time) was probably because I looked at it as a single project. Although come to think of it, it would have been quite interesting to depict each character and her story in a completely different style! When I started work for Let's Not Talk Anymore, the context was more that I had been making many short form comics for quite some time. Out of curiosity and perhaps as a personal challenge, I wanted to go through the process of sustaining a style to tell a longer-formed story, and to experience how that feels.
Continue reading at the link above.