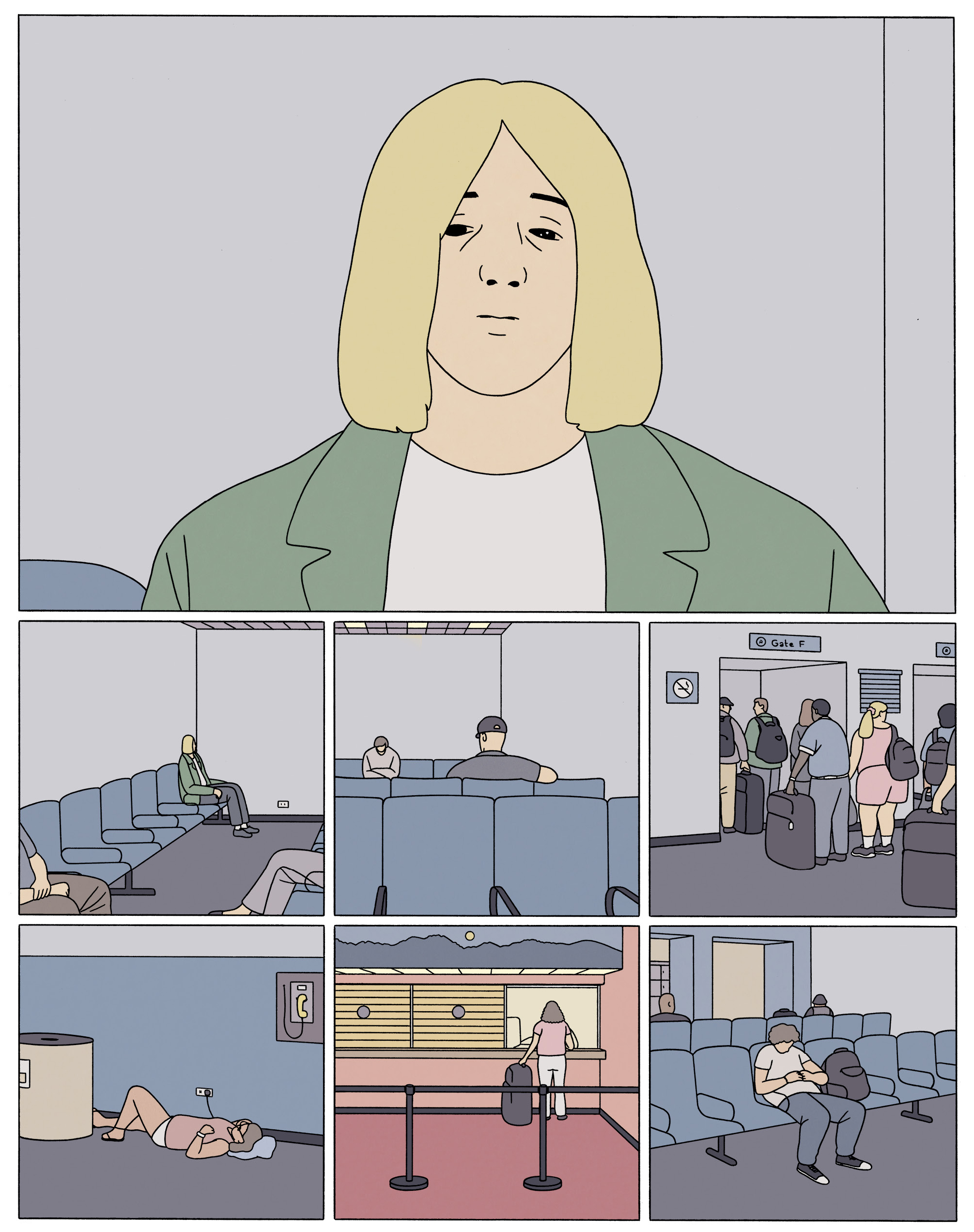 Ten D+Q Books on Comics Beat Best of the Decade
The decade from 2010-2019 was a transformative one for comics. While perhaps not quite as game changing as the aughts (which saw the rise of the graphic novel in bookstores and the decline of the bookstore), it nevertheless saw comics and comics culture permeate "regular" culture to a degree that few could have foreseen.
While part of this takeover was from the explosion of comics media and media in general — the streaming wars are real, people — comics themselves also hit new heights. Both with a sales level unheard of since the TV-less Post-War days and, if you ask The Beat staff, a level of quality, diversity, and imagination that have never been surpassed.
American comics have long been jealous of the comics cultures of France and Japan where it seemed like anything goes. Well, we've finally caught up, with the aid of many Japanese and Euro imports, but most of all, stories that range from the epically cerebral to the intimately sociological to old fashioned action yarns that reveal deep truths about our world.
From memoirs of distinct cultures (Vietnamese immigrants, '60s era civil rights activists) to grand adventure (architects in space! Batman!) to humor (updated Nancy Drew! time stopping sex thieves) to just real (a middle-grade girl who knocks out her two front teeth) comics of the Teens had everything you could imagine — and much that you couldn't. And in presenting the following 100 titles to you, we're trying to capture that magic and energy.
...
Beautiful Darkness
Fabien Vehlmann and Kerascoët (D&Q)
A great horror story gets into where you are uncomfortable and makes you ask questions about why. Beautiful Darkness is an exploration of the overlap between innocence and cruelty. A woodland populated with inscrutable little cutie pies, little thimble-sized children — broonies — either utterly oblivious to the constant harm they inflict on each other, or using a veil of ignorance to hide their gluttony. A parade straight out of a Woodland Folk fairy tale picture book and into the grave: a community held together by an altruist and a sadist, and the body count is staggering. The deaths are as grisly as the corpses they leave are endearing.
Beautiful Darkness heaps horror upon horror until what disgusts you becomes your triumph. It succeeds at what scads of horror books try to achieve, and that success haunts its readers. Winsome, disquieting, and unforgettable.
— Arpad Okay
...
Big Kids
Michael DeForge (D&Q)
Watching the progress of Michael DeForge as the decade went along was one of its greatest pleasures. His early work was formally stunning and disturbing in its body horror and vivisection — another common theme of the decade from Kate LaCour to Joan Cornelia. However with Big Kids, DeForge defined a new phase of his career, the dysmorphia finally tethered to an empathic world view.
The story sounds a little… weird: Adam is a gay teen in a toxic relationship, and struggling with bullying and family issues, but when he turns into a tree he begins to see the world in its beautiful, nurturing form. The tree-view sections of the work are DeForge at his squiggly, abstract best, but it's the heart of the message — that some people are more evolved than others and kindness matters — that sticks the landing. Deforge's later works Sticks Angelica and Leaving Richard's Valley would expand his playing field to society at large but Big Kids is one of his most intimate, touching stories.
— Heidi MacDonald
...
Clyde Fans
Seth (D&Q)
If you've ever wondered what Orson Welles great lost tracking shot from The Magnificent Ambersons was like, it's probably Clyde Fans. So many of the greatest comics of the decade had to do with time and memory – Ware's Building Stories, Lynda Barry's educational workbooks, Richard McGuire's Here – and all of these works take full advantage of how comics bend and expand how we perceive the world. So it is with Clyde Fans, which begins at the end, returns to the beginning and ends in the middle. And yet makes perfect sense.
Seth's affinity with futility finds full display in this ode to the dissolution of mid-century America/Canada. While Willy Loman's salesman still functioned in a world where his job mattered, the Matchcard Brothers, Abe and Simon, are the living embodiment of middle class white male obsolescence – and oblivious to what they can do escape their karma. Created over a 20 year span, Seth's artwork eventually boils down to almost abstract outlines. By the end, empty factories beneath an unforgiving moonlight disintegrate right before our eyes.
— Heidi MacDonald
...
Hark! A Vagrant
Kate Beaton (D&Q)
For Kate Beaton, all of history is fair game — along with classic literature and the occasional Shetland pony. Many of Beaton's comics pointed out the absurdity of power structures frequently taken for granted by students of history or literature, but her comics are never afraid to back away from just-plain-absurdity, either. Many of her comics regarding literature examine our changing relationship with particular works over the decades, as with the "Case of the Two Watsons" or "Jane Austen Comics."
Beaton's singular sense of humor and distinctive style has cast a long influence: a roly-poly pony, who makes several repeat appearances, proved so popular that it served as the inspiration for a guest starring character on the animated series Adventure Time. While Hark! A Vagrant is no longer actively updated, the entire archive remains online for perusal, and has been dedicated to Kate's sister Becky Beaton, who passed away in 2018.
— Avery Kaplan
...
The Hospital Suite
John Porcellino (D&Q)
John Porcellino's The Hospital Suite has a deceptively simple look, but a copious amount of depth. It is his autobiography about what happened to him during the years where he was diagnosed with a tumour and the aftermath of his surgery: a decade-long struggle to recuperate from the multiple health complications that followed. In addition to his physical issues, he also had to deal with anxiety and obsessive-compulsive disorder.
Simply told with spare illustration, Porcellino draws an honest (almost brutally so) account of his personal experience and the heart-wrenching difficulties he faced. It's an engaging portrayal of someone who had to get back up after falling as far as they possibly could.
— Philippe Leblanc
Hot Comb
Ebony Flowers (D&Q)
This exciting debut collection by ethnographer-turned-cartoonist Ebony Flowers is one of those beginning-of-career works that doesn't feature a single stumble, fumble, or bumble, but just moves from strength to strength with a voice that's fully-formed and deservedly confident.
Flowers builds her stories around the central topic of the culture of black women's hair — from the rituals related to it, to its role in identity and culture and family and gender — and uses that to tell a variety of stories that contain autobiographical aspects but reach far beyond herself. If you don't know, Flowers is here to tell you, and if you do know, she's bound to have some perspectives that hadn't occurred to you. Either way, what she relates will amuse you, hit you hard, and open up your mind.
— John Seven
...
How to Understand Israel in 60 Days or Less
Sarah Glidden (DC/Vertigo/D&Q)
You could argue that Sarah Glidden's Rolling Blackouts is a more polished work, but How to Understand Israel in 60 Days or Less more or less kicked off a whole sub-genre of comics — politically aware young women exploring their cultures and dealing with the good, the bad and the ugly. Publishers have been looking for another Persepolis for years, but Glidden gave the comics memoir a new, objective spin and helped her become one of the most important comics journalists of the decade.
Glidden recounts her "Birthright" trip to Israel — a journey open to Jews between the ages of 18 and 26 — and finds that the truth about the stories she's been told, and her preconceived notions about these stories, is far more complicated. With a keenly-observed, gentle watercolor style that screams "reliable narrator," Glidden explores her heritage, her emotions and one of the world's most complicated political situations.
— Heidi MacDonald
...
The Property
Rutu Modan (D&Q)
Rutu Modan is, perhaps, Israel's leading graphic novelist. Her work, of which sadly there is not enough of, is rich with subtlety and humanity. The Property is her most magisterial comic by far, a painful and searing tribute to victims of the Holocaust. The Property's mix of love, nostalgia, and the pursuit of a lost love in a land of horrible memories is searing. At the same time, Modan flexes the comics form, showcasing all its potential in her singular style. This is one of the most powerful and emotional books of the decade.
— AJ Frost
The River At Night
Kevin Huizenga (D&Q)
Insomnia-riddled, abstract, funny, and empathetic to the experience of letting your mind wander, The River at Night melds reality and fantasy in away that blurs line as well and genres. Kevin Huizenga, one of a number of small press cartoonists who rose to prominence in the previous decade, has a gift for taking the old school style of newspaper cartooning and turning it into a modern formalist experiment that meets somewhere between chaotic and structured and begs the reader to read a little deeper past the weird.
Despite — and sometimes in thanks to — its out-there nature and abstract visuals, The River at Night is still, at its core, the experience that everyone can relate to.
— Chloe Maveal
...
Sabrina
Nick Drnaso (D&Q)
When a girl goes missing, those she left behind struggle with her gruesome fate — and the internet goes wild with conspiracy theories. Sabrina is a favorite among non-comics critics — having become the first graphic novel to be nominated for the prestigious Man Booker prize — and it impresses with a secretly fraught deadpan story and pervasive mood of dread that belies the simple drawings.
In a blobby, inert style rendered all but immune from human emotion, Nick Drnaso explores our modern preoccupations — truth, lies, the internet, and our need to connect in a world that's becoming more and more hostile to human interaction. But it's not entirely immune — every page is a record of how Drnaso's characters are visibly struggling to escape their drab prison of tiny square panels and muddy colors. It's a struggle that they aren't entirely going to win but that's very much worth experiencing.
— Heidi MacDonald