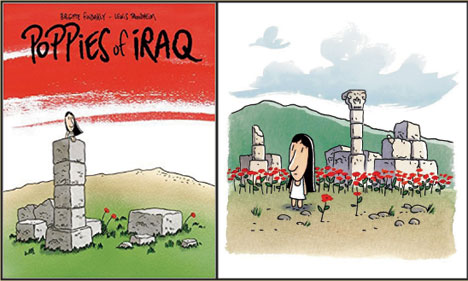 The Telegraph India selects Present and Poppies of Iraq as must-read visual stories
Present by Leslie Stein
Confessional art is given a new mode of expression by Leslie Stein in her "diary-comic", Present, which takes the reader on a journey through adolescence, memory and the city of New York through the eyes of the artist. Stein shares brightly coloured vignettes of her life — from attending a rave to closing up a bar, to her first job as a waitress and her fear of losing her last memories of her grandfather. The reader experiences many emotions, situations and timelines simultaneously in the story, mimicking the associative way in which memory works, and begging the question, what is the "present" and if we are ever in it. Delicately illustrated with watercolour and ink, the book is a funny, nostalgia-filled trip from beginning to end.
Poppies of Iraq by Brigitte Findakly and Lewis Trondheim
How can one tell that signs of political oppression are creeping in to what was otherwise a normal childhood? In Poppies of Iraq, Brigitte Findakly recalls this change that she watched her homeland of Iraq undergo. The book is both a mourning account and a tribute to a secular, harmonious, peaceful way of life that the author and her family once knew. Trondheim's colourful, childlike illustrations deepen the sense of sorrow and betrayal at a displacement they can never get over.