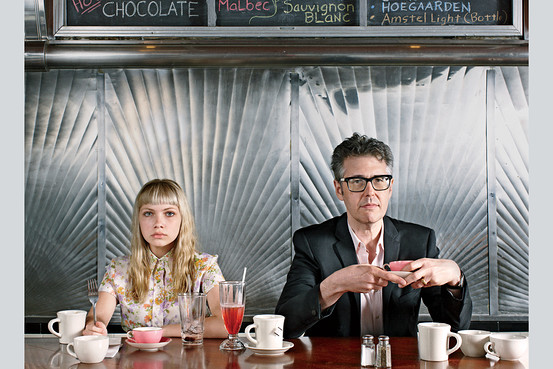 Tavi Gevinson and Ira Glass interviewed by The Wall Street Journal
BOTH IRA GLASS AND TAVI GEVINSON are fascinated by the magical realism of everyday life, whether it's first encounters with the unknown (Glass) or the daily eccentricities of Midwestern teenage-hood (Gevinson). As host of the much-adored, long-running radio show This American Life, Glass has become something like our national storyteller, providing a forum for highly personal yet idiosyncratic stories concerning everything from gossip to gambling. In roughly the same amount of time his show's been on the airwaves, Gevinson, a junior in high school, has come of age. Last year she launched Rookie, her feverishly read online magazine for girls who are, like its editor, precocious, fashion-obsessed and a little offbeat. In her inaugural editor's letter, she issued "infinite big fat thank-you's" to a roster of facilitating adults that included Glass, whom she referred to with affectionate mockery as "Cool Dad."

Gevinson and Glass's generation-straddling friendship began when they were introduced through Glass's wife, Anaheed Alani, who is now Rookie's story editor. As a media veteran himself, Glass acted as a sort of protector for Rookie, encouraging Gevinson, now 16, to pursue sole ownership and helping her to navigate industry perils.

Still, Gevinson was hardly new to life in the spotlight. By the time Rookie launched last September, she was already famous, thanks to the personal blog she started at age 11. The fashion world was smitten with her oddball dressing and dyed-grey hair; here was a prepubescent wunderkind who looked a bit like Miss Havisham. Seemingly overnight, Gevinson received windfalls that typically come to those many times her age: a column in Harper's Bazaar; coveted front-row runway seats; a collaboration with avant-garde label Rodarte—and then the inevitable ire of jealous detractors. But now, with Rookie thriving, Gevinson's status as an Internet stalwart seems firmly secure.

These days, Glass and Gevinson mostly talk at Rookie parties or on conference calls—Gevinson sitting atop her daisy-print bed in Oak Park, Illinois; Glass padding around his kitchen in New York. His jokes are met with a not uncommon eye roll, but their rapport is a sweet one. After discovering that Gevinson was using her computer's internal mic to record herself singing and playing the guitar, Glass gave her one that was able to capture high notes. As thanks, she sent him a heartfelt rendition of "Moon River."

Ira on Tavi
The first time I met Tavi was during a breakfast meeting in New York at Le Grainne, one of those faux-French places where you can get omelets and crepes. She looked really tiny and really young, and she was still dressed like a little kid—this was before Tavi had decided she was going to dress "pretty," like a more typical teenage girl. She would explain that she was giving a talk at the Met or MoMA or something, but then her father would interrupt to be like, "Okay, Tavi, here are the things on the menu that you would eat." I think she got hot chocolate. It was like, "Oh, right. You're a child."

Pre-Internet, my guess is she would have been just a really bright, nerdy kid who was into lots of stuff and made little things that some people in her circle would see. But John Waters wouldn't be quoting her. Lady Gaga wouldn't be quoting her. She's invented her own paradigm, like all the people who do the best creative work: They invent their own paradigm and then they inhabit that paradigm better than anybody else could.

"I wasn't that confident at her age, and I'm not that confident now. I'm a reporter—if I don't interview someone, I don't have much to say."
Tavi is capable of both melancholy and fantastic optimism. It's weird to say, but she seems like a peer, like a fully developed writer, editor and maker of things. She absorbs things and has figured out how to render it in prose that's fun to read—it's impressive as a real-time documenting of a teenage girl's thoughts. And her pop-culture knowledge is weirdly encyclopedic. I remember her writing in some post a few years ago, "This reminded me of a Joni Mitchell song." And I was like, "Why is anything reminding you of a Joni Mitchell song? You're 13! Why is that even happening?"

One of the things that's really terrible when you're a kid is that you can't just go out and get a drink. I mean, Tavi can't drive, she can't just get in a car and take off. She has all the adult work without any of the adult freedoms. I don't even know if she has a bank account. I guess she must? I told her that by doing the Web site, she was saying goodbye to being a kid. Her time wasn't going to be her own, and she was going to be working constantly. She chose that with open eyes and has been very grown-up about it in a way that is really impressive and sobering.

I wasn't that confident at her age, and I'm not that confident now. I'm not being facetious. I'm a reporter—if I don't interview someone, I don't have much to say and I definitely can't just sit down and knock out 800 words on any subject you give me. On a school night. With trig homework. I mean, respect. I wish there was a way to punctuate that, so it's like someone in a rap video. Re-spect.

Tavi on Ira
I can only imagine how weird it would be for your wife to come home and say she's going to start working for a 15-year-old, then look up this kid online and see photos of what looks like an 80-year-old granny wearing bag-lady layers.

There's a line in my May editor's letter about Sex and the City, where I reread it and was like, "That joke's too out there." I considered taking it out, but you know it was 1 a.m., so I just went with it. The next day I considered taking it out again, but then Anaheed forwarded me an e-mail from Ira where he had just pasted that line and wrote "Funny!" so I left it.

Talking to Ira is really interesting because he tries to refrain from saying things that are stupid or a waste of time. Not like an obsessive dictator, but like someone who only wants to share what he thinks could be insightful to another person, and aside from those things, he just wants to listen to other people and not be a ham. He likes puns and people being peculiar. Sometimes he tells a hilarious story and when I try to retell it to a friend, I realize that whatever happened wasn't actually that funny or interesting, or even a happening at all. He's just really great at talking.

I had always thought of business and creativity as being totally separate, but Ira helped me to see that they're actually really related to one another. He never told me what to do but acted as a guide, helping me figure out what I wanted, and in a way, that's what we want to be for readers of Rookie. It's not about us granting anyone permission; it's about letting girls know they can grant themselves permission. That spirit formed when Ira made me reconsider what I truly wanted the site to be.

"Like me, Ira's interested in stories about normal humans being incredible, about magical things happening in places that might seem boring."
Ira continually has really great insights about being independent but mainstream. Like me, he's interested in stories about normal humans being incredible, about magical things happening in places that might seem boring.

He's been the ideal mentor for Rookie, offering advice, support and an understanding of what I want the site to be, but editorially, he doesn't claim to understand the mind of the teenage girl. After we published a post about stickers, he was like, "Is that the name of a drug? Are you speaking in code?" So I covered a piece of paper completely with stickers and gave it to him. I made sure there wasn't any white space.

Anaheed and I are working on the proposal for a Rookie book, and Ira was like, "It needs to be a girls-punch-you-out kind of thing," so now we just refer to the book as the girls-punch-you-out thing. I actually do think we should call it Girls Punch You Out Thing, just so it will follow him around forever.

—Edited from Alice Gregory's interviews with Tavi Gevinson and Ira Glass.