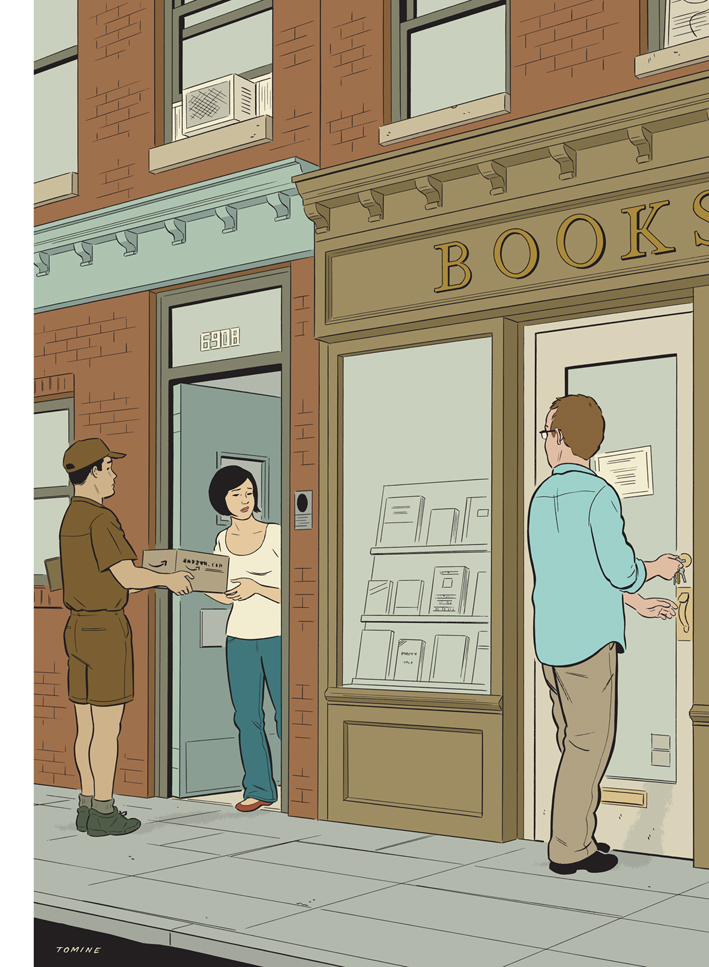 T Magazine calls New York Drawings "Elegant and Minimal"
"New York Drawings," a new hardcover from Drawn & Quarterly that is out today, is a wonderful celebration of the artwork of the cartoonist Adrian Tomine. The book is filled with his work from The New Yorker as well as some of his comics and sketches. The book achieves a great balance between allowing the drawings room to breathe and a notes section that details how the assignments came about and the artist's process.

The cover for the book, "Missed Connections," which is pictured, was Tomine's first cover for The New Yorker. "I'm sure it never would've happened without the tireless coaxing and immeasurable guidance of art editor Françoise Mouly," he writes. "The main thing that Françoise stressed throughout the process was that the image should contain at least a kernel of a story — not necessarily a 'gag,' but something beyond just a pretty picture — and I think it's that quality that made this drawing resonate with people." Indeed, as someone who reads a lot of graphic novels and who often finds himself focusing more on the words than the pictures, I had a different experience of reading "New York Drawings": I lingered over the illustrations and imagined the narratives that could go along with them. One other image, in particular, stayed with me: "Be Kind," in which a commuter must decide to get on his train or help a woman up the stairs with her baby stroller.

The book was designed by Jonathan Bennet, and it was Tomine's first time working with a designer. "I've always designed all my books from cover to cover," he said. "This was the one that I thought would really benefit from an objective eye." The results are pleasing: the book feels elegant and minimal, and avoids any temptations to cram too much onto every page.

"New York Drawings" is also a testament, in part, to Tomine's move from the West Coast to the East coast. Tomine was born in California and went to college in Berkeley. "It's hard to be objective about the two places," he said. "When I was in Berkeley, I was living alone, in a crummy student-styled apartment. It has a lonely, gloom-type of memory. In New York, I'm married and I have a 3-year-old daughter, so I associate New York with a happier, more fulfilling part of my life." He has tried to express his frustrations with the change — including his struggle to acclimate to the climate — in his illustrations, to mixed results. One image, "Waiting It Out," depicts New Yorkers waiting at the base of the subway stairs for the rain to stop. Tomine thought of it as an unpleasantly scented stairwell. Others had a different reaction: "What a beautiful, romantic image of the city," he recalled. "You really know all the things that we love about the city."

Tomine's book tour in support of "New York Drawings" continues tonight at McNally Jackson Books at 7 p.m.