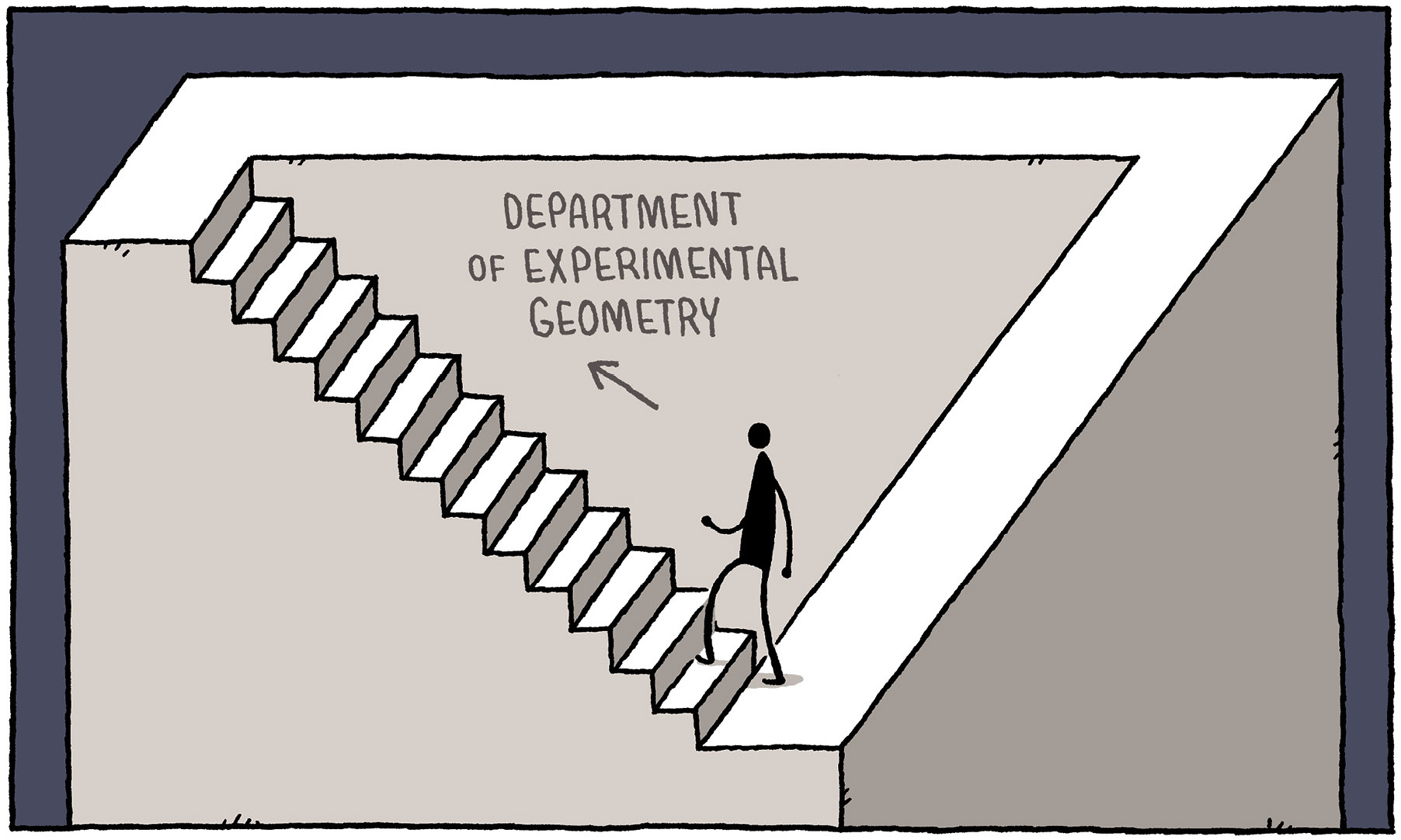 Shelf Awareness Interviews Tom Gauld
Reading with... Tom Gauld photo: Jo Taylor Tom Gauld is a cartoonist and illustrator. He does weekly comic strips for the Guardian and New Scientist, and his comics have been published in the New York Times, the Believer and on the cover of the New Yorker. He's also designed many book covers. Gauld's previous books include the collections Baking with Kafka and You're All Just Jealous of My Jetpack as well as the graphic novels Goliath and Mooncop. Gauld lives and works in London. His new collection, Department of Mind-Blowing Theories, was recently published by Drawn & Quarterly. On your nightstand now: I've just finished The Hydrogen Sonata by Iain M. Banks.

With the world in such a difficult place right now, it's been very nice to escape into a completely different universe of spaceships and new planets. I've also been reading Angela Carter's book of fairy tales The Bloody Chamber, which is exquisitely dark and beautifully written. Favorite book when you were a child: I loved The Hobbit when I was a boy. The story enchanted me, but I especially loved all the extras: the cover, the map, the illustrations, the passages written in runes. I'm still a sucker for a book with a map at the front. Your top five authors: It's an impossible choice really, but today I shall plump for: Kurt Vonnegut, P.G. Wodehouse, Hilary Mantel, Chris Ware, Anthony Powell. Book you've faked reading: In my job making literary cartoons for the Guardian, I made at least three cartoons about Jane Austen's books, despite never having read a word of her writing. I'd riff off the idea of a Jane Austen novel that most of us have.

But I began to feel guilty and decided to read Pride and Prejudice, which turned out to be brilliant and won me over to her work completely. I still occasionally make cartoons referencing Joyce's Ulysses, but I haven't read that either. Book you're an evangelist for: There's an underrated comic book called I Killed Adolf Hitler by the brilliant cartoonist Jason. It seems like it's going to be a silly, pulpy, action story but unexpectedly turns into an understated meditation on passing time. Book you've bought for the cover: I got into reading McSweeney's because I was attracted by the eccentric design of the books as objects, which looked like nothing else in bookshops at the time. I bought every issue and discovered some great writing in it. I've possibly more often done the opposite: not buying a book because of an unattractive cover, or because it's an unnecessarily huge, ugly hardback. Book you hid from your parents: My parents were very encouraging and open about all reading, so I don't think I actually had to hide anything. They used to take us to the local library every week, and my brother and I were left to choose whatever we wanted. I do remember discovering J.G. Ballard's books there and thinking I was reading something transgressive.

Book that changed your life: Around the same time, in the same library, I chanced upon Slapstick by Kurt Vonnegut. I'd never heard anything about him and was probably attracted by the cover and the fact that he's done some charmingly crude illustrations and diagrams throughout the book. Slapstick taught me that funny and thoughtful aren't opposites and books for adults don't have to be hard work to read. Favorite line from a book: Kurt Vonnegut has lots of great lines, but what sticks with me most are three paragraphs in Slaughterhouse-Five where the protagonist sees a war movie in reverse. It's simple, almost joke-like conceit, but Vonnegut makes it beautiful, strange and sad. I've been trying to pick a line from it to quote here, but nothing really works when separated from the whole, which is perhaps a sign of its greatness. You can find it online pretty easily and I'm always telling people to look it up.

The rest of the book's not bad either. Five books you'll never part with: I love books, but I'm not a fetishist about first editions. Though I made an exception for The Vinegar Works by Edward Gorey. It collects three of his best illustrated books in a beautifully designed slipcase. I've been inspired by Gorey's work since I first discovered it at college, so I'd have to keep these. I'd also like to hold on to The Inheritors by William Golding and Teratoid Heights by Mat Brinkman. Book you most want to read again for the first time: I've read P.G. Wodehouse's Jeeves books many times, but it would be wonderful to do it again for the first time. The joyfully playful language and generous warmth of his stories always improves my mood.