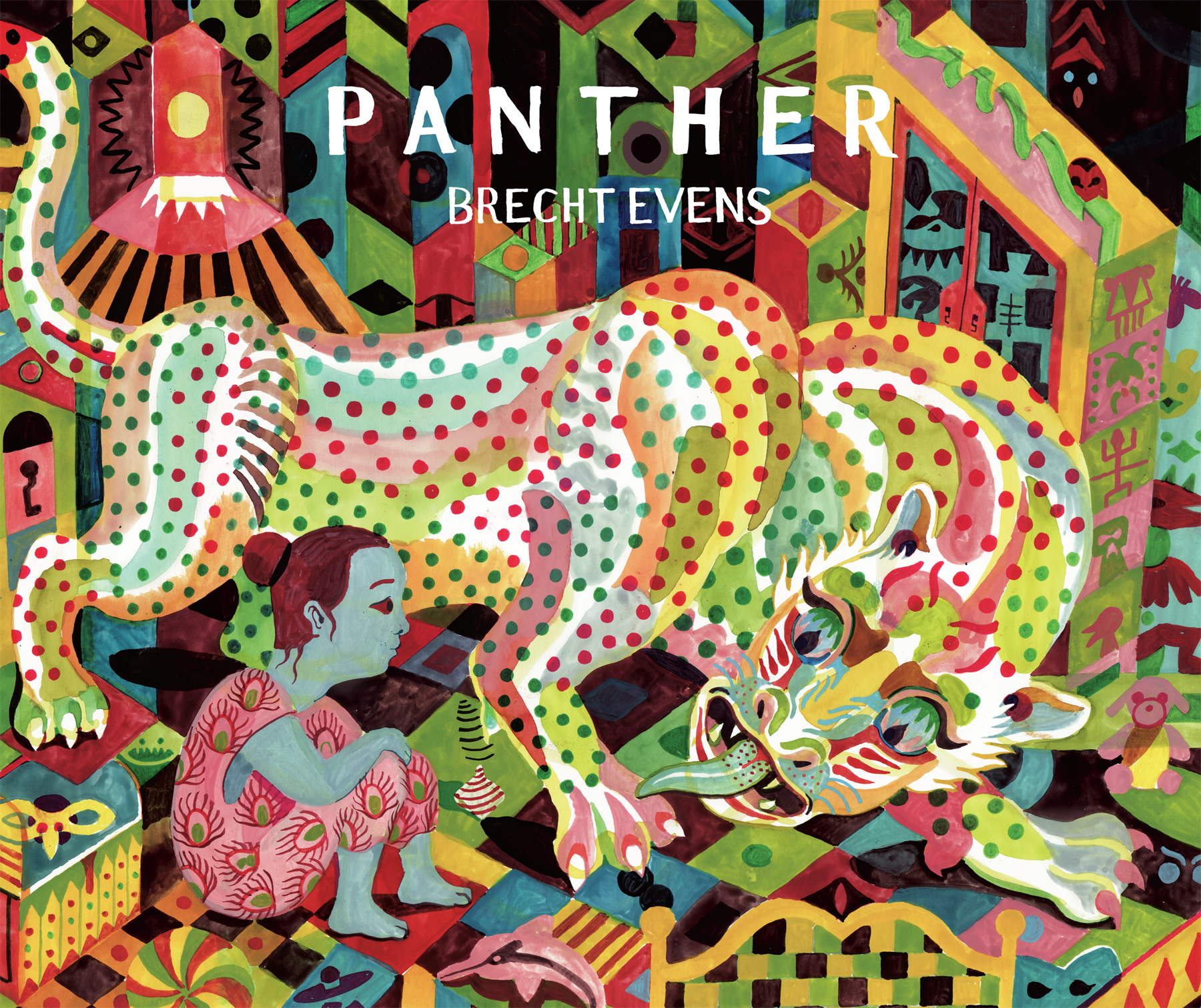 Shameless Magazine reviews Panther
My cat Jasmine was a flouncy calico with celery-green eyes and a taste for yogurt and grass snakes. Her haughty manner and the roughly 40% of her that was ginger reminded me of the old movie star Rita Hayworth. When I was lucky, she'd anoint me with her presence on my bed. She was my buddy and secret-keeper for 14 years. When she died I walked around in a haze for days, missing her so badly it physically hurt
I thought about Jasmine a lot as I read Brecht Evens's Panther, a stunning graphic novel in which a beloved cat's death becomes the inciting incident. The story is more than one about grief though; it is a lush and compassionate dreamscape about the relationship between imagination and trauma, and the complex bonds we share with our animal friends, especially when at our most vulnerable.
When the story opens, we meet Christine, a precocious girl who's grappling with two traumas: her cat Lucy has just died and her mother has abandoned the family. Evens's haunting watercolours of looming rooms and long shadows evoke the child's terror of becoming unmoored from all points of security. Lying in bed the night of Lucy's death, Christine hears a rustling from her dresser. Afraid, she cowers under the covers and asks, "who's there?" A burst of confetti later, a large, very confident-seeming muscular cat climbs out and introduces himself simply as "Panther."
This Panther is not your National Geographic species. He's covered in tutti-fruiti coloured spots, wears a waistcoat and a red bow tie, and speaks in a debonair English. He explains that he's from Pantherland, is in fact, The Crown Prince of Pantherland. "We panthers go wherever we please," he tells Christine. She, naturally, is awed. The cosmopolitan, wise cat from another land that already knows her name, seems divinely sent to save her from loneliness. But as readers, we understand that he's an imaginary friend Christine's conjured to help her cope with losing everything that matters. (In the 1970s, a BBC researcher coined a term for childrens' imaginary worlds: paracosms. Psychologists later found that creative children were more likely to invent them. The Bronte sisters had one. Maurice Sendak found inspiration for the paracsom in Where the Wild Things Are after learning that members of his family had been killed in the Holocaust).
Panther and Christine's paracosm is initially a dazzling hinterland built on shared confidences, cuddles and comedy. They dance, play Twister, and slurp tea. The size of a loveseat, Panther lives to chat and loves French fries. He wins Christine's trust and she, in turn, confides in him: "Mommy and Daddy were having a fight, and then Mom said, 'I'm going to kill myself!' And then she drove off in the car…she didn't come back." Loss upon loss, Christine is vulnerable and aching for a friend with wisdom. Panther is that - a sympathetic, steadfast listener, who does whatever he can to please.
But, Panther is also an unstable force, and Evens's illustrations capture his enigmatic and unsettling shape-shifting. From frame to frame, we watch Panther morph in carnivalesque stop-motion-like sequences of colour and shape, his coat switching from candy-pink to icy blue, his body growing and shrinking, suggesting stealthy secrets under his skin. By the middle of the book, Evens's story takes an ever-more surprising turn, introducing a whole slew of other characters from Pantherland, whose presence turns everything that's familiar in Christine's life upside down.
Evens, a Belgian graphic artist, is sumptuously talented. Avoiding the ruled borders of traditional comic frames, his watercolours spread out in rich colour, capturing the chaos of a grief but also, the creative potential of losing. He enlivens his subjects with such feeling and force you often feel like you are watching Panther stalk around on the page, in all his insouciant musculature. Many full-page spreads evoke scenes that are by turns whimsical but also disturbing (imagine the colour palette of a 1950s candy store crossed with the moody tremors of a Joy Division album). Some of the watercolours conjure the caprice and anthropomorphic stylization of Maurice Sendak; others, especially the three-panel pull-out images, evoke the density and fanciful fearsomeness of some of Henry Darger's works. Many images belong on a wall, framed - they are that beautiful.
For anyone who has loved a cat, or tunneled into an imagined world to escape some earthly pain, Panther will speak to your experiences, and beguile you with its empathy and charm.