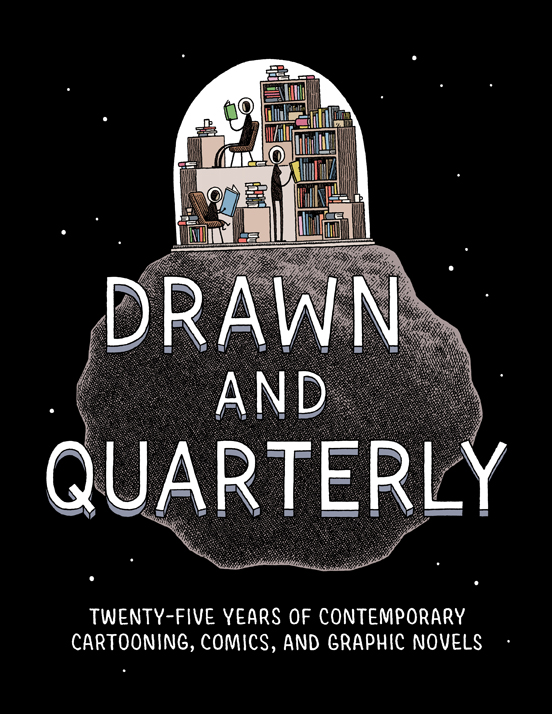 Rabble Gives D+Q 25 a Glowing Review
When I was 14 years old, in 1993, I regularly took the bus to the head shop downtown. I wasn't looking for incense or used records or any of the more adult contraband housed deeper in the shop. Instead I stayed near the door where a wire rack was stocked with the latest alternative comic books.
It was there that I first discovered the idiosyncratic titles from a small Montreal publisher called Drawn & Quarterly (D&Q). I snapped up all of their comics I could find: black and white floppies including Chester Brown's Yummy Fur, Seth's Palookaville and Julie Doucet's Dirty Plotte.
Many years after I last haunted the head shop, those floppy comics are mostly a thing of the past, but those authors have gone on to create some of the most influential graphic novels in the genre. Now D&Q's meticulously designed book-length publications are commonly found on bookstore and library shelves across Canada and much of the English-reading world.
This year, D&Q is celebrating its 25th anniversary, and this, along with the announcement that founder Chris Oliveros is stepping down, to be replaced as publisher by long-time employee Peggy Burns, has offered occasion for a good deal of admiring attention from the mainstream press. Their articles celebrate how D&Q transformed the landscape of modern comics by putting the focus on individual artists, championing women creators, and prioritizing exceptional book design. And, that D&Q is now widely regarded as the best publisher of literary comics in the world.
And of course all of this is entirely true.
But there is also something else worthy of celebration right now: the absolutely enormous, gorgeous, and era-defining 800-page comic book that the press has released as a birthday present to itself and its readers.
Featuring over 100 contributors, Drawn and Quarterly: Twenty-Five Years of Contemporary Cartooning, Comics, and Graphic Novels is an incredible anthology chock-full of entertaining, heartbreaking, and visually stunning comics by a diverse array of cartoonists with a wide variety of drawing styles and narrative approaches.
Interspersed among the comics are more than two dozen short essays about the press and its artists, including appreciations by literary notables such as Margaret Atwood (on Kate Beaton), Sheila Heti (on Tove Jansson), Jonathan Lethem (on Chester Brown), and Heather O'Neill (on the Librairie Drawn & Quarterly bookstore). Some other standouts include Deb Olin Unferth's tale of her unexpected discovery of Julie Doucet and Tom Spurgeon's insightful essay about Tom Gauld, whose illustrations grace the book's cover.
The collection opens with 100 pages documenting the founding of the press in Montreal's Mile End by Oliveros while still in his early 20s. The D&Q story is told in rich detail by comics journalist Sean Rogers and illustrated with rare archival snapshots and ephemera. This essay provides a treasure trove of anecdotes from the early years for fans and comics scholars.
At times, though, it starts to read like a company history that might be circulated to employees upon a major milestone. In general, all the texts in the book are perhaps best thought of as similar to the special features on a movie DVD -- full of nerdy fun, but best consumed after the main feature: the hundreds of pages of incredible comics, many published here for the first time.
While this brick of a book is a page-flipper's delight, I don't recommend total abandon. The only way to see everything is by patiently following the path carefully laid out by editor Tom Devlin. Start at the beginning with Jillian Tamaki's cautionary tale of a blogger who goes mad with power and continue straight through until you reach Japanese manga artist Shigeru Mizuki's illustrations of Shinto shrines at the end.
The book will reward your close attention. In reading this collection several strands begin to emerge, and the guiding values of the press become evident to the reader.
The first of these is the prominent place of women cartoonists in D&Q's ranks, one of Oliveros's goals upon founding the press. Along with Doucet's early punky and surreal comics, there are haunting coming-of-age tales from Lynda Barry and Debbie Dreschler, and richly illustrated autobiographies from Miriam Katin and Mimi Pond. Also included are some of Kate Beaton's hilarious Hark a Vagrant strips poking fun at literary and historical subjects.
Another running thread is the company's devotion to reprinting the best comics of the past, including works in translation. One of D&Q's great recent successes has been their reissues of Finnish cartoonist Tove Jansson's bittersweet Moomin comic strips. A wonderful selection appears here, telling how a flood has unexpected consequences for Moomin's love life.
Other reprints in the book include Canadian cartoonist Doug Wright's Nipper comic strip, which is a pitch perfect evocation of suburban life in Canada at mid-century, and Frank King's humorous and tender Gasoline Alley, wherein the child protagonist Skeezix apprentices in a print shop.
More than anything else, however, this collection represents D&Q's pure devotion to the best contemporary cartooning. While the reprints and classics are essential reading, so are works by new voices like Michael DeForge, Sarah Glidden, and Brecht Evens. And the book's eclecticism and diversity is its major strength.
Isreali Rutu Modan's colourful illustrations of the life of German revolutionary Rosa Luxemburg have little in common with the restrained poetic black and white line of American John Porcellino's story of missing a Ramones concert as a young punk a few pages later. But both clearly possess unique artistic visions, creating work that could never be mistaken for another cartoonist.
It is this dedication to publishing the best and most idiosyncratic cartoonists that has kept me, and thousands like me, a loyal reader of D&Q titles for over 20 years.
Drawn and Quarterly: Twenty-Five Years of Contemporary Cartooning, Comics, and Graphic Novels is a huge book that serves as a beautiful symbol for everything this small Montreal independent has achieved in the past quarter century. Weighing in at over two kilograms it's an unlikely beach read, but who needs the beach anyway? Stay in and read comics instead!