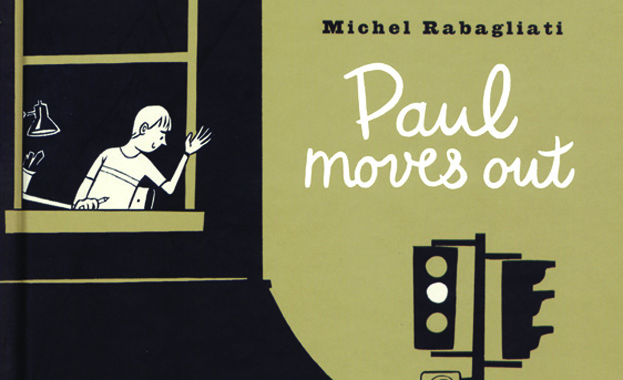 Q&Q reviews PAUL MOVES OUT
From the March issue:

Quebec graphic designer Michel Rabagliati's second book, Paul Moves Out ($29.95, cloth 1-9659787-4, 120 pp., Drawn & Quarterly) is a warm-hearted sequel to his autobiographical graphic novel Paul Has A Summer Job. Appropriate for both young adult and adult readers, Paul Moves Out, relates with buoyancy and charm with Paul's transition from his parent's home in the suburbs to a new apartment with his girlfriend Lucie in downtown Montreal. When Paul's tiny commercial art school's curriculum changes from straight illustration to the more intangible "graphic design" ushered in by a new charismatic teacher Jean-Louis, a covert history of design is mixed into the narrative. Also interesting are the casual and unpretentious references to comics - Paul and his girlfriend connect when they share admiration for Robert Crumb and Herge,

Rabagliati's style is reminiscent of many 1950s cartoons, borrowing from the era's collection of stock angles, curves and geometric shapes to create enthusiastic panels with lush brushstrokes. Everything seems drawn to match Paul's naive enthusiasm. Compared to the leisurely pacing of Paul Has A Summer Job, the episodic narrative of Paul Moves Out seems almost dense, filled with many places and time changes. To Rabagliati's credit, these shifts appear deceptively natural and effortless. At times, the story's elements are tied up too neatly, yet in the final analysis I was charmed by the book.