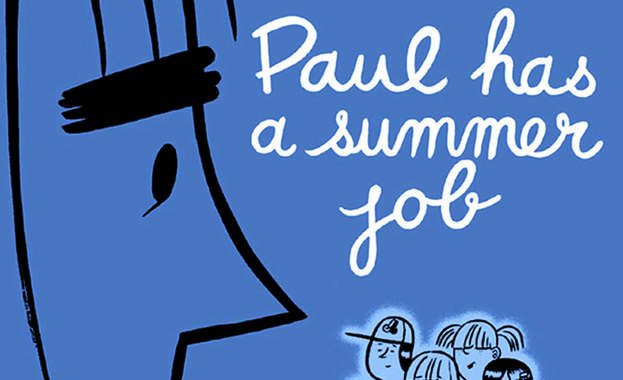 Ottawa Citizen Reprints Time.com's "Best Comics of 2003"
1. Blankets

By Craig Thompson

This semi-autobiographical novel, set in the snowy hinterlands of Wisconsin, tells the story of a lonely, artistic young man who struggles with his fundamentalist Christian upbringing when he falls in love. Fluidly told over 582 pages, Blankets magically re-creates the high emotional stakes of adolescence. Thompson has set new bars for the medium not just in length, but breadth.

2. The Fixer

By Joe Sacco

Sacco continues his pioneering work in comix journalism with this profile of a shady Sarajevo native and his stories of the city's siege during the early 90s. Combining detailed artwork with dynamic layouts and a grasp of the relativeness of truth, The Fixer is a vital pure comix

experience.

3. Persepolis

By Marjane Satrapi

It couldn't be more prescient or unexpected: a comix-style memoir by a woman who grew up during the Iranian revolution. Totally unique and utterly fascinating, Satrapi's simple style reveals the complexities of this veiled-off world.

4. Buddha, Vols. 1 & 2

By Osamu Tezuka

Japanese comix master Tezuka adds his own characters and stories to the life of the Buddha in these first two books of a projected eight. While always playful and entertaining, the central themes -- the cycles of karma and respect for all living creatures -- never stray from the tenets of the faith.

5. Nightmare Alley

Adapted by Spain

Spain, a veteran of the underground era of adult comix, adapts William Lindsay Gresham's 1946 novel of the midway. The perfect "comix noir" of a colourless world, Nightmare Alley churns your guts and loins with its nihilism, sex and freaks.

6. Louis Riel

By Chester Brown

Drawing the characters in a style more akin to daily cartoon gag strips, Brown tells the true story of a Metis mystic who led a rebellion against the Canadian government during the late 19th century. It's a compelling package that uses history to explore the nature of belief, madness and power.

7. Paul has a Summer Job

By Michael Rabagliati

Rabagliati's thinly veiled autobiography tells a genuinely moving coming-of-age story of a summer as a camp counsellor. Charmingly illustrated, the book follows Paul as he moves from self-pity to self-confidence, learning to live outside of himself through falling in love and helping others.

8. Palomar

By Gilbert Hernandez

At last all of Hernandez' stories located in Palomar, the small town "somewhere south of the U.S. border," have been collected into one volume. First appearing in the '80s and '90s, these deeply influential tales, a sort of Archie-comics-meets-Marquez melange of complicated pan-American inter-relationships, are a comix epic.

9. League of Extra Ordinary Gentlemen, Vol. 2

By Alan Moore & Kevin O'Neill

Forget the movie, if you haven't already. Writer Moore and penciller O'Neill take their cast of fictional 19th-century characters, including the Invisible Man, Mr. Hyde and Alan Quatermain and pit them against H.G. Wells' invaders from Mars. It's pure entertainment that also involves topical themes of foreign threats, WMDs and gene-splicing.

10. The Yellow Jar

By Patrick Atagnan

The never-before-published Atagnan turns traditional Japanese folk tales into gorgeous, full-colour comix told in a style reminiscent of ancient Japanese prints. Beautiful to look at and a delight to read, The Yellow Jar made for a knockout debut.