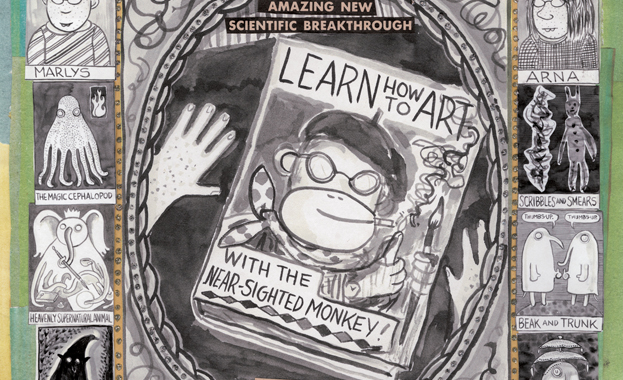 The New York Times loves PICTURE THIS!
When a book insists, "Take art lessons from a monkey!" the only appropriate response, if you ask me, is "O.K.!"

Two years ago, in her Eisner Award-­winning coming-of-art memoir, "What It Is," Lynda Barry prodded would-be writers to pick up a pen (or a brush) and put it to paper. Her latest book, PICTURE THIS (Drawn & Quarterly, $29.95), taps into something more elemental — the fuzzy-wuzzy part of the brain that sees elephants in clouds (or in this case, rabbits in water stains) — and asks, "Do you wish you could draw?"

In more than 200 pages of riotously distinct collages made with brush and paint, notebook paper, cutouts, tape and glue (with support from the colorist Kevin Kawula and, it seems, a "golden egg"), Barry sets out to show you — no, to remind you of — the pleasures of inking, smudging and, most important, fumbling your way to inspiration.

"What makes kids draw?" she writes in bold block letters. "What makes adults scared to draw? . . . Why aren't kids scared of it? And what is it that one day comes to make them afraid?"

Assisting in Barry's march against artistic agita is the Near-Sighted Monkey, who from the moment she arrives (complete with imaginary friend, as if the monkey weren't enough) promises to escort us through four seasons and many moods. The monkey's main task is to play the non sequitur: Here she is in fall and spring. Here she is ordering a hot dog. And here, we learn, "the Near-Sighted Monkey is not careful with the toothpaste."

Barry wants you disoriented, wants to turn your timorous brain into luscious mind-mush. Intention, she asserts, is the killer of creativity, for it introduces self-consciousness where before, there was none. Close at hand lurk the demons of doubt: the ones who say don't draw an octopus enjoying a smoke break, don't draw a monkey pouring banana- pancake mix into the washing machine. Barry, in composing these very images, rebuffs the naysayers and demands, Why not?

Make a swirl, color it in and lo: you're Kandinsky. A monkey's head appears stroke by stroke — slash, circle, dashes for eyes, dots for nose, curved ears. In case you resisted drawing it the first time (and I'll bet you 10 bucks you did), the head winks into sight again toward the end, defying you not to doodle.

Bit characters from "What It Is" have leading roles in "Picture This." The Staring Cephalopod, an inky, googly-eyed shadow, "invites you to attend . . . to the back of your mind." A Meditating Monkey, floating in the margins of the previous book, becomes for Barry a mantra-in-pictures, an agent of serenity in the face of grievous events: Iraq, Afghanistan, Hurricane Katrina and the sudden deaths of friends. "In terrible times," she writes, "people sing. . . . Where can a brush take you? It can take you to the singing place."

Do not be deluded: despite the feel-good message, this is a book for people who like their whimsy black. Barry rejects milk-and-sugar sweetness for something stronger, richer, more complex. She sees darkness even in summertime — memories of green Kool-Aid and the cute boy next door are offset by yellow-jacket attacks and holes in the inflatable swimming pool. In the Near-Sighted Monkey's "favorite show," "Twirlita" the ballerina goes from lighthearted prancer to barking- mad dancer.

This is all as it should be, Barry makes plain. It is healthy, it is freeing to wail in both joy and sorrow. Whatever your mood, just be sure to have cotton balls and glue at hand, for "sometimes in life when we are very sad, it is good to make a chicken."

More than once, to get you started, Barry offers templates of a bunny, a bat, a bird and a pair of I-don't-know-whats, urging the reader to cut, copy, trace, color and paste. "No!" you might say. "I wouldn't dare defile a book as bewitching as this." But then you realize: were Barry in the room, she'd probably hand you the scissors herself.