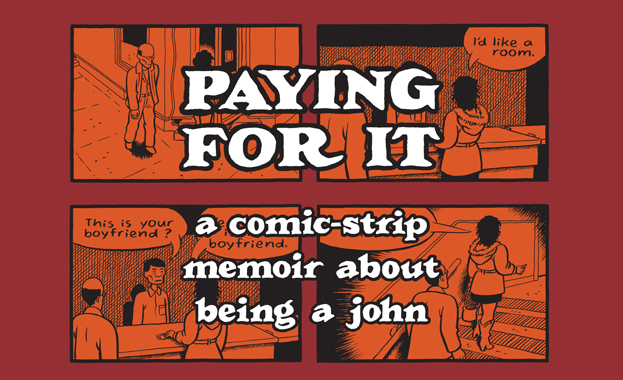 The National Post covers PAYING FOR IT
In a recent Toronto Life cover story entitled "The Secret Life of a Bay Street Hooker," a veteran Toronto detective opined that "very few condos in the city would not have escorts working out of them." The cartoonist Chester Brown can attest to that. Years ago, when he was still regularly frequenting prostitutes, an ad for a particular hooker caught his eye. He clicked on a map on the brothel's website, which directed customers to a condo on King Street West.

"Looking at the map, I realized it's my building," Brown says, laughing. "I never did go. I think it would have felt funny. Although it would have been very handy …"

Unlike most johns, Chester Brown is unusually candid about his experiences in the Toronto sex industry, which he chronicles in a darkly humorous and painfully honest new graphic memoir, Paying For It. The 50-year-old is one of the world's foremost cartoonists, and Paying For It is among the most anticipated comics of the year. For those only familiar with Louis Riel, his critically acclaimed comic-strip biography of the Métis revolutionary, which was published in 2003, Brown's newest book may come as a shock. Readers will learn more about Brown — and see more of him — than they probably ever wanted.

Paying For It, however, is actually a return to the autobiographical musings that established Brown's career. In some ways, this is the perfect companion piece to The Playboy, which came out in 1992. In that book, a young Brown grappled — both emotionally and physically — with his love of Hugh Hefner's titillating magazine. Whereas the Chester Brown found in The Playboy was ashamed of his actions, in Paying For It, Brown is open — and somewhat proud, you could say — about his relationship with sex workers. The Playboy, he says, "kind of freed me up to be able to talk about that side of myself. To be open, not to be ashamed, about admitting to watching pornography or talking about my sex life." Paying For It, in some ways, is a celebration of the world's oldest profession.

Courtesy Drawn and Quarterly

In the summer of 1996, Brown and his long-time girlfriend, actress and radio personality Sook-Yin Lee, broke up. In the months that followed, Brown began to question the necessity of "romantic love" and the arguments, jealousy and effort that usually accompanies such relationships. After a prolonged period of celibacy, Brown decided to visit a prostitute. He paints a surprisingly endearing portrait of the process: Unable to find a streetwalker, he turns to the back pages of a local weekly; he's worried about being arrested by police, or getting mugged, and unsure of the proper etiquette — does one pay the hooker before or after the act, for instance. "It takes guts to walk into a place like this," says the young woman, "Carla." (All names have been changed, and faces are never shown). After leaving the brothel, Brown writes that he felt "exhilarated and transformed" and that "a burden that I had been carrying since adolescence had disappeared."

It has never come back.

"I just kind of felt like I'd been freed or something," Brown says, during an interview at a coffee shop in his Toronto neighbourhood. "All these people walking around with their concerns about romantic love, and how do I find love, and how is my relationship going, and all that kind of stuff. And suddenly, I felt like I wasn't involved in that world or that way of thinking anymore."

It's a world that exists just under the surface of our own, a world of (sometimes misleading) classified ads, online forums where johns post reviews, and changing identities; sometimes the woman Brown thought he was meeting was not the woman who opened the door. Paying For It documents visits with all 23 of the prostitutes Brown frequented over the course of five years; some he slept with once, some he saw several times. By the end of his odyssey, he'd learned that the old stereotypes — the hooker with the heart of gold, like Nancy in Oliver Twist, or the villainess, like Cathy Ames in East of Eden — are just that: stereotypes.

It's not just prostitutes who are stereotyped, but johns as well. Brown says one of the motivations to write this book was to explain things from a john's point of view, making Paying For It sort of a 21st-century version of the anonymous Victorian tell-all My Secret Life. That said, Brown calls himself "a typical john."

"I do think I'm typical in that probably most johns are introverted, not the outgoing type, and probably don't feel confident in being able to get women to go to bed with them without paying for it," he says. But "in at least one significant way, I'm not typical, in that I'm very open and out about it. Probably most johns would be ashamed, and wouldn't be telling their friends."

Which Brown does, almost immediately after sleeping with a hooker for the first time. One of the most interesting moments in the book occurs when he recounts his visit to friends and fellow cartoonists Seth and Joe Matt, who is blunt in his assessment: "You cheated." This idea that sex is something one works for — almost a reward — is one Brown rejects.

"One of the things a man is supposed to do is he's supposed to be able to get sex easily," he says. "The more easy you can do it — convince women to go to bed with you — the more manly you're seen as being. So if you don't use your personality or your wit or your whatever to get women — if you're just paying for it — you're seen as cheating, somehow." Brown didn't care about "cheating" anymore. He'd had girlfriends in the past, and knew he could get another girlfriend if he wanted. It's that he didn't want to. "I just found myself not wanting that type of relationship anymore," he explains. "It wasn't a matter of not wanting to make the effort. It was I didn't like being a boyfriend. I didn't like how I felt when I was a boyfriend. So that left me with fewer options. If I wanted to have sex, it was going to have to be a different way."

And while he admits there "definitely is a difference between what you might call girlfriend sex and prostitute sex, to me it was close enough to what I wanted. Yes, the most passionate sex I've had was with girlfriends as opposed to prostitutes. But, I don't know, the best sex with prostitutes is still pretty close to the best sex I've had."

Paying For It ends with a twist, one which I'll now spoil: Brown falls in love with a prostitute. Although "Denise" no longer works as a call girl, Brown still sees her every two weeks; they've been together for eight years. He laughs when asked what to call her. He isn't sure. Call girl? Escort? Girlfriend? Special friend? It's a peculiar relationship, where money still changes hands, but each has feelings for the other.

"I don't quite understand why she's decided she prefers being in this relationship with me to being in a more conventional, romantic relationship when she could be in one," he admits. "We kind of talk about it, and she says she likes our relationship. Whatever. I don't want to try and talk her out of it — I like being in this relationship."

So does that mean he's changed his stance on romantic love?

"In our culture, we're always having this discussion about what romantic love is. So I guess I leave it open for that reason. I don't think anyone's really sure what we mean by romantic love or love in general. We know it when we feel it."

The back pages of Paying For It are filled with notes and appendices on a variety of topics, from human trafficking to the taxation of prostitution to sexual rights to violence against women — subjects he felt necessary to address. Brown supports the decriminalization of the trade, something that may happen thanks to last September's ruling by Justice Susan Himel; the Ontario Superior Court of Justice struck down several laws relating to prostitution, such as operating a bawdy house, communicating for the purposes of prostitution, and living on "the avails of the trade." The laws were to stay in place until April 29, awaiting the outcome of an appeal from the federal government. Surprisingly, Brown isn't in favour of legalization, as that would likely mean regulation, and government involvement, and Brown is an ardent libertarian — in fact, he's currently running for a second time against NDP incumbent Olivia Chow in the riding of Trinity-Spadina, which he lost in 2008.

Brown, who finished drawing Paying For It last July, hasn't had any second-thoughts about publishing such a personal book. All his friends and family already know about this part of his life — many of them appear in the book — except for one person: his stepmother.

"I still haven't really told her," he says. When they were talking on the phone a few months ago, he described it to her as "another autobiographical book, but this one's about my sex life." She probably wouldn't be interested in reading it, he said. "Then I was talking to her last month, or relatively recently. She said 'What's that new book about again?' So I just repeated the same thing:

"'It's about my sex life.'"

• Paying For It by Chester Brown is published by Drawn & Quarterly ($24.95). He launches the book Sunday at 7 p.m. at Goodhandy's (120 Church St., Toronto) and will appear at the Toronto Comic Arts Festival, May 6-8.