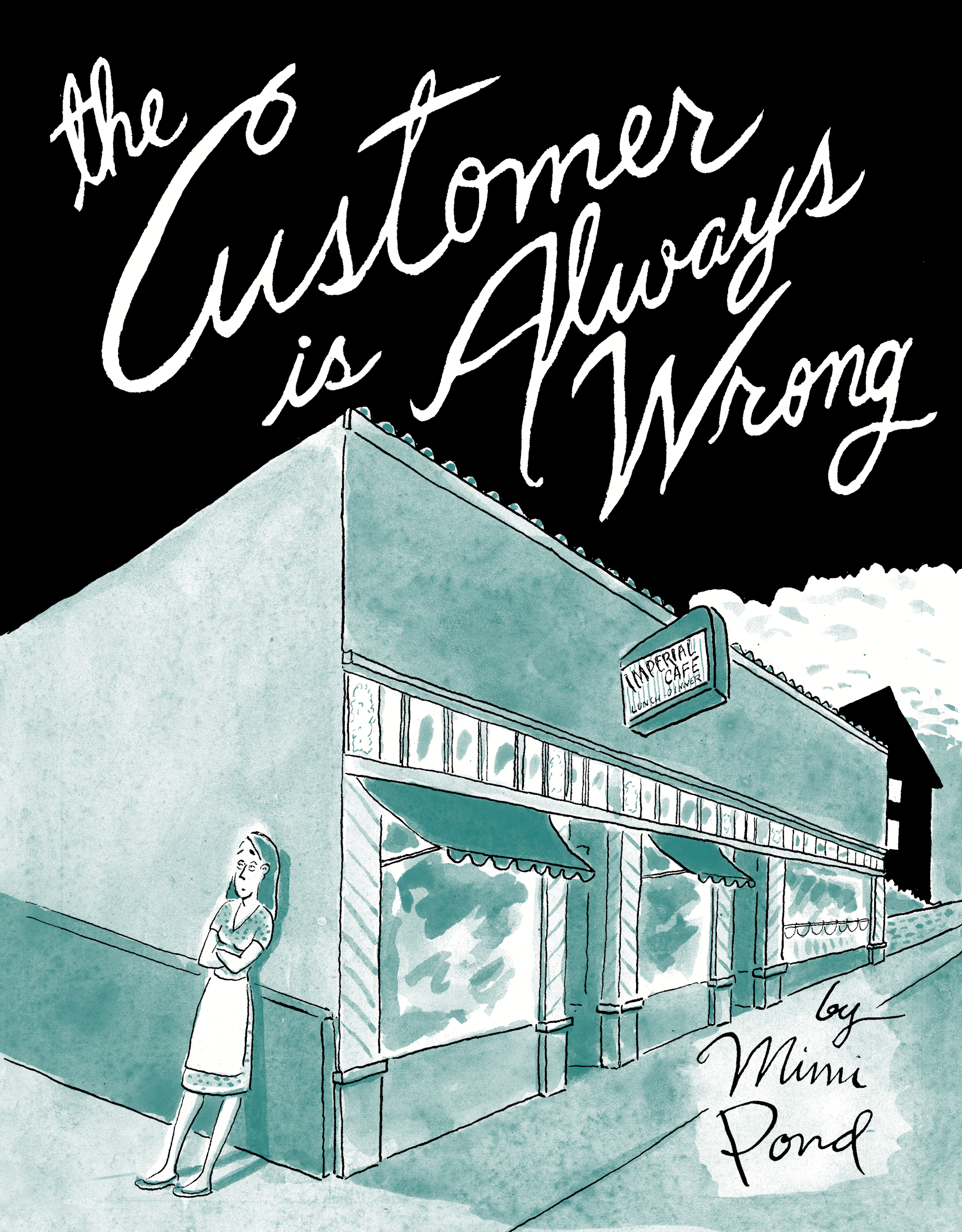 Mimi Pond recommends graphic memoirs on Publishers Weekly
Mimi Pond's excellent second autobiographical graphic novel, The Customer Is Always Wrong, picks up without pause where her first, the revelatory Over Easy, left off: with young Madge slinging hash at an Oakland diner packed with oddballs from the 1960s counterculture. Pond selects 10 of her favorite graphic memoirs.
I have been a cartoonist all my life. When I say all my life, I mean I was looking at the Sunday comics before I could read and copying them. As soon as I could read, my father put the E.C. Mad Comics Signet Paperbacks in my chubby little mitts and soon I was howling at the parody antics of "Starchie" and "Superduper Man." I think I was eight when I saw Jules Feiffer's Sick Sick Sick, and it made me feel terribly sophisticated that I could grasp even a word of it. I couldn't wait to grow up and become neurotic! Even so, I loved children's books and I often wondered why, when you became an adult, they made you give up the pictures. It was like you were being punished for having reached adulthood. I always wanted more pictures. You had to know where to look, though. I have been looking all my life for those stories, told the way I thought they should be told, drawn in ways that thrilled me to my marrow.
I will begin with Fun Home because Fun Home is the first graphic memoir I read that made me think that I could actually make a graphic memoir. Sure, I'd done comics and humor books for 25 years. But the thought of executing as a graphic memoir the long-form story that had been percolating in my head for 25 years seemed like a sheer cliff face I could never possibly scale. Alison Bechdel, with Fun Home, brought that cliff down to a reasonable, personal mountain I might just be able to get to the top of. Her intimate literary style, her use of captions, almost like voiceover narration, her dialogue, her gestural drawing, and her nod to children's book illustration were part of what made the medium suddenly knowable and personal to me.
2. Make Me a Woman by Vanessa Davis
Vanessa Davis's collection of short diary comics, Make Me a Woman, is right up my alley as well. We became very good friends after I saw her work online, and have been ever since. Vanessa has a sharp eye for the absurd, the poignant, the comic, the intimate. Her sense of color and line is a delight, and she has an excellent nose for stories laying themselves at her feet. On top of that, she and I can be out in public, see someone who desperately needs to be drawn by either or both of us, and simply exchange bug-eyed significant looks and elbow jabs.
Tom Hart's Rosalie Lightning is a staggering, unflinching examination of the loss of his nearly two-year-old daughter in graphic memoir form. He has shared his catharsis visually, in a way neither maudlin, nor at a remove. It is a visceral, honest, and haunting excavation of the kind of nightmare the rest of us have a firewall in our brain to keep away.
4. We Are on Our Own by Miriam Katin
Another brave soul who has a harrowing story to tell is Miriam Katin, whose book, We Are On Our Own, begins in 1944, when the Nazis finally got around to rounding up all the Jews of Budapest. Katin's father was fighting in the resistance, and her mother took flight with Miriam, at age two, to the countryside, where she masqueraded as a peasant girl with a bastard child. They were given shelter by a farm family, but her mother found there were still many trials to come and deals to be struck before the war would end. This book is a riveting look at Katin's questioning of faith and a dialogue between herself and her mother--still with us!--to draw out those memories in order to come to terms with the trauma visited upon her family.
5. Can't We Talk About Something More Pleasant? by Roz Chast
Roz Chast has built a career as a New Yorker cartoonist with single-panel comics that are economical, bittersweet souffles of neurosis, anguish, and despair. Is it a surprise that the story she tells of managing the ends of her parents' lives would be any less pithy or poignant? Can't We Talk About Something More Pleasant cuts to the very marrow of a long and difficult relationship, the untidy and unwieldy mess of organizing medical and legal issues, and the complexities of adulthood. You'd think this would be no fun--and for Chast, it isn't--but her approach, her delicate line, and her watercolor washes somehow celebrate the absurdity and the humanity of it all.
Shigeru Mizuki fought in the Japanese Imperial Army in Papua New Guinea, a place rife with disease, crippling heat, near-starvation, and the daily horror of war. He has an off-hand, absurdist touch in expressing the savage brutality shown the troops by their own leaders, and their insistence that death was inevitable and more honorable than survival. Onwards Towards Our Noble Deaths tells of a personal survival that had more to do with the author's own eccentric attitude, his complete inability to fit into the militaristic lockstep, and his slow development after the war as he became a national hero of manga.
Guy Delisle's Hostage tells the story of a French administrator for Doctors Without Borders, Christophe Andre, who was working in the Caucasus region in 1997 when he was kidnapped by Chechen rebels and held captive for many months. He shows masterful skill both with words and pictures, as he paces the story of a man confined to a dark room in a kind of endless purgatory. To make each hour of survival absolutely gripping and page-turning is a kind of magic trick.
Stitches by David Small tells the very personal and painful story of how his father, a radiologist, submitted him to far too many radiation treatments for the sinus problems he had as a small child. When he was 14, David had an operation that removed a vocal cord, leaving him literally mute for years. Not that he was ever actually told that his father gave him cancer. It was a household where there was not much talking anyway, what with all the rage seething just under the surface. Years of unearthing family secrets leads him, finally, to forgiveness and closure, as depicted in this haunting memoir.
Another painful-yet-funny family memoir is Riad Sattouf's The Arab of the Future. Growing up in France, Syria, and Libya, Sattouf paints a darkly comic, cynical landscape as things change dramatically and quickly. His father tries to reconcile his own dogma and his own hopes for the Arab world with what is happening before his eyes, while his wife and son watch helplessly.
Epileptic by the French cartoonist David B. is another cartoonist's desire to come to grips with traumatizing family events. When his brother is diagnosed with severe epilepsy as a child, in order to spare him from surgery, his parents seek out and become the victims of years of quack treatments that give them false hope and lead only to dead ends. As their son drifts further away into his disease, his brother, the author, draws fantastic battle scenes that reveal his own interior world. In flashbacks, the story of his grandparents' survival of both World Wars allows us another layer of this family's fight for survival. The striking, bold black-and-white drawings connect us with the complex relationship between the author, his parents, and his brother's own losing battle.