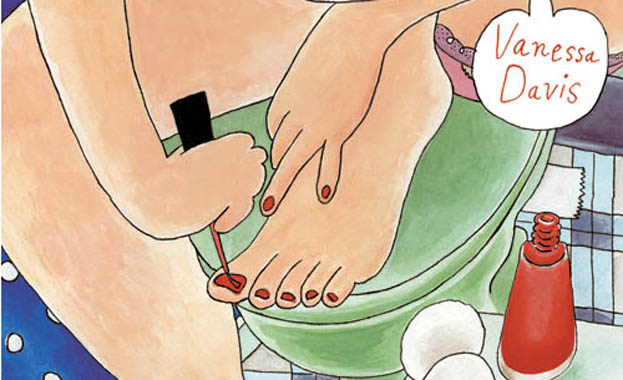 The LA Times Hero Complex reviews MAKE ME A WOMAN
On Sunday, Hero Complex contributor Deborah Vankin wrote about Joyce Farmer and her 208-page illustrated family memoir "Special Exits." Today we continue our look at female cartoonists, with Vankin's snapshot portrait of Vanessa Davis.

In "Make Me a Woman," Vanessa Davis lays it all out there — Fat Camp, phone sex, late-night binging, even mustache bleaching. Her second book, in what's still a relatively young career that also includes columns for Tablet Magazine, collects the rambling, neurotic and admirably honest diary comics she drew throughout her 20s, from 2004 to the present.

The book, out recently from Drawn & Quarterly, stitches together a pastiche of styles: loose, deeply personal pencil sketches, richly colored narrative comics, and full-page, color self-portraits showcasing a spectrum of moods, outfits and haircuts. Plus random drawings that were "just hanging out in my sketchbook," she says. From the adolescent bat mitzvah circuit of her youth in Florida to the first loves and first jobs that come later in New York, it's a comedic coming-of-age chronicle.

"The themes are friendship, the yearning for connection, confidence and sense of self, growing up," she says. Early on, Davis, who now lives in Northern California, was drawn to the work of Debbie Drechsler and Aline Kominsky Crumb. "[They] made the biggest formal influence on me because they drew kind of how I like to draw — cartoony. When I started drawing comics, I was both incorporating and battling their influences," she says.

Being Jewish also factors heavily in the book — her free-spirited, Reform mom is a central recurring character — though Davis says writing about religion was unintentional. "I never intended on writing about Judaism in my comics. I grew up with a lot of Jewish influences, so I didn't think it was interesting. I took it for granted." Instead, she came to cartooning with a devotion to documentation and autobiographical painting and drawing. "Art has always been my real religion," she says.