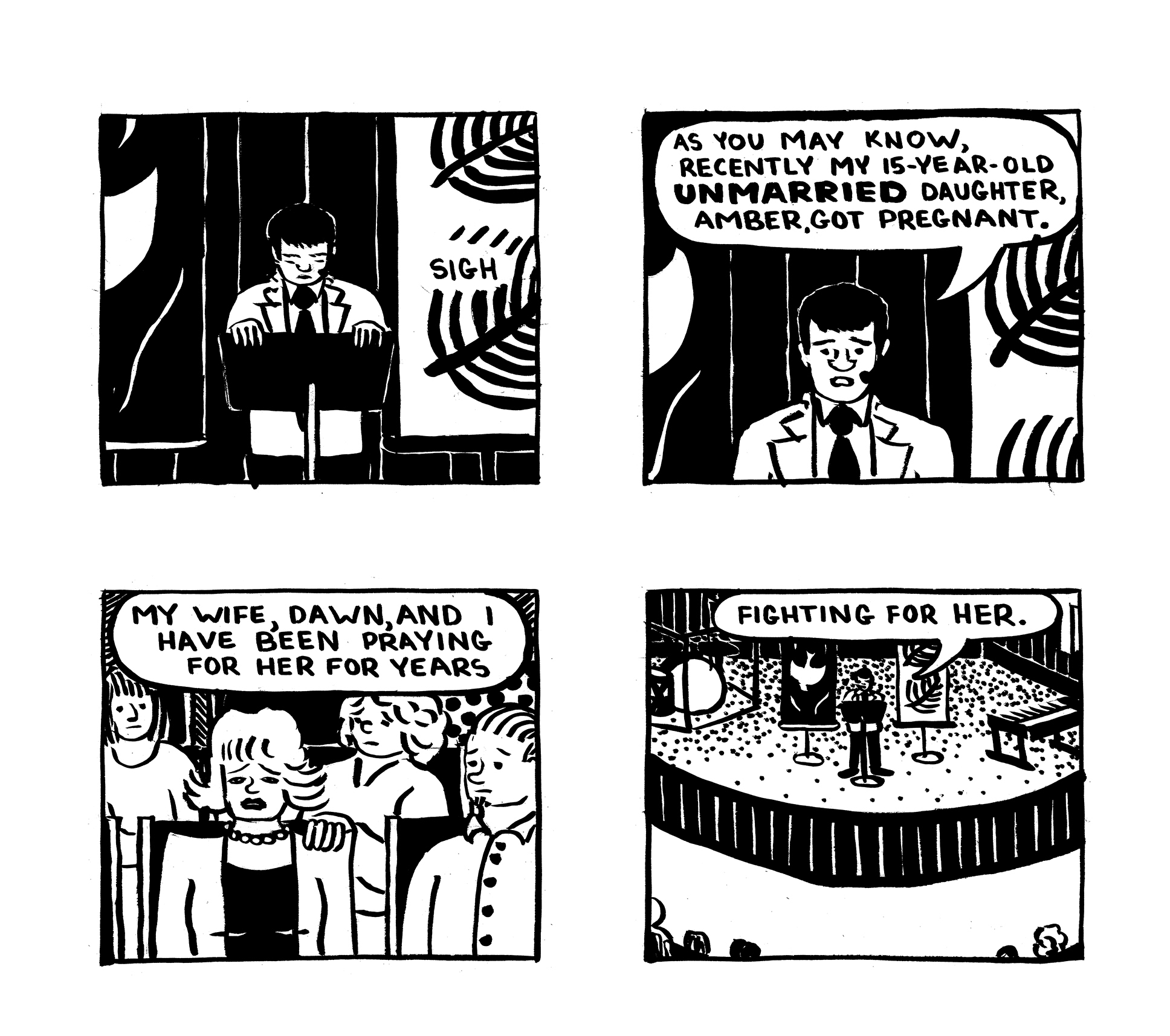 Jessica Campbell speaks about Rave for CBC Books
Jessica Campbell is a Canadian visual artist, comic creator and lecturer originally from British Columbia and now living in Green Bay, Wis. Her first two comic books, Hot or Not: 20th Century Male Artists and XTC69, were farcical, feminist and fourth-wall breaking stories featuring characters called Jessica Campbell — one an art lecturer, and the others a space commander and the last Earthling in post-apocalyptic times.
Her third book, Rave, is a departure from her first two books — still funny, but a longer, more serious coming-of-age narrative. And while there isn't a character named Jessica Campbell, Rave does draw from the artist's life and religious upbringing in B.C.
"The church was the dominant thing in my life for the first 18 years, and so it's something I wanted to address in my work for a long time," said Campbell. "It's taken me quite a number of years to feel comfortable addressing it directly, which is what this book is trying to do."
Rave's main character, Lauren, is a teenage girl who quietly begins questioning the teachings of her church — particularly the expectations of women to be pure and of service to men. At her public high school, Lauren is paired with a free-spirited girl named Mariah for a project on evolution. Lauren grows bolder, exploring her sexuality, as her relationship with Mariah deepens, but always feels the suffocating weight of the church.
Campbell spoke with CBC Books about making Rave.
How are you feeling now that Rave is out?
I feel good. It's such a funny process publishing a book, because I finished it a year ago and I was like, 'I'm so desperate for people to read it.' And now, after waiting for so long, people are starting to read it. I am a little anxious about it, but excited.
What makes you anxious about this particular book? 
I think that there's always some anxiety with a new project about how people will respond to it. But specifically here, this book is so personal. It's fiction, but it's very much rooted in my own experience having a religious upbringing and the fraught-ness of that.
I think I'm a little anxious about making something so personal. But also I'm a little nervous about my parents' response to it, if and when they read it. I'm kind of hoping my father won't ever read it and we just have to not address it. I think that's compounding the general nervousness with the new project.
Check out the rest of the interview
here
!