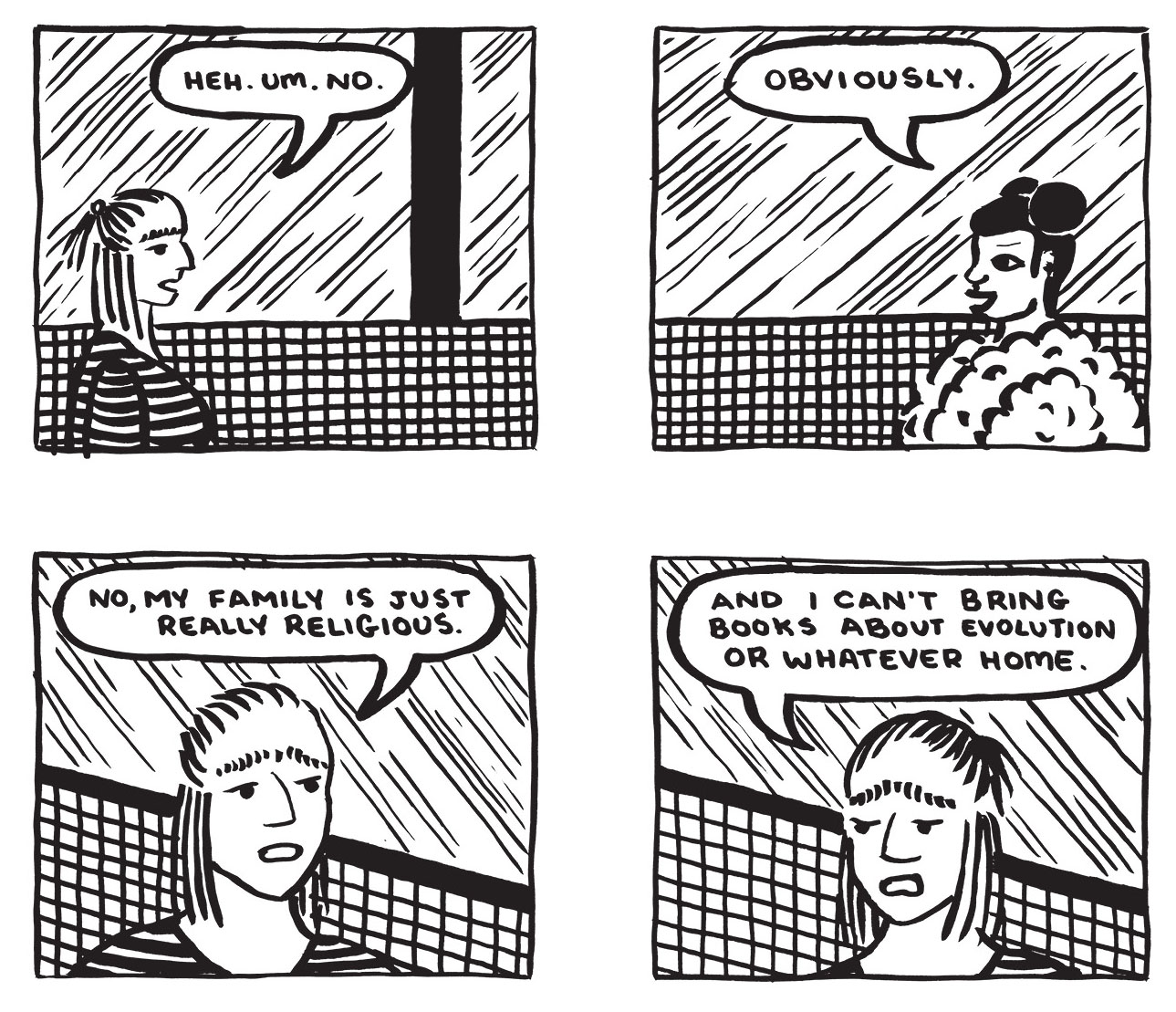 Jessica Campbell speaks about Rave for Broken Frontier
School libraries in America banned more books in 2021 than ever before. Adding to this disturbing fact is the possibility that the LGBTQ+ community in that country is under attack. It is this backdrop that makes Jessica Campbell's coming-of-age story
Rave
so powerful and poignant.
As a Canadian cartoonist who has made the state of Wisconsin her home, she presents her tale of sexuality and the weight of religion without judgement. The protagonist of
Rave
is a teenager named Lauren, trying to make sense of a world where people who proclaim the love of God also do everything in their power to withhold that love from those who need it most.
We reached out to Campbell with questions about the church, her secondary career as a teacher of art history, and how hopeful she is of change. Here are her responses:
BROKEN FRONTIER: Your book opens with a reference to the Equal Rights Amendment and a particularly worrying comment on feminism. What were you thinking about when you decided to begin working on Rave?
JESSICA CAMPBELL:
I grew up in an evangelical church that was partly formed by a pastor named Harald Bredesen, who was Pat Robertson (the quote's originator)'s mentor. I think that quote sums up some of the attitudes of the church that I grew up in, which include inflammatory syllogisms that Robertson is well-known for. I wanted to make a book that captured the feeling of growing up in an environment like this, particularly as a girl/woman. It's something that has deeply impacted my worldview and life generally, and I've wanted to make work that addresses this culture for a long time.
BF: The early pages focus specifically on guilt and, although the period your story is set in is now long behind us, it doesn't feel as if that guilt has really gone away. How do you look at religion today, given the church's stand on LGBTQ issues?
CAMPBELL:
Well, I now live in the United States, where the Christian Right is currently introducing legislation across the country that limit the rights of queer people and women. There is a politician who lives across town from me in Green Bay, Wisconsin who is trying to criminalize providing health care to trans youth. Abortion access is being limited or completely blocked across the country. The religious groups doing this claim moral superiority but target the most vulnerable members of our society.
Read the rest of the interview
here
!