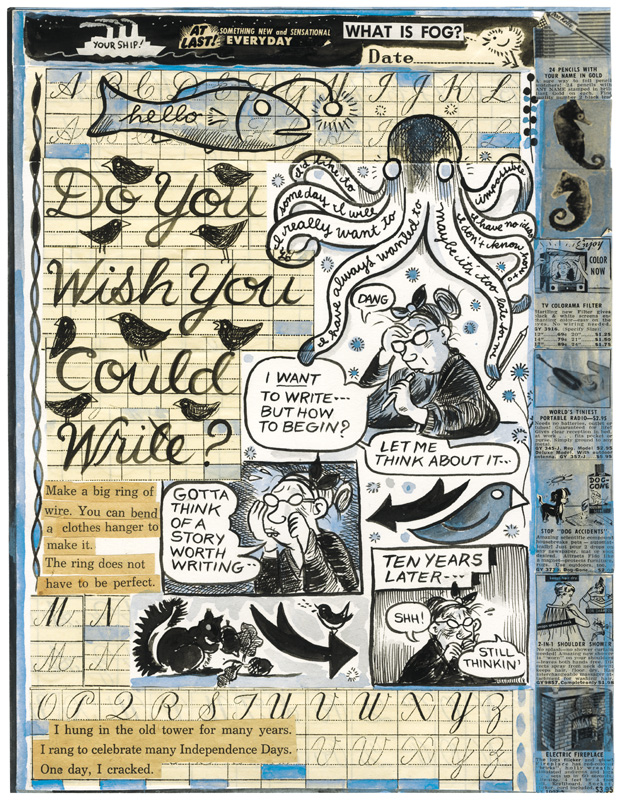 The Irish Times writes up What It Is and Picture This
In praise of Lynda Barry, whose books about creativity are themselves works of art
Not many books about creativity are works of art in themselves, but What It Is (2008) and Picture This (2010) are. They are by Lynda Barry, a US cartoonist, writer, playwright and teacher who emerged in the 1980s with Ernie Pook's Comeek , a strip that chronicled Marlys Mullen and her dysfunctional family, and appeared in alternative newspapers across North America for almost 30 years.
She followed it with a series of graphic novels, notably The Good Times Are Killing Me, in 1988, and Cruddy, in 1999.
Barry's illustrated world is tough, sometimes heartbreakingly so, but the bleakness is relieved by her sharp observations, humour and affection for her characters. She used her difficult childhood as inspiration: "My parents were not reading people. They worked, shouted, drank, slap- ped, belted and were broke."
When the alternative newspapers began to go to the wall, Barry reinvented herself as a creativity guru and now gives workshops all over the US (and occasionally Europe).
What It Is is concerned with writing and Picture This with drawing and painting, but both emerged from Barry's interest in the creative process. They are partly graphic memoirs, partly guides for the creatively frustrated. They are crammed with bits of writing, drawings, paintings, doodles, collages, letters and pieces cut out of newspapers and magazines.
Picture This encourages us to "learn how to art with the near-sighted monkey!", who, with her polka-dot bandana, beret and glasses, is clearly Barry's alter-ego. She credits her interest in the arts with her survival and views creativity as being as important to wellbeing as our immune systems.
Barry is convinced of the importance of physical activity in the artistic process – that moving your hand across the page loosens the brain in a way tapping on a keyboard cannot. She tries to help readers to enjoy creating and to stop worrying about the "product".
The books are deceptively scribbly and childlike – each time I go back to them I find details I hadn't noticed before. They are sad and funny, silly and profound, and, above all, democratic. Barry gives everyone permission to "art".