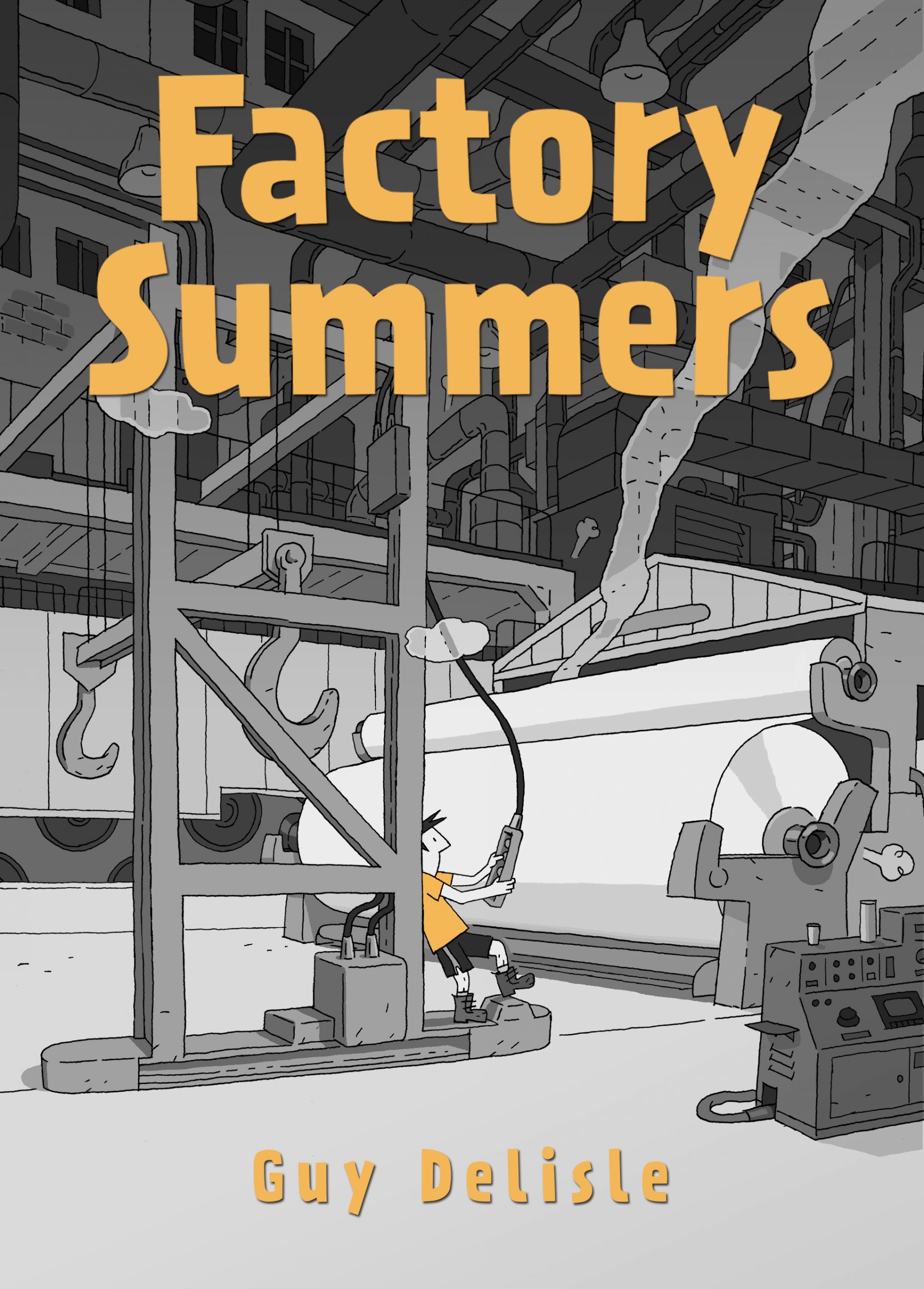 Icv2 Covers Spring 2021 Announcement
Drawn and Quarterly has unveiled its Spring 2021 catalog, which features a lineup of new works by familiar and emerging creators as well as a trio of paperback reprints.
Factory Summers, by Guy Delisle:
Delisle's serious work usually takes an outsider's perspective on a foreign land, as in his Pyongyang: A Journey in North Korea and Jerusalem: Chronicles from the Holy City (see "Guy Delisle's 'Jerusalem: Chronicles from the Holy City'"); his less serious work is his A User's Guide to Neglectful Parenting and its two sequels (see "'Even More Bad Parenting'"). Factory Summers is his memoir of three summers spent working in a paper factory during his teens. As both a newcomer and the son of an executive in the same company, Delisle is a different sort of outsider as he works alongside the "lifers" and experiences the very different culture of the factory floor. The 136-page black and white hardcover will be published in June 2021 with an MSRP of $22.95.
My Begging Chart, by Keiler Roberts:
Roberts draws wry slice-of-life comics about her everyday life, finding humor and meaning in ordinary things such as her daughter's imaginary friends or the dilemma of whether to dust the ceiling fan. Her style is simple, just black lines on a white background, with only the important details included, and she has a particular talent for rendering her characters' facial expressions. Roberts has won the Slate Cartoonist Prize and the Ignatz Award. D+Q will publish My Begging Chart in May 2021 as a 156-page black-and-white paperback with an MSRP of $19.95.
Night Bus, by Zuo Ma:
Chinese artist Zuo Ma is an up-and-coming creator in the Chinese alternative comics scene. His Night Bus combines the ordinary and the dreamlike as a young woman travels on the night bus, a cartoonist tries to be both an artist and a caregiver, and oversized catfish, salamanders, and beetles intrude on everyday life. The 360-page, black and white paperback is scheduled for July 2021 and will have an MSRP of $29.95.
Fictional Father, by Joe Ollmann:
Caleb is both a real person and a cartoon character: He's the son of a famous cartoonist who charmed the world with his comic strip about family life while neglecting his only son in real life. Now middle-aged, his father long gone, Caleb is an unsuccessful painter and recovering alcoholic with a boyfriend whose patience is wearing thin. When he has the opportunity to control a major part of his father's legacy, he gets everything wrong and his life starts to spiral downward. The four-color, 196-page paperback will be published in May 2021 with an MSRP of $24.95.
Rebecca and Lucie in the Case of the Missing Neighbor, by Pascal Girard:
A man has mysteriously disappeared from Rebecca's neighborhood, and she may have witnessed part of the crime—while breastfeeding her eight-month-old daughter, Lucie. Disturbed by what she saw, and determined to get to the bottom of it, Rebecca must juggle diapers, day care, and detective work in her search for the truth. The four-color, 104-page paperback is scheduled for June 2021 and will have an MSRP of $21.95.
Let's Not Talk Anymore, by Weng Pixin:
Pixin, who was born in Singapore, tells her family's story by focusing on five women over a period of 100 years, depicting each one at the age of 15: Her great-grandmother, grandmother, mother, and a fictional daughter, as well as Pixin herself. Each experiences trauma, struggle, and hope, and by interweaving their stories, Pixin shows how these experiences are passed on from one generation to another. Let's Not Talk Anymore will be a four-color, 200-page paperback to be published in June 2021 with an MSRP of $24.95.
Little Lulu: The Little Girl Who Could Talk to Trees, by John Stanley:
This is D+Q's third collection of Stanley's Little Lulu stories (see "'Little Lulu' Headlines Drawn & Quarterly's Spring 2019 Releases") and it includes the usual antics, including one of the best known Little Lulu stories, "Five Little Babes," in which Lulu and her friend Annie try to crash the neighborhood boys' club. The 292-page, four-color hardcover is scheduled for August 2021 with an MSRP of $29.95.
Drawn and Quarterly's spring catalog also includes three paperback reprints:
Clyde Fans, by Seth:
The collected edition of Clyde Fans made Canadian history as the first graphic novel to be nominated for the Scotiabank Giller Prize; it was also nominated for an Eisner. The story of two brothers trapped in a dying business showcases Seth's unique storytelling style, as he conveys emotion, mood, and very specific moments through his characters' interior monologues, sweeping landscapes, and tiny details, all filled with nostalgia for a time that seems better only in retrospect. The 488-page, four-color paperback edition will be published in May 2021 with an MSRP of $34.95.
Wendy and Wendy's Revenge, by Walter Scott:
D+Q published Wendy: Master of Art in June 2020, and now they are reprinting Scott's first two books about the trendy urban artist-wannabe, both of which were originally published by Koyama Press. Both books will be four-color paperbacks and will be released in June 2021 and both will have an MSRP of $22.95.