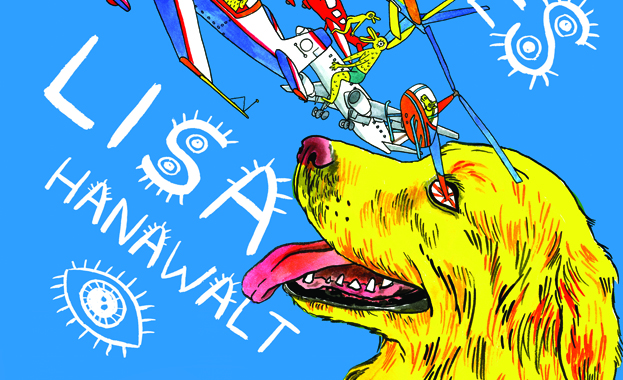 Hazlitt interviews Lisa Hanawalt
"Lisa Hanawalt is Probably Thinking About Horses or Dogs"

By Chris Randle
Hazlitt, May 16, 2013

The Brooklyn–based cartoonist, illustrator and podcast host speaks to Hazlitt about learning to talk to comedians, Channing Tatum's abs, and why she may or may not be a furry.

Lisa Hanawalt is not a comedian, in the traditional sense of the word, but she draws like a versatile one: idiosyncratic cultural observation, a surrealist's sense of humour, inventively filthy. The two issues of her comic I Want You abounded with anthropomorphic animals, those elemental cartooning familiars, wearing unnervingly detailed human bodies. In Hanawalt's contribution to the pornographic anthology Thickness, the old teacher-student scenario plays out in front of an entire class. "Oh god, her tits! Tiiiiiiiiits…And that ASS," ponders the avian instructor, who is lusting after a girl with a worm for a head, invertebrates writhing through her cleavage.

That particular nightmare/fantasy does not appear in My Dirty Dumb Eyes, the new Drawn & Quarterly collection of Hanawalt's work, but you will find Prince as a dove, an artistically frustrated moose lady, and many, many monkeys. The Brooklyn cartoonist has lent expressive colours to more and more illustration gigs lately, and reading pieces like "Rumours I've Heard About Anna Wintour" or "Sex Fantasies Inspired By Movies" ("The Hulk is trapped in a room containing nothing but my butt"), it's only sharpened her jokes elsewhere. We spoke at last weekend's Toronto Comic Arts Festival, after a coincidental burger-related introduction the night before....