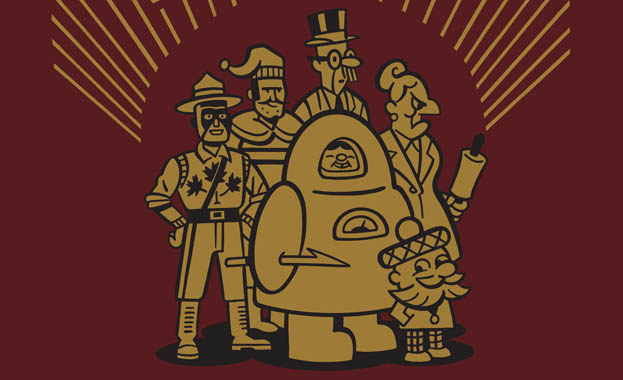 GNBCC reviewed by Globe and Mail
"Unlike other countries, Canadians (and their leaders) loved and supported cartooning," declares Canada's elder statesman of comics art, Seth, in his latest book. In this tale's alternate timeline, even former prime minister Pierre Trudeau declares his only regret was never being a successful cartoonist.

The past in its dimensions is an overarching theme in Seth's work, notably in 2009's George Sprott. In The Great Northern Brotherhood of Canadian Cartoonists, it manifests primarily as a lament, for a fictional past that never was.

There's no genuine wish being expressed by the artist for, say, the existence of a series starring an Inuit astronaut, Kao-Kuk. The point is to savour the melancholy in the characteristically human wish for things to have been otherwise.

The GNB Double C occupies a most distinctly imagined space in Seth's fictional Canadian town of Dominion (also the setting for Sprott). From its entryway bas-relief featuring a "who's who" of Canadian cartoon characters, to a lobby complete with brass brazier and enormous murals, to the communal Forest Room, with its copper-plated support column trees and "near-virtual history of Canadian cartooning on the walls" – the specificity of the artist's imagination is key to the book's spell. What's visualized is the kind of place we'd like to visit, if it existed.

Similarly, some of the comics-that-never-were are so fantastically conceived, we wish they'd truly existed. Take a tale of fictional French-Canadian woodsman Jean Trepanier, in which the hero becomes lost in an indifferent wilderness. Then there's the "final" adventure of Kao-Kuk, which circles back to Seth's larger theme in suggesting the mundane may secretly be more fantastic than in reality.

Yet how impossible it is for any but the most damaged minds to block out reality altogether. Our otherwise possibly unreliable narrator can't bring himself to gloss over unfortunate past social norms – such as unapologetic racism and sexism – that infected the GNBCC. Nor can he deny that, in fact, most of the member artists "had terrible taste and no understanding of art." Many are either dead and forgotten, or equally neglected in nursing homes.

And there you have the full, melancholy measure of it: Most of us do nothing to matter a damn to history, and collective memory is equally indifferent to human creations of genuine worth. No wonder we learn the GNBCC rooftop has seen a few jumpers.

One line that happily reflects no kind of reality is a declaration that our national cartooning is "now in a period of decline." By contrast, Seth recently became the first cartoonist to win the Harbourfront Festival Prize, and fellow Canadian Chester Brown's Louis Riel was voted one of the top 10 for CBC's 2012 Canada Reads competition. (This after yet another Canuck, Jeff Lemire, saw his Collected Essex County cut in the very first round in 2011.)

One hopes this keeps Canadian artists from suicide; at best, it's a reflection of the continually growing recognition comic art is now enjoying. Given such often-wondrous output as The Great Northern Brotherhood, it's no marvel.