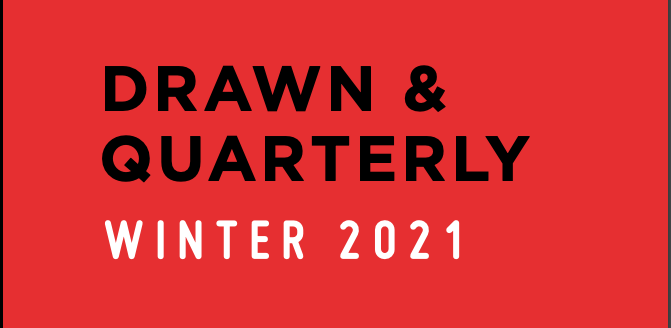 Four D+Q Winter 2021 titles among The Beat's most anticipated
Red Flowers
Yoshiharu Tsuge leaves early genre trappings behind, taking a light, humorous approach in these stories based on his own travels. Red Flowers ranges from deep character studies to personal reflections to ensemble comedies set in the hotels and bathhouses of rural Japan. There are irascible old men, drunken gangsters, reflective psychiatric-hospital escapees, and mysterious dogs. Tsuge's stories are mischievous and tender even as they explore complex relationships and heartache. It's a world of extreme poverty, tradition, secret fishing holes, and top-dollar koi farming.
Tono Monogatari
Shigeru Mizuki―Japan's grand master of yokai comics―adapts one of the most important works of supernatural literature into comic book form. The cultural equivalent of the fairy tales of the Brothers Grimm, Tono Monogatari is a defining text of Japanese folklore and one of the country's most important works of literature. This graphic novel was created during the later stage of Mizuki's career, after he had retired from the daily grind of commercial comics to create personal, lasting works of art. Originally written in 1910 by folklorists and field researchers Kunio Yanagita and Kizen Sasaki, Tono Monogatari celebrates and archives legends from the Tono region. These stories were recorded as Japan's rapid modernization led to the disappearance of traditional culture. This adaptation mingles the original text with autobiography: Mizuki attempts to retrace Yanagita and Sasaki's path, but finds his old body is not quite up to the challenge of following in their footsteps. As Mizuki wanders through Tono he retells some of the most famous legends, manifesting a host of monsters, dragons, and foxes. In the finale, Mizuki meets Yanagita himself and they sit down to discuss their works.
Billionaires
In Billionaires, Darryl Cunningham offers an illuminating analysis of the origins and ideological evolutions of four key players in the American private sector―Amazon founder and CEO Jeff Bezos, media mogul Rupert Murdoch, and oil and gas tycoons Charles and David Koch. What emerges is a vital critique of American capitalism and the power these individuals have to assert a corrupting influence on policy-making, political campaigns, and society writ large.
Heaven No Hell
In the past ten years, Michael DeForge has released eleven books. While his style and approach have evolved, he has never wavered from taut character studies and incisive social commentary with a focus on humor. He has deeply probed subjects like identity, gentrification, fame, and sexual desire. Each of these stories shows the inner turmoil of an ordinary person coming to grips with a world vastly different than their initial perception of it. The humor is searing and the emotional weight lingers long after the story ends. Heaven No Hell collects DeForge's best work yet. His ability to dig into a subject and break it down with beautiful drawings and sharp writing makes him one of the finest short story writers of the past decade, in comics or beyond. Heaven No Hell is always funny, sometimes sad, and continuously innovative in its deconstruction of society.