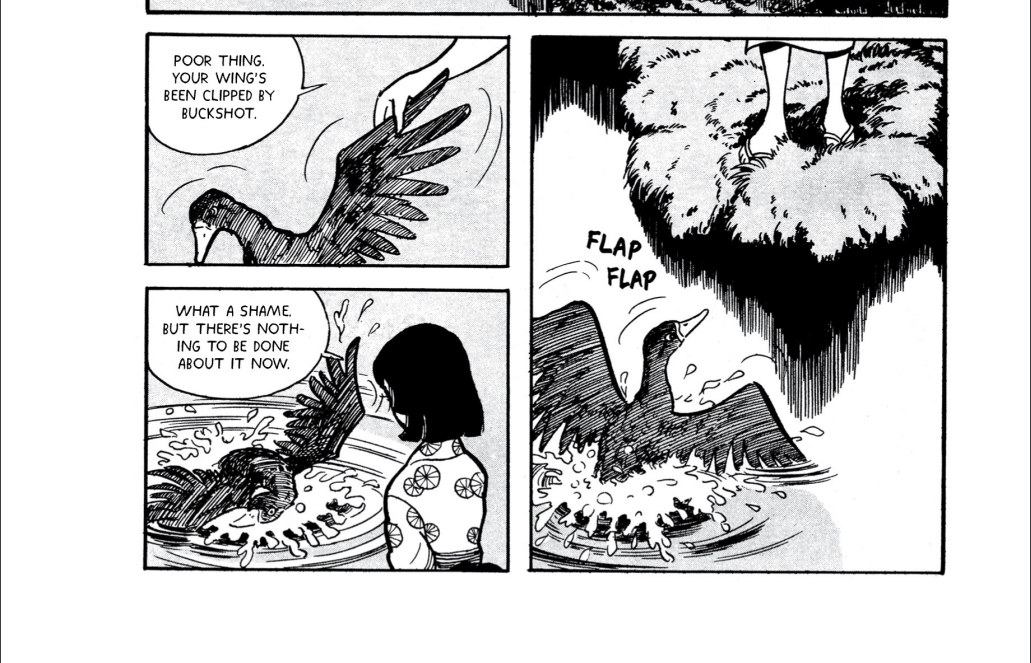 Four D+Q graphic novels featured in The Quietus's roundup
Yoshiharu Tsuge - The Swamp (Drawn & Quarterly)
Last Behold! included a review of Tsuge's The Man Without Talent, including some of his losely autobiographical work from the 1980s. This time we have the first in a series of releases from Drawn & Quarterly comprising work from much earlier in his career. Once again Ryan Holmberg provides the translation but this time the accompanying essay is by Mitsuhiro Asakawa.
Tsuge's early career included writing stories for the kashihon (rental manga) market in the 1950s when he was a teenager, and he redrew a number of those in the mid 60s for inclusion in the influential Garo magazine, included here. Unlike his later output, several of these are historical stories of samurai and ninja, although the struggle of poverty is a linking theme throughout. Opening piece The Phony Warrior is an account of the meeting between a samurai and an anonymous ronin at a hot spring in the mountains. Speculation about the identity of the mysterious ronin leave the narrator reflecting on how much we must endure just to live our lives and how little of this may be obvious to the casual observer. Even at this early point in his career there is a pervasive melancholy, reflective quality rather than a reliance on conventionally exciting narratives.
Although there is a rare happy ending in one story, The Secondhand Book, the approach he takes in Chirpy is much more common, where an unhappy couple buy an expensive bird and tension builds as we know something is going to go wrong. Start a story, think of a bad outcome, and you'll be in the right area, but Tsuge always has the capacity for surprises. His bleak, low key endings rarely offer redemption, at best bittersweet if it comes. Throughout the work here beautifully detailed establishing panels are used to show the setting, switching to much more simple panels to foreground the action. This excellent collection is a great introduction to Tsuge's early career, and I can't wait for the next volume. Pete Redrup
Yeon-sik Hong - Umma's Table (Drawn & Quarterly)
Umma's Table, a sort-of sequel to 2017's Uncomfortably Happily, has much of the same charm as its predecessor. Artist Madang rents a countryside home with his wife and baby, hoping to settle down to life outside Seoul after many apartment moves. As with Yeon-sik Hong's previous book, the idea of living a simple life in tune with nature is very important here. Much is made of the seasonal weather as the family are trapped at home by snow then delighted with the emergence of spring greens that Madang cooks for his family. Food is a way of staying in touch with nature, a vehicle for nostalgia as he remembers his childhood and also the way he likes to care for his family.
The importance of food for families is one of two central themes - an early section looks at the annual kimchi-making where Madang's mother would ferment 100 head of cabbage which would provide food for much of the year. There are numerous flashbacks to childhood which usually feature food preparation, often the staples the mother would make that would feed the family for months, like kimchi or soya bean paste. His happy childhood memories revolve around eating and this is a tradition he wants to continue with his own family, getting up early to prepare elaborate healthy meals based on produce from his own garden. As the family settle into their life in the countryside, the second motif of the book emerges. Madang has to constantly return to Seoul to look after his ageing parents who have complex health needs and live in a depressing underground apartment.
His beloved mother, provider of his happy childhood memories, is seriously ill and his alcoholic father is incapable of looking after her. Madang and his brother Maru take turns to look after her and share the hospital bills, and this takes a heavy emotional and financial toll. Yeon-sik Hong has produced a book exploring something we can all relate to, how we care for the people we love, particularly when they have competing demands. This time, he draws his characters as anthropomorphic cats (quite distinct from the feline pets that also feature). He reminds us what is important in life, but also how we can feel like we could always do more, and the importance of making peace with this. Pete Redrup
Lynda Barry - Making Comics (Drawn & Quarterly)
Lynda Barry's immersive work continues to engross. Making Comics (from 2019) is the Barry book which is most explicitly a guide about comics, although it can also be cast as part of a series of meta comics which thus far includes What It Is and Syllabus. Scott McCloud's 1993 book Understanding Comics still has something of a monopoly when it comes to comics about comics, and about how you, too, could make one. While McCloud's book functions perfectly as a series of didactic steps for the aspiring cartoonist, Barry's collage feels more revelatory, like comics' subconscious being brought above water, and is also more theoretically rigorous. Few have done as much as Barry to analyse and present the perplexing possibilities that are open to creators of "graphic narratives." Making Comics features Barry's trademark marginalia, scans of newspaper clippings, painted cartoons, and obsession with handwriting. Additionally, and very much on-brand, this book depicts childish things but is too much like a psychoanalytic submersion into images to be considered anything other than adult. Hillary Chute wrote in 2010 about Barry's use of "the rhythm and narrative interplay of comics to give form to traumatic events in childhood," though trauma is much less of a focus in this instance.
Making Comics finds something emancipatory in childhood activities. It is instructive, and avowedly a teaching tool, yet the words themselves remain imagistic and the borders are hallucinatory, like a lesson provided through the lens of one of William Blake's illuminated manuscripts. This book reinforces the fact that the beauty with creating comics is that inexperienced authors can get over the hump of having to feel like they need to represent something in a life-like manner. For Barry, the stranger and more unique the representation the better: the most important thing is that the page is alive. She wants artists to retain a child-like pleasure in being energetic with basic materials and seeing the unbelievable in a few doodles. In Making Comics, Barry synonymises this style of drawing with "a form of dreaming." Less skittish than some of her previous books, there is a dream-like quality within these pages, especially in how the colours - like ambiences - mutate between different headings and themes. Making Comics joyously reveals to the uninitiated and aficionados alike the medium's potential magic. Nicholas Burman
Disa Wallander - Becoming Horses (Drawn & Quarterly)
Disa Wallander is a Swedish artist whose mixed media approach has been grabbing peoples' attention. She includes photography, collage and 3D materials on the page, along with paints and cartoon characters rendered in pen. This creates a strange dualism on the page between obviously invented personas and documentation of "real" stuff. The dreamy, ungraspable landscape she presents the reader with befits her adopted philosophy, which seems something akin to Kant's contested term of idealism, the result of which is a practice that seeks to find some emotional truth amongst the conglomerated debris of experience. In the 1950s these characters would have been captured in amongst a nuclear familial setting; Wallander does away with the domesticity of the three panel strip and instead sets her characters loose upon a visual subconsciousness. Becoming Horses is a collection of work which features nameless characters who have previously appeared in Wallander's ongoing strip Slowly Dying. These characters seem to exist somewhere between childhood and adulthood, navigating naivety and existentialism in equal measure.
They seem aware of the surrealism of the diegesis, and provide some meta commentary on the nature of the always morphing environment in the book's opening sequence. Nevertheless, they don't seem daunted by it: they traverse it, negotiating friendships, loneliness and playfulness in the process. It actually took returning to Lynda Barry's work for the above review for me to grasp Wallander's work. That both are interested in collage makes them fit for comparison, but the following quote from Barry's What It Is is especially illuminating: "At the centre of everything we call 'the arts,' and children call 'play,' is something which seems somehow alive." Wallander's work provides an exact example of the "aliveness" that Barry is discussing here. Much like with Barry's work, that the characters in Horses could be construed as children is not proof of immaturity or frivolousness. To the contrary, the mixed media adventure that this book provides is a very serious and lively demonstration of play. Nicholas Burman