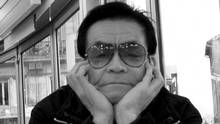 A DRIFTING LIFE reviewed by The Globe and Mail
Yoshihiro Tatsumi, a Japanese manga pioneer, attempts to transform the solitary life of the cartoonist into an outsized adventure story

Reviewed by Brad MacKay
Last updated on Saturday, Jun. 27, 2009 05:21AM EDT
With A Drifting Life, Yoshihiro Tatsumi's epic 855-page comics memoir, the legendary Japanese manga master finds himself wading wide-eyed into uncharted waters. It's not the size of this graphic novel that is blazing any trails – cartoonists have attempted sprawling works before, a recent example being Dash Shaw's exhilarating and exhausting Bottomless Belly Button, which, at 720 pages ranks in the medium's heavyweight division. Rather, it's the subject matter.

A Drifting Life, by Yoshihiro Tatsumi, Drawn & Quarterly, 854 pages, $36.95

In his ambitious new book, collected in English for the first time by Montreal's Drawn and Quarterly, Tatsumi attempts the unheard of: to dramatize the cartoonist's life. In this case, the life of Hiroshi Katsumi, Tatsumi's pseudonymous stand-in, a young man in post-Second World War Japan who quickly becomes obsessed with all things manga. Slowly and steadily, the book chronicles the author's growth as an artist, first as a child prodigy (he was barely a teen when his initial comics saw print), then later as the chief architect of the country's gegika movement; a gritty genre of adult-themed stories that would eventually earn him a reputation as the grandfather of Japanese alternative comics.

While Tatsumi's personal life makes some occasionally memorable guest appearances, the undeniable star of the book is manga; more specifically the cartoonist's all-consuming passion for the medium. Whole chapters are dedicated to his youthful meditations on the inner workings of comics and the bustling manga industry of the 1950s, which inhabits the same pop-culture turf that television would soon occupy.

While it's accepted for artists in other mediums to engage in a bit of creative navel-gazing (writers and directors in particular have done this to great success), it's virtually unheard of in comics. In fact, outside of a small handful of European cartoonists, I'm hard pressed to think of any cartoonists who have allowed themselves such an indulgence. (A very short list would include a single issue of Chester Brown's seminal series Yummy Fur and a three-volume autobiography by Golden Age journeyman artist Dick Ayers.)

" In one memorable scene, he compares the process of creating a comic to the endorphin rush experienced by marathoners "

As a whole, most cartoonists don't take themselves seriously, preferring to view their creative process as a more quotidian affair. Chris Ware, the acclaimed Chicago cartoonist behind Jimmy Corrigan, the Smartest Kid on Earth, shared his thoughts about the nature of his profession during a recent appearance at a New York literary festival: "Being a cartoonist is sort of like being a businessman doodling all day. You're not an action painter throwing paint around or going out into the world; you're just sitting pathetically at this table, staring down in a kind of feedback loop." Tatsumi would beg to differ.

In A Drifting Life, he attempts to transform the solitary life of the cartoonist into an outsized adventure story, and the creative process behind the form into something genuinely exciting. This is the cartoonist as heroic protagonist.

And like any good hero, he has a quest: in this case, to make good comics. From his early "gag" style strips to more significant longer narratives, "Katsumi" is committed to pushing the boundaries of his chosen art form. From a young age, he spends all of his free time making comics; when he isn't, he's reading them or debating their merits with his sickly older brother, whose intense criticism eventually spills over into bitter jealousy.

And like any true hero, he doesn't allow anything to stand in his way – not even beautiful (and willing) women. Instead, his passion is reserved for his profession. In one memorable scene, he compares the process of creating a comic to the endorphin rush experienced by marathoners; in other instances, he depicts himself actually swooning upon completing a strip. Clearly, there's only room for one leading lady in this tale.

But before you dive into the book's many treasures, a couple of caveats: Anyone acquainted with the recent crop of North American graphic novels, or Drawn & Quarterly's handsome translations of Tatsumi's ground-breaking gegika, will probably be disoriented by the artist's approach here. Though the art shares the same confident clean line of his best gegika stories, the characters in A Drifting Life have little in common with the characters in his more famous stories. Tatsumi's protagonist, for example, often reacts to dramatic moments with what appear to be exaggerated emotions; even the quietest of creative breakthroughs are met with Archie-comic expressions (lots of jumping up and down and extraneous exclamation marks) that are common in traditional manga.

It's almost as if the cartoonist, in choosing to recount his role in the history of Japanese comics, purposefully chose to adopt the familiar manga method with which he long ago parted ways. This makes it a true manga memoir, in both content and style.

As well, the pacing of the book's narrative is not without its problems; particularly when it comes to the author's attempts to provide historical context. At the outset, Tatsumi handles this well, such as the opening pages, when he portrays Japan's wartime surrender through the prism of his 10-year-old self. But by about page 400 or so, these one- or two-panel interludes (which include the royal marriage of Prince Akihito or the Japanese debut of Coca-Cola) start to feel clunky and a bit dutiful.

Yet these are largely forgivable flaws in an otherwise superb achievement. For anyone who has been fortunate enough to fall under the spell of Tatsumi's groundbreaking work of the 1960s and '70s, this book will prove a compelling and worthwhile read. And for those brave souls aspiring to become a cartoonist themselves, A Drifting Life will prove to be indispensable.

Brad Mackay is an Ottawa writer and co-founder of the Doug Wright Awards for Canadian cartooning. He also co-edited The Collected Doug Wright: Canada's Master Cartoonist, to which he contributed a biographical essay.