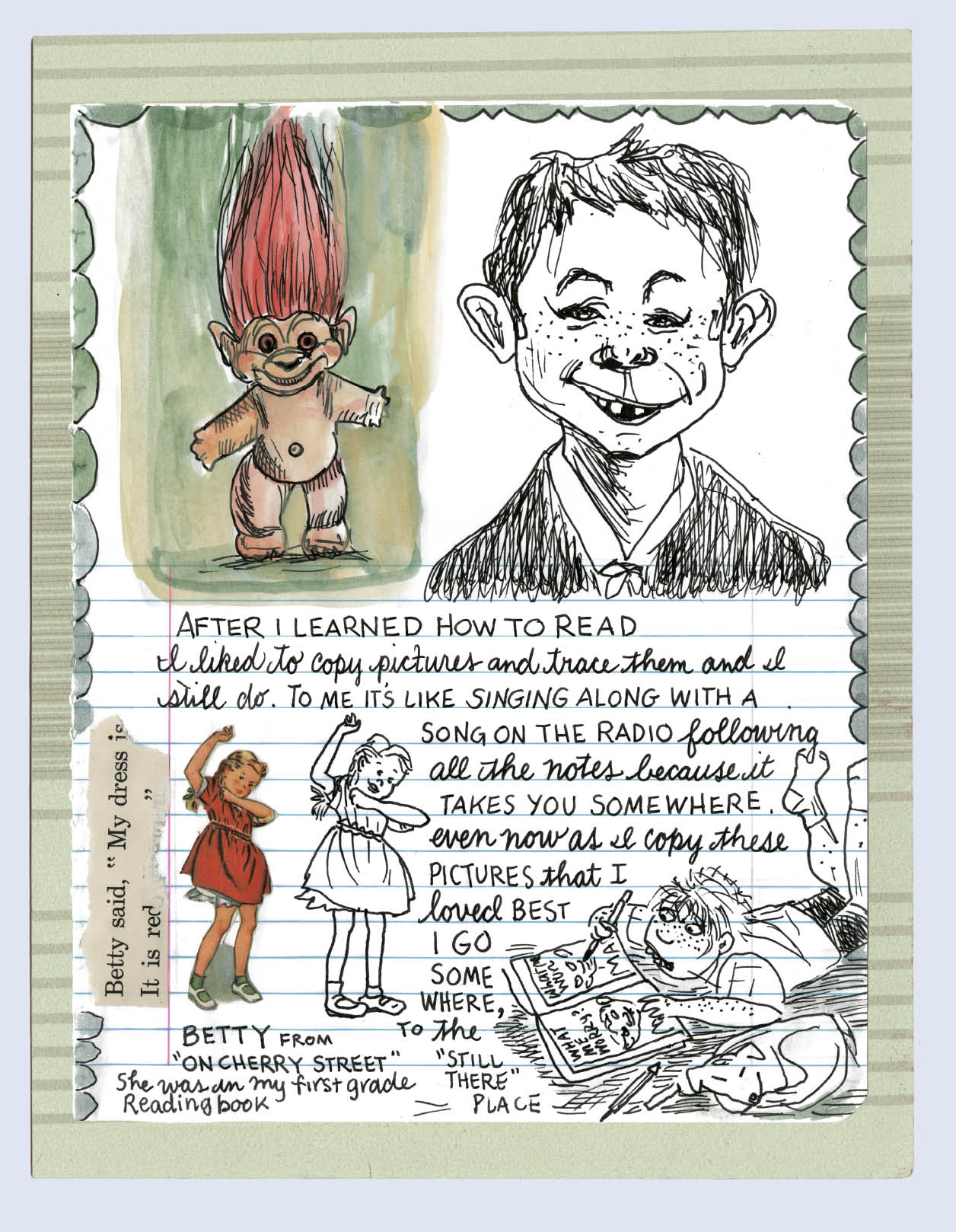 Douglas Wolk reviews Blabber for the NYTBR
Lynda Barry's excitable, bittersweet cartoons and collages are practically a cultural fixture, like little black dresses or "The Simpsons." So it's a welcome surprise to discover she actually had a formative period. BLABBER BLABBER BLABBER (Drawn & Quarterly, $24.95), the first volume of a projected complete-works series called "Everything," compiles Barry's early comic strips, drawn circa 1980, when she was still groping toward her sensibility and developing her recurring characters. Still, there's not a lot you could call juvenilia here, beyond a pasted-in 1972 drawing of a creature emerging from a can of "tomato monster soup" (captioned "I drew this in the ninth grade and felt incredible afterward") — except in the sense that her mature work aspires to be juvenilia, to extract nervous comedy and pathos from the way young people explain the world to themselves.
The samples of Barry's long-running strip "Ernie Pook's Comeek" collected here are mostly one-off absurdist gags rendered in an arch, brittle new-wave style. (She really liked drawing decorative patterns.) "Two Sisters," a short-lived series in which 9-year-old twins chatter to each other about things that are very important to them — dogs, identity, John Travolta — explores the territory Barry would conquer later on. A third series, "Girls and Boys," which actually concerns grown women (tormented doormats) and men (pigs and blowhards), is bracingly furious, hammering at the gentility of the four-panel gag-strip form with pen-in-fist crudeness. In one episode a woman in a grocery store has a sample of meat shoved in her face, followed by a cameraman's micro­phone. "Best meat I ever had," she manages to say, staring vacantly and spitting out the food in little bits.