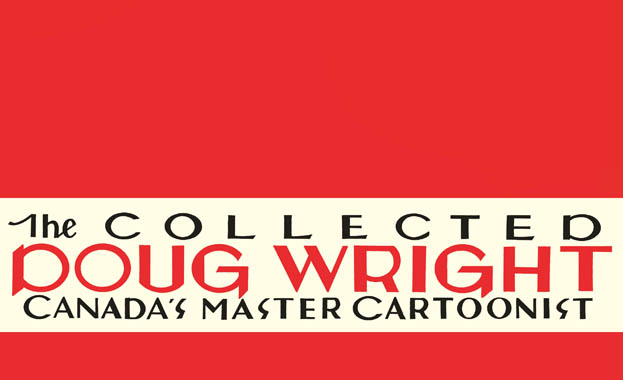 Doug Wright slide show on GlobeandMail.com
This oversize, gorgeous new book has impressive pedigree. It is co-edited by renowned Canadian graphic artist Seth, who also designed the book, and by Brad MacKay, an Ottawa journalist who contributes a thoroughly researched essay on the life, career and influences of Doug Wright. There is also an introduction by Lynn Johnston, the creator of the comic strip For Better or For Worse. As well, the books' creators had the support of Doug Wright's widow, Phyllis Wright Thomas, and complete access to Wright's journals and archives.

"If you grew up in Canada during the 1960s or 1970s, then you likely need little introduction to Doug Wright or his masterpiece of Canadian cartooning, Doug Wright's Family," MacKay writes in his essay. "Created on the cusp of the 1950s under its birth name Nipper, the semi-autobiographical strip epitomized the competing joys and agonies of family life for millions of readers, and earned Wright a reputation as Canada's equivalent to Charles Schulz."

Wright was born in England and moved to Montreal in 1938 at age 21 to take a job as an illustrator with Sun Life, then the largest insurance company in Canada. When the war came, he ended up in a small Manitoba town teaching navigation in the RCAF. His first cartoons were contributions to service magazines.

This collection, the first of two volumes, focuses on the years leading up to and including Nipper, the strip about a rambunctious boy who gets into constant trouble. Nipper was popular, says MacKay, because in Wright's work "kids acted like kids, in all their uncensored, amoral glory. Whether they were wreaking abuse on the family pet, pouring cigarette butts into their sleeping father's mouth or idly throwing rocks on unsuspecting adults, Wright presented the casual brutalities of childhood as an essential (and undeniable) fact of life."

The book is being launched today (Saturday, May 9) during the Doug Wright Awards at the Toronto Comic Arts Festival. It will be on sale as of May 26.