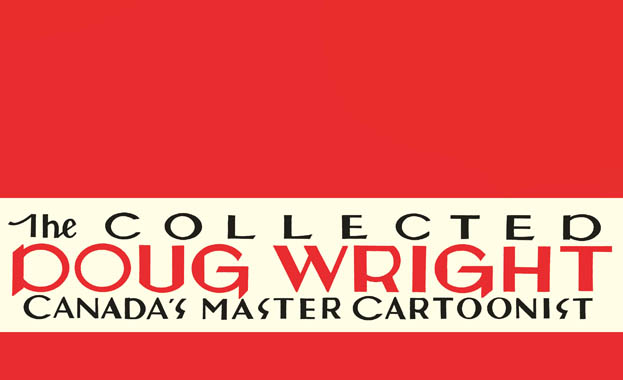 DOUG WRIGHT reviewed by The National Post
It's high time you revisited the work of pioneering Canadian artist Doug Wright, argues comic historian Seth

Seth was rummaging around a junk shop sometime in the mid-1980s when he discovered old back issues of Canadian magazine. Flipping through the pages, he came across comic strips drawn by a man named Doug Wright. The name piqued his memory.

"I think with a lot of the artists that I've been interested in as an adult, many of them were interests as a child but then forgotten during my teen years," says Seth, on the phone from his Guelph, Ont., home. "Wright fell into that category."

Over the next 20 years, Seth, the acclaimed cartoonist behind It's A Good Life, If You Don't Weaken and Clyde Fans, undertook to collect all of Wright's work that he could find. The detective work paid off, as this month Drawn & Quarterly publishes Volume One of The Collected Doug Wright, which chronicles the years between 1949 and 1962.

As journalist Brad Mackay writes in the book's introductory essay, "If you grew up in Canada during the 1960s or 1970s, then you likely need little introduction to Doug Wright or his masterpiece of Canadian cartooning."

But for those of us from a later generation, a history lesson is in order.

Wright was born in Dover, England, in 1917. A high school drop-out, he began his career as an illustrator for appliance manufacturer Electrolux before immigrating to Montreal in 1938 to work for Sun Life insurance. He first gained attention for his military themed strips during the Second World War, and after the war he became a freelance illustrator for the Montreal Standard. In 1948 he took over the popular strip Juniper Junction after creator Jim Frise's sudden death. His most famed strip, Nipper, about a mischievous bald-headed child, debuted in 1949 -- a year and a half before Charles Schulz's Peanuts, points out Mackay, and two years to the day before Dennis the Menace began terrorizing Mr. Wilson-- two strips to which Nipper is often compared. Nipper, later rechristened Doug Wright's Family, ran for 32 years and consists of roughly 1,664 strips. Wright inspired a new generation of Canadian cartoonists, including Lynn Johnston, who pens the book's foreword, Chester Brown and, of course, Seth.

We can only hazard a guess to why Wright was forgotten -- maybe it's because he's Canadian, says Mackay, or perhaps because Wright rejected merchandising, unlike Dennis the Menace, says Seth--but both men note that they, too, forgot about Wright.

"There seems to be black hole in pop culture for cartooning in Canada," says Mackay, on the phone from Ottawa. "We spend a lot of time mythologizing hockey games and artists -- God, if I see another article about Stephen Leacock this week! Those people get mythologized a lot, almost too much. But for some reason cartooning--maybe it's just too everyday, it's too common. But it does seem like a shame."

Says Seth: "I do think in Canada we do have a distinct lack of interest in anything that's actually produced here. It's almost like a feeling it must be second rate if it's here in Canada ... The funny thing about Wright was he really was a superlative draftsman, far above 90% of the American cartoonists, yet still, I think, there was sort of a stigma about it, that this was homegrown material. And like so [many] publications it's ephemeral -- here this week, gone the next. When it stopped publishing people forgot about it."

Over the years Seth -- dubbed comics' premier historian in the latest issue of The Walrus magazine -- compiled as much of Wright's work as he could find. Mackay says that at first Seth proposed a book called Gang of Seven -- a look at Canadian cartooning from the turn of the century onwards -- though a lack of interest from publishers shelved the idea. Later, the concept was revived when D&Q publisher Chris Oliveros showed interest in a Wright-only retrospective.

The book, designed by Seth, is an impressive collection of his early work, comic strips, sketches, paintings, magazine covers, photographs and rough drafts. A trove of original material was uncovered at the National Archives in Ottawa, which proved invaluable.

"Wright himself was remarkable in that he saved everything: He kept all his originals -- a huge amount of them -- he kept careful scrapbooks, which some cartoonists do but most don't ... He kept all the stuff, and that was a godsend," says Seth.

Initially, Seth hoped to do a complete reprinting of the strip--as he is doing as designer of the massive 25-volume The Complete Peanuts -- but it wasn't economically feasible, plus there was no guarantee they could locate all of Wright's work. A "selected" volume was the logical choice.

Wright died in 1983. He suffered a stroke near the end of his life that effectively ended his cartooning career. In 2004, Seth and Mackay co-founded the Doug Wright Awards for Canadian Cartooning, whose fifth annual ceremony is being held tomorrow. They hope the book, coupled with the awards, will spark a Doug Wright renaissance.

"The publishing of the book," says Seth, "is more about trying to give him his due. I guess as a working cartoonist you hate to think somebody worked their whole life on something and then were forgotten. It seems important to me to leave a legacy of some sort, and I would kind of like him to be reclaimed. I see him as a national treasure, and I would like that in 10 years a young cartoonist would know his name and not realize there was even a period that he'd been forgotten." - The Collected Doug Wright is published by Drawn & Quarterly ($39.95). The Fifth Annual Doug Wright Awards take place tomorrow. Check nationalpost.com/theafterwordfor a complete list of winners.