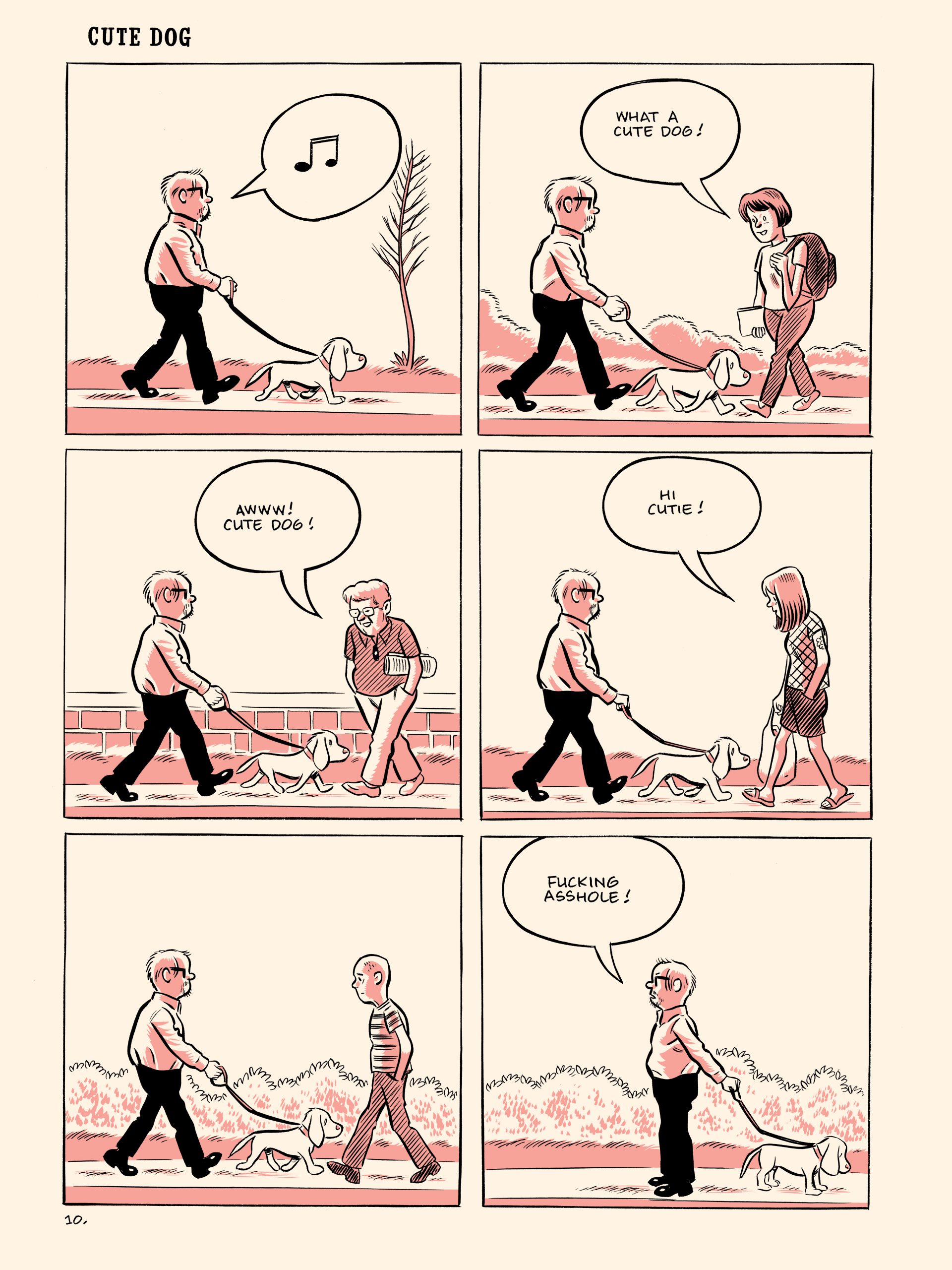 Diablo Magazine Profiles East Bay Graphic Novelists
Daniel Clowes is undoubtedly one of the premier graphic novelists in the history of the medium, even if the Oakland-based writer prefers "cartoonist" as his job title. Clowes's books are masterworks of the paneled comic format, featuring storytelling that can shift from hilarious to haunting to heartbreaking from page to page.
(…)
Raised in Chicago and trained as an artist in New York City, Clowes moved to the East Bay in the mid-1990s. He lives with his wife, Erika, and son, Charlie, in a craftsman-style house in Oakland and is proud to note that he has been in the East Bay longer than any other place in his life.
Clowes loves to stroll Oakland's Piedmont Avenue during work breaks, and the street and its city frequently find their way into his drawings. Gaylord's Caffe Espresso on Piedmont provides a background for a blind date in Mister Wonderful, the serialized piece he created for The New York Times Magazine from 2007 to '08.
Even Clowes's earliest visit to the East Bay shows up in his work: A character in The Death-Ray (2011) recalls a childhood summer spent in Livermore—similar to the one Clowes experienced in 1969. ("We went to an A's game and watched the moon landing on television," he remembers.)
Of course, you don't have to be a local to understand Clowes's oeuvre. His books present deeply empathetic characters through prose and pictures. Ghost World (1997) tells the story of two teenage girls about to face the real world after graduating from high school. Its note-perfect depiction of adolescence has drawn comparisons to a 1990s version of The Catcher in the Rye. The acclaimed Berkeley author Michael Chabon has called it "one of the best books about adolescence written."
Like Ghost World, The Death-Ray was originally in Eightball before being released as a graphic novel in 2011. The Death-Ray deconstructs superhero mythologies by applying them to a teenage boy whose parents have died.
Wilson (2010) was created while Clowes was sitting by his dying father's side. In it, the artist conjured a Born Loser–style misanthrope who provides particularly sociopathic punch lines to various situations. Each page in the book is a stand-alone event, drawn in the style of various classic newspaper comic strips; the collective effect of the book's 80 pages is remarkable.
Clowes's output has earned him a legion of obsessive comic fans as well as mainstream accolades. In 2011, Clowes received the PEN Center Award for Outstanding Body of Work in Graphic Literature. The next year, the Oakland Museum of California hosted a major retrospective, Modern Cartoonist: The Art of Daniel Clowes.
(…)
Three to Read
Check out these other graphic novelists with strong local ties.
1. Adrian Tomine
Raised in Sacramento, Tomine graduated from UC Berkeley and lived in the East Bay in the early 2000s before relocating to New York. He created the acclaimed independent comic Optic Nerve and later wrote Shortcomings, Summer Blonde, and other beloved graphic novels. His illustrations have appeared on the covers of The New Yorker, The New York Times Magazine, and many other national magazines.
Must read: Shortcomings, Tomine's book about the romantic life of a 30-something movie theater manager, showed up on countless top-10 lists back in 2007. The story is set in Berkeley and provides a provocative and thoughtful look at Bay Area multiculturalism.
2. Rina Ayuyang
Ayuyang, an Oakland resident and former cartoonist-in-residence at the Charles M. Schulz Museum in Santa Rosa, made her mark in 2014 with the online comic series Beginning's End. She runs a small-press publishing shop in Oakland, Yam Books, to showcase fellow cartoonists' work.
Must read: Blame This on the Boogie—Ayuyang's 2018 graphic novel about a young Filipino girl living in a musical fantasy world—is moving and beautiful. The author used colored pencils to create a vibrant visual texture.