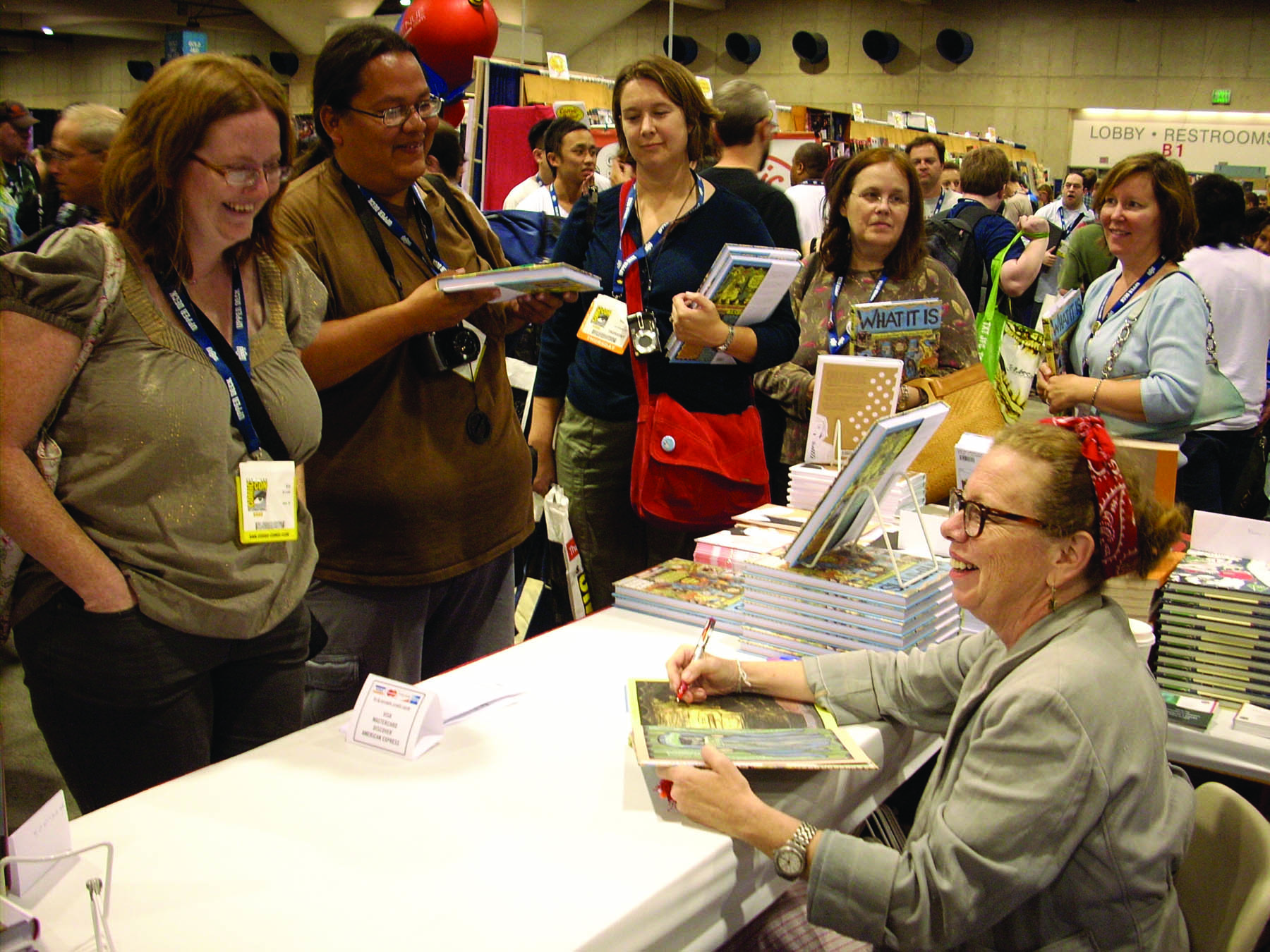 Comicsverse Spotlights Lynda Barry
Gloriously wild, artist Lynda Barry's alternative comics have inspired comic fans and creators since the 1970s. Indeed, Barry's works are staples of comics studies courses and fixtures in my own personal comic library. With flamboyantly chaotic artwork that quickly destabilizes reader's expectations, Barry continues to revolutionize how we think about comics as a medium for self-expression. The University of Wisconsin-Madison professor uses comics as a tool for discovery. Her bailiwick: the image. Barry's investigation into the world of images began at Evergreen State College in Washington where Barry studied with painter Marilyn Frasca. Her work has taken her from syndicated comics and graphic novels to off-Broadway shows and collaborative zines.
Barry's work blends creativity, self-exploration, and education. However, higher education was not a guarantee for Barry. She grew up in Seattle, the child of immigrant parents who did not encourage Barry's studies. Nevertheless, Barry's personal life heavily influences her comics. Furthermore, she did find her way into academia — as her work Syllabus: Notes From an Accidental Professor suggests! Ernie Pook's Comeek and One! Hundred! Demons! both explore Barry's personal experiences. Indeed, many of her other comics allude to her own life. Barry's later works, including What It Is, Picture This, and Syllabus are more instructive. Each comic engages with what images can be.
To Ernie Pook's Comeek and Beyond!
As the story goes, Barry's first comic was published without her knowledge by artists Matt Groening and John Keister in 1978. The 1980s alternative comics movement followed the underground comix of the 1960s and 70s, providing a world of comics unattached to the standards of mainstream superhero stories. Barry's first series ran in 70 publications. One of Ernie Pook's central characters, 8-year old Marlys, is a wild, awkward, and tender pre-teen. Marlys is incredibly relatable for the underdogs and the nerds who want to be themselves, but maybe a little cooler. Ernie Pook demonstrates Barry's signature rawness and the comics can pack an emotional punch. However, they are nonetheless charming, and often genuinely optimistic. The series ended in 2008, however Drawn & Quarterly re-released a 2000 collection of The Greatest of Marlys in 2016.
Extraordinarily prolific, Barry ended the Ernie Pook series in 2008. But Ernie Pook wasn't the only project Barry worked on from 1978-2018. No indeed! Barry's works during that time include Girls and Boys (1981), Big Ideas (1983); Naked Ladies, Naked Ladies, Naked Ladies: Coloring Book (1984); Everything in the World (1986); Down the Street (1988); the Fun House (1988); the Good Times Are Killing Me (1988); Come Over, Come Over (1990); My Perfect Life (1992); the Lynda Barry Experience (1993); It's So Magic (1994); the Freddie Stories (1999); Cruddy (1999); the Greatest of Marlys (2000); One! Hundred! Demons! (2002); and What It Is (2008). The vast collection of comics presents a deeply emotional and inventive approach to storytelling that is both entertaining and insightful.
Autobifictionalography and One! Hundred! Demons!
Barry's comics are at times overwhelmingly detailed. They demand active engagement on the part of the reader. With tiny monsters hidden in the pages, a wide array of lettering, and multi-media elements, Barry's comics are unique and vivid works of art.
In pursuit of the image and what it can do, Barry lands on a fascinating mix of personal narratives, meandering journals, and marvelous storytelling. Indeed, Barry is a unique, outsider artist whose comics are daring and honest. Rather than maintain a clear boundary between word and image, Barry's comics take the word and turn it into an image of its own. Each letter is part of the artwork, formulating an intensely layered narrative experience.
In One! Hundred! Demons! Barry questions her ability to provide reliable narration, deeming her work an "autobifictionalography." While One! Hundred! Demons! in particular, is a reflection on past experiences and the resulting personal demons, Barry exorcise the demons through meandering art. She acknowledges that some parts may not have happened, but the stories are nevertheless true. As a result of Barry's willingness to dive deep into her art, the image as a fluid and multifaceted concept takes on extraordinary power.