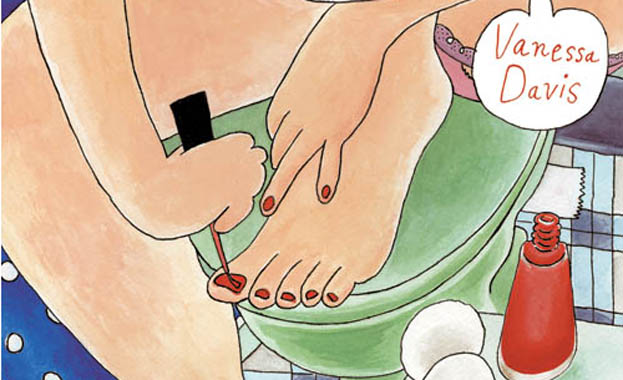 The Comics Journal takes a close look at MAKE ME A WOMAN
Vanessa Davis' approach to autobiographical comics is quite different from most of her peers. The best autobiographical cartoonists distance themselves from the reader while revealing details about themselves. Gabrielle Bell, for example, uses a still and quiet line that emphasizes the slight flatness of affect she employs to tell stories about her life. Even though she narrates these tales, it's almost as though they're happening to someone else. Robert Crumb dwells on intimate details to make readers uncomfortable as he exposes the raw edges of his desires. Joe Matt and Ariel Schrag like to play up their more negative characteristics to create a tension where they are both protagonist and antagonist in the stories they tell. In each case, the cartoonist is trying to create an atmosphere beyond "here's what I did today" or directly turn their lives into a traditional narrative with standard story tropes.

Davis uses a different approach in her collection Make Me A Woman, and in some respects, it's much riskier. Using a highly loose pencil style mixed with vibrant color work, Davis emphasizes warmth and intimacy in telling stories about herself. She has a self-deprecating sense of humor, but stops short of the self-flagellation common to many autobio artists. Davis is comfortable with herself and the depiction of her curvy body. The endpapers of this book show just how comfortable, as we see images of Davis as a slightly crazed, half-dressed cave woman prancing around and drawings of the thick thighs of women wearing knee-high socks. Another early image in the book is of a nude (but tastefully arranged) Davis sitting on a bar stool, playing guitar and harmonica. This is a hilarious image, as she's slightly too chubby for the stool, but is so totally at ease with herself (as she's scrunching up her face to play harmonica) that she's already won over the reader before she's told a single story.

There's something about Davis' casual storytelling voice that makes readers feel like they're an old friend, and she's simply filling you in on some details from her life. The closest analog I can think of for her as far as cartoonists go is Carol Tyler, only Davis has had vastly different life experiences. Davis goes cartoonier than Tyler, but shares her background as a fine artist, which greatly informs the choices she makes in doing her color strips. Davis' comics have a touch of almost grotesque caricature in the way she draws figures (a little like Richard Sala, actually): slightly distorted faces, odd angles, bodies that at times are stretched or bloated, and a highly expressionist quality. That's especially true in her color pieces, where the bright splashes of yellows, reds and blues directly reflect on mood. Those pieces, originally done for an online, Jewish-centered website called tablet.com, feature three-page narratives based around simple themes. They contrast with Davis' more off-the-cuff and naturalistic sketchbook diary work. Those drawings are quick, sloppy (especially the lettering) and have a powerful immediacy to them. The third visual approach Davis employs is presenting single-page drawings of various women (usually herself) drawn in a series of sometimes funny, sometimes fashionable (and sometimes both) poses. It speaks to Davis' nature as an artist who finds beauty in the ways we arrange ourselves as human beings, both in terms of clothing and interaction.

The one-page (or often, one-panel) black-and-white pieces do provide a bit of distancing from the reader in the sense that they are fragments free of context. Davis is not interested in constructing a narrative here, but rather conveys a certain set of feelings about being a certain age at a certain time in a certain place. That's especially true of her New York City strips, where we see her trying to fit into a dress, deal with specific relationship issues, navigate the New York subways and pass out at parties. These strips don't often have punch lines, per se; but they are suffused with Davis' naturally feisty wit, as when a rebuffed lover declaims that she doesn't have sex on the first date, and she retorts, "Oh, this is a date?" Davis is trying to depict, through specific anecdotes, experiences that are easy to identify with, because they're about the ways we navigate our youth.

Indeed, the later set of black-and-white stories are a little less fragmented and more centered around her moving to California to be with her new boyfriend Trevor. The black-and-white pieces about this time are less fragmented and coalesce into longer anecdotes, a testament, perhaps, to the way Davis' own life was changing and molding itself into more recognizable patterns. This is all reflected in the way Make Me A Woman is ordered in a roughly chronological fashion — not by when the story was done, but by when it was set. No individual piece is a particular key to the narrative of her life that she's assembling, but they're all part of a greater whole. One can notice this from the earliest strips Trevor appears in, like "Night Moves," which have a magical quality to them. Later strips feature the couple in bed or around the house, firmly ensconced in relationship roles (like Trevor trying to keep Vanessa on task with regard to her drawing) and squabbling in an amusing fashion.

The color strips from Tablet go from the general to the specific in telling stories about her life, filling in context for a reader happening upon them on the Internet. These stories fill in another crucial part of Davis' identity that is in the background in her B&W strips: her identity as a Jewish woman. The B&W and the color stories in the book are bridged by a sloppy immediacy and context for an important life experience. That story is that of her bat mitzvah, the adulthood ceremony performed for Jewish children at the age of 13. This story speaks to Davis' total cultural immersion in Jewish identity in America and the way it bleeds over into larger American culture (like "themed" bar mitzvahs), reflecting the way that Judaism has a status for some that's somewhere between ethnicity and faith.

The connecting point in these strips about going to fat camp, Hanukkah, raising one's fashion awareness in a cultural context, the particular frustrations in dating an Israeli man ("our REAL birthright"), Jewish film festivals, etc. is the relationship between Davis and her mother. Mutual aggravation might be one way to say it, especially in the way her mother is obsessed with her own Jewish identity. In the comics, Davis feels frustrated when her mother tells her how she would eventually feel about something — and it turns out her mom is be right. Davis had grown so used to rejecting what her mother had to say that she could no longer process whether or not it made sense. Beyond that, the way Davis sees her religious and ethnic identity clearly changes as she gets older, which is a common occurrence for many who drift away from a childhood faith during their 20s but find themselves returning to it when looking for a bit of footing when they age. The very fact that she's spent the past couple of years writing about her Jewish identity is in itself a testament to this as she approaches 30.

"Make Me A Woman" is the title of one of Davis' bat mitzvah stories, one that takes on multiple meanings throughout the book. The literal meaning is that Davis became a woman in the eyes of her faith at 13 years old. That's a ridiculous notion in modern culture, yet Davis spends the entire book trying to figure out what being a grown-up means. The image accompanying the title on the cover has Davis (her face hidden) actually saying the title, adding a sexy and slightly silly context — she's uttering a seductive phrase while painting her toenails. As always, Davis is self-deprecating. The ultimate meaning of the phrase is the ways in which her experiences have led her to becoming an adult, even if she's terrified of this notion. It's less a case of arrested development and more a fear of being trapped in roles that would prevent her growth as an artist and expressive person. Her initial resentment toward her friends marrying and having children gave way to the understanding that life didn't have to end at 30, or at marriage, or at having kids, thanks to the interactions she had with those who "grew up" but still led creative lives. "Fast Forward" is about this very idea of giving oneself permission to make a choice, of allowing oneself to put down roots and stop avoiding big decisions. It will be interesting to see how Davis evolves as an artist now that she's come to this point in her life.