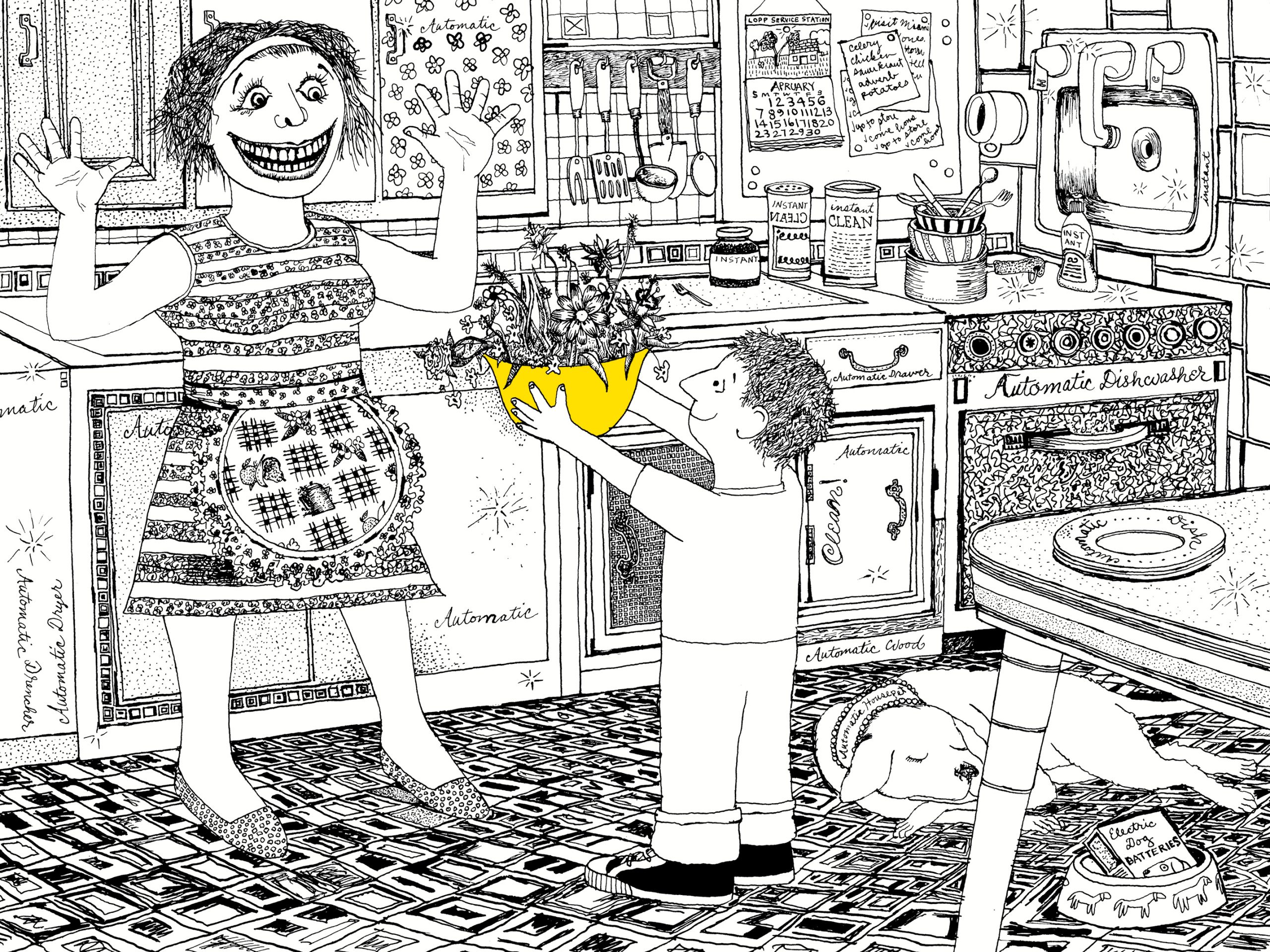 Canadian Review of Materials Reviews Yellow Yellow
Yellow Yellow
Canadian Review of Materials | Kristen Ferguson | October 11, 2019
Excerpt:
One day…
…I found…
…a yellow…
…hat.
Originally published in 1971, Yellow Yellow, by Frank Asch and illustrated by Mark Alan Stamaty, is a simple story of a little boy in a big city who finds a marvelous yellow hat. He wanders his neighborhood wearing his hat and attracting attention when he encounters the construction worker who lost his hat. The boy returns the hat to its owner and then goes home where he colours a piece of paper yellow, folds it, and creates his own yellow hat.
Yellow Yellow has only a few words per page (there are only about nine sentences in the book), and Mark Alan Stamaty's illustrations take centre stage. The cartoonish illustrations are in yellow, black, and white and are strikingly retro, with an immediate 1970s feeling about them. This city is fantastical, with someone vacuuming the streets, a cobbler fixing shoes for a giant, and a man with a two-sided head having a coffee, just to name a few of the surreal drawings in the book. The illustrations are almost like an "Eye Spy" or a "Where's Waldo?", and the reader can stare into the pictures and see obscure and strange details upon close inspection.
I loved the feeling of being returned to a 1970s childhood in Yellow Yellow where the innocence of youth meets the bizarre and the dream-like. Yellow Yellow is a definite departure visually from today's more friendly children's book illustrations. The zany characters and strange backdrop may not appeal or may be unsettling to some young readers. But there would be a definite draw for parents to enjoy this book with their children, taking a step back into time. Yellow Yellow would make a good choice for home libraries.