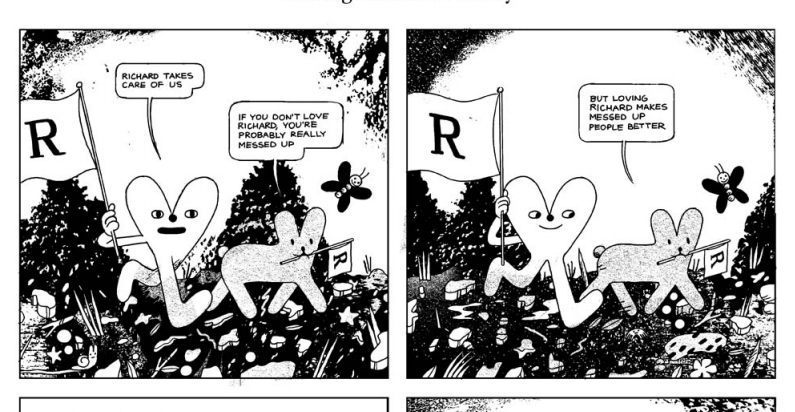 Caitlin Rosberg and Oliver Sava shout out Michael DeForge's Leaving Richard's Valley and Birds of Maine
..."You brought up the content surrounding Knisley's comics on Instagram, and I'm fascinated by how social media allows cartoonists to build immersive multimedia experiences around their work. Photography, video, and comics all converge on Instagram, providing a lot of different ways for artists to express themselves. In terms of format, Instagram provides a combination of Webtoon's vertical scroll with optional horizontal movement if the cartoonist posts a series of images. Michael DeForge's Leaving Richards Valley (collected in print by Drawn & Quarterly last year) is one of the best uses of this format, telling a long-form story in easily digestible strips designed for Instagram's square layout. DeForge has separate Instagrams for his longer comic stories, and he launched Birds Of Maine earlier this year. This is something we're seeing more and more; during his break from superhero comics, Stuart Immonen launched a sci-fi comic, Grass Of Parnassus, on Instagram with his wife, Kathryn Immonen. (The profile has since been taken down, so I'm assuming it's probably going to see life in some other form in the future.) Knisley joins the club with Condiment Raccoon, where she imagines herself and Pal as bumbling raccoons, adding an extra layer of cartoon comedy to her slice-of-life stories."
Read the rest of the interview at the link above.