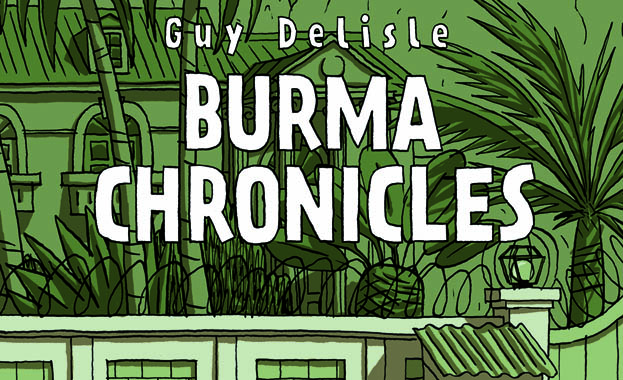 BURMA CHRONICLES reviewed by NPR
Resolved: The best travelogue you'll read this year is a funnybook. About a not particularly funny place.

Writer-artist Guy Delisle has previously documented his stays in Shenzhen, China, and Pyongyang, North Korea, in two well-received graphic novels.

Both books are marked by Delisle's deceptively simple, cartoony style, by his eye for architectural detail, and by an easy, unforced sense of humor.

And, when you put it all together, some of the most effective and fully realized travel writing out there.

Here's why: Delisle's words and pictures neatly capture the sense of bemused alienation travel bestows. He's alternately fascinated and frustrated by those around him, yes, but he manages to depict them without falling into any of The Three Traps of Travel Writing.

That is to say, he never:

A: Idealizes
B: Condescends
C: Imagines that millennia-old cultural barriers can be crossed in a matter of months. By him. Because he's soooo much more sensitive and insightful than any stupid tourist.

After the jump: How all that comes together in Myanmar ...

In his latest, Burma Chronicles, he's twice-removed from his environs: This time he tags along with his wife, a manager for Doctors Without Borders, to Myanmar, which some of us still call Burma, where he spends the first few months of their stay taking care of their infant son.

In his review of the book for Canada's The National, Joe Sacco expresses some impatience with the book's early going, where Delisle documents his efforts to navigate the terrain of professional spouse and house husband.

Now, Sacco wrote and drew the searingly good graphic novel Palestine, among others, and he knows of what he writes.

But me, I dug those moments — yep, even those Sacco dismisses as "cute baby stories" — because they bring the contrast between Delisle's domestic life and his surroundings into sharper relief.

Just outside his door, Myanmar's repressive government censors the media, keeps Nobel Prize-winning dissidents under perpetual house arrest, and permits the opium trade to flourish. Delisle deftly and often wordlessly lets us see and feel it all, from his kid's nursery to the chillingly empty streets of a village of heroin addicts.

Take a look at the images here — they'll pop up if you click 'em — and see if you don't feel like you're getting a look at something few of us will ever get to witness firsthand.