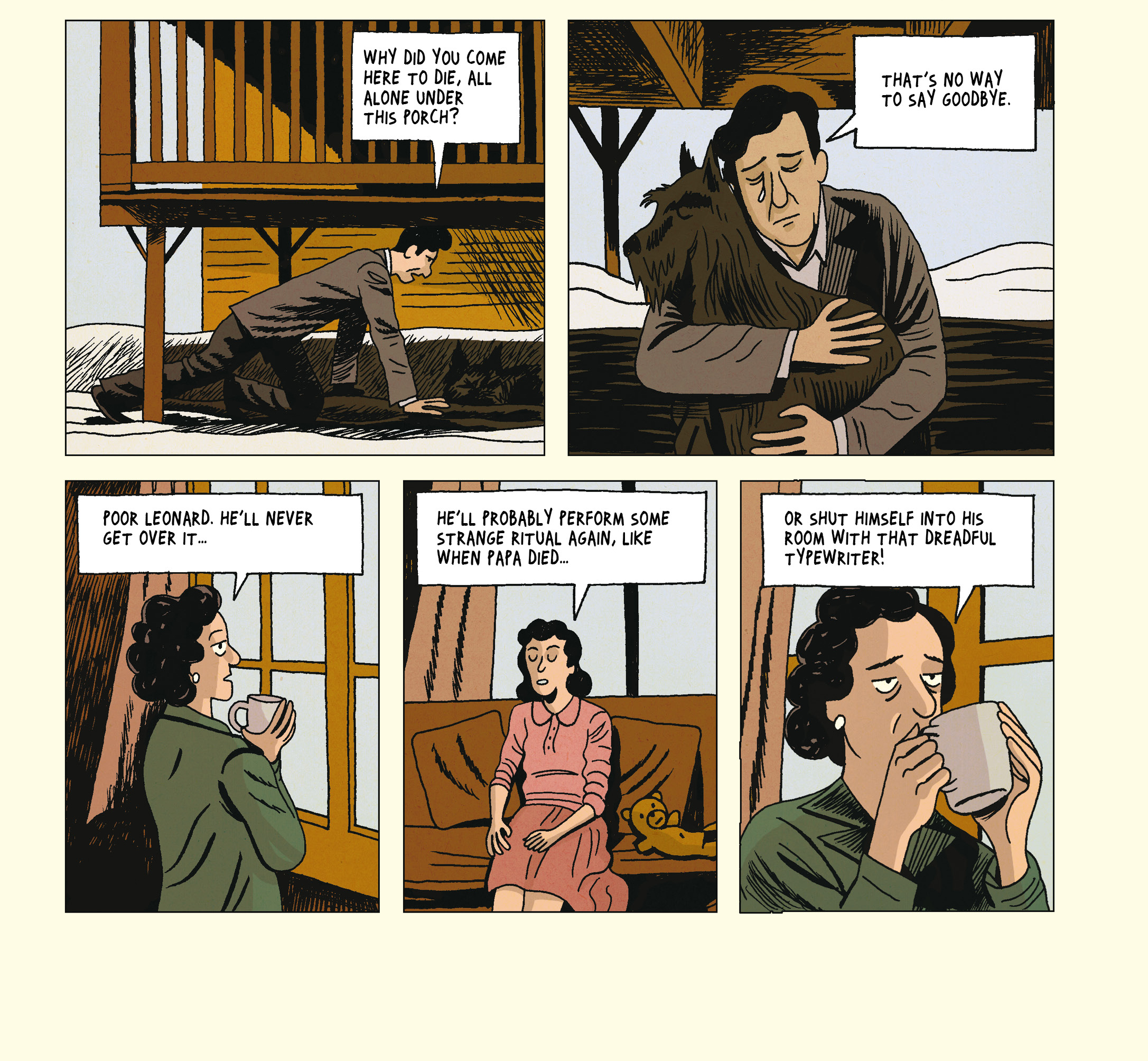 A review of Leonard Cohen from Terry Hong
Award-winning Canadian cartoonist Philippe Girard (
Obituary Man
) admirably condenses seven decades into a concise 120 pages in 
Leonard Cohen: On a Wire
. It's a valuable introduction to the tumultuous life of the iconic singer/songwriter/poet perhaps best remembered for his classic "Hallelujah," eventually covered by some 200 musicians.
Girard begins at the end, on November 7, 2016, when Cohen fell out of bed in his Los Angeles home: "Nobody heard me," he utters. "I am going to die here, all alone, like a dog." Rewind to Montreal, Cohen's birthplace, where he's a teen in 1947, desperately looking for his missing pooch, whose frozen corpse he finds under the neighbor's porch. "This is a rotten way to say goodbye," Cohen mourns. Farewells become a repetitive theme throughout his many decades, during which his achievements are often marred by drugs, alcohol and dysfunctional relationships--romantic, familial, professional.
Girard captures Cohen's impending death in evening shades of blues and greys; as Cohen lays dying, Girard interrupts his final hours with significant life events in a fuller color palette dominated by yellows and browns. Cohen writes, learns guitar, buys the famous blue coat in London, falls in love with muse Marianne in Greece, makes music, gets famous, makes deals, breaks hearts (his own included), fathers two children, loses everything, starts again. For the many famous people sharing Cohen's path, Girard appends a "Rogues' Gallery"-who's who.
For generations unaware of Cohen's remarkable legacy, Girard's insightful biography underscores his unyielding tenacity, even in the worst clutches of depression and addiction. Inspiring and informative, Girard--translated by Helge Dascher and Karen Houle--provides indelible testimony to a legendary creative life. --Terry Hong, 
Smithsonian BookDragon
Discover: 
Canadian cartoonist Philippe Girard presents an insightful, concise graphic biography of fellow Canadian, world-renowned musical icon Leonard Cohen.