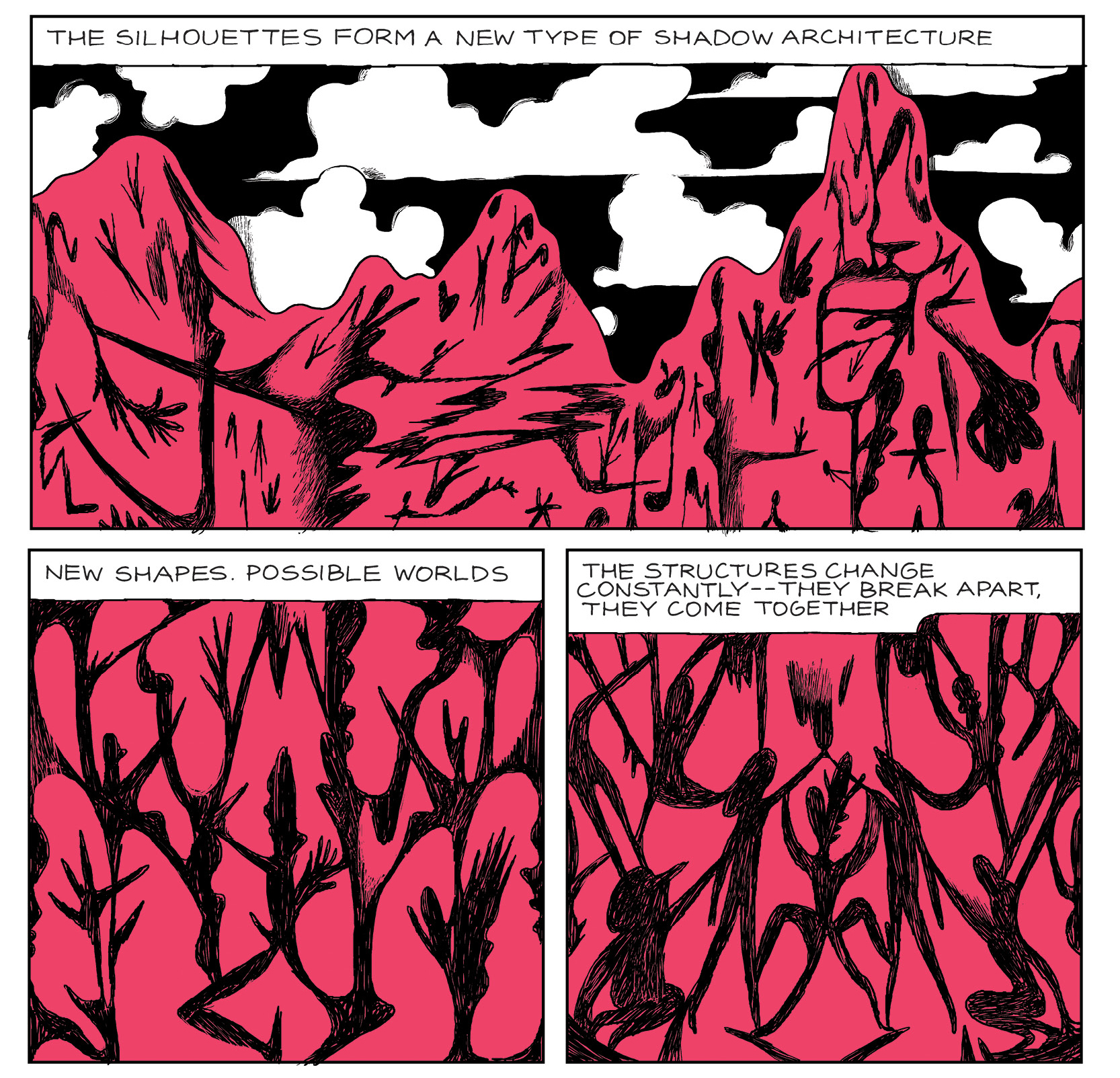 7 D+Q titles on the CBC's Best of 2021 list
Fictional Father
is the story of a washed-up middle-aged painter named Caleb. Now that he's sober, he must face his untapped potential, his past and his father — who made millions writing a family-oriented cartoon while neglecting his own son. Caleb is determined to face his demons and be a better man than his father. 
Fictional Father
 explores family, regret and what it means to make art.
Fictional Father 
was on 
the shortlist for the 2021 Governor General's Literary Award for fiction
.
Joe Ollmann is a comics artist from Hamilton, Ont. His other comics include 
The Abominable Mr. Seabrook, Happy Stories About Well-Adjusted People
 and 
Mid-Life
.
--
In Michael Dumontier and Neil Farber's 
Library, 
readers will discover brilliant new works of made-up literature, such as 
Don't Talk To Me For Too Long, You'll Fall In Love
 and 
I Liked Me, But Then I Did What I Did. 
The Winnipeg artists have been painting imagined books, with inscrutably funny, existential titles, as part of a series that's been on-going since 2009.
Dumontier and Farber are founding members of the art collective The Royal Art Lodge and have been collaborating on art projects for more than 15 years.
Dumontier is a contemporary artist based in Winnipeg. He is best known for his minimal paintings and collages.
Farber is a contemporary artist based in Winnipeg. He is best known for his ink and watercolour drawings.
--
Heaven No Hell
is a collection of comics from Michael DeForge that explore the nature of relationships, life and society in general. The included stories range from an angel giving a tour of heaven (hell doesn't exist, by the way) to a couple following their pregnancy with an app and an undercover substitute teacher investigating murder in the classroom.
DeForge is a Toronto-based creator who has won awards for comics like 
Leaving Richard's Valley, Dressing 
and 
Lose #1. 
Other acclaimed books include 
Stunt, Big Kids, Ant Colony, Sticks Angelica Folk Hero 
and more.
--
Cyclopedia Exotica
is a comic set in a parallel universe where cyclops are part of our society. They are artists and doctors and parents and students. But they regularly face discrimination and xenophobia and micro-aggressions. Through this alternate world, Aminder Dhaliwal explores race, discrimination, marginalization, beauty and belonging with humour and heart.
Dhaliwal is a comic writer and television animator originally from Brampton, Ont. Now based in Los Angeles, Dhaliwal is a director at Disney TV Animation. Her comic series 
Woman World
, originally published on Instagram to hundreds of thousands of followers, was released as a graphic novel by Drawn & Quarterly in 2018. CBC Books named Dhaliwal 
a writer to watch in 2019
.
--
In 
Rebecca & Lucie in the Case of the Missing Neighbor, 
new mother Rebecca and her 8-month-old daughter Lucie are on a quest to solve a local mystery. When her neighbour, and health care provider, Eduardo, goes missing, Rebecca juggles motherhood with detective work. 
Rebecca & Lucie in the Case of the Missing Neighbor
is a light-hearted look at postpartum life.
Pascal Girard is a comics creator from Montreal. He is also the author of the comics 
Nicolas, Bigfoot, Reunion 
and 
Petty Theft
.
--
In 
Factory Summers, 
Guy Delisle recalls the three summers he spent working at a pulp and paper factory in Quebec City, starting at the age of 16. Delisle remembers the gruelling 12-hour shifts, a building filled with the noise of ancient machinery and an unchecked misogyny in the all-male environment. But the book also looks at the camaraderie found within the factory, and how the pulp and paper industry changed over the years, impacting the communities and the workers who relied on it, including Delisle's own father.
Delisle is an author and illustrator known for graphic travelogues like 
Burma Chronicles, Jerusalem 
and 
Pyongyang. 
He is also the author of the comic 
Hostage, 
the true story of a Médecins Sans Frontières administrator named Christophe André who was held captive for three months while on a mission in the Caucasus region.
--
Leonard Cohen: On a Wire
 is a graphic biography of the legendary musician and writer. The comic illustrates Cohen's journey as an artist, writing poetry in lieu of working in the family business, becoming famous, going broke, writing 
Hallelujah
 and meeting fellow icons like Lou Reed, Janis Joplin and Joni Mitchell.


Girard is a comics artist from Quebec. He published his first comic in a children's magazine when he was eight and has since published more than 20 books. His comics have received awards such as the Joe Shuster and the Bedeis Causa Awards.