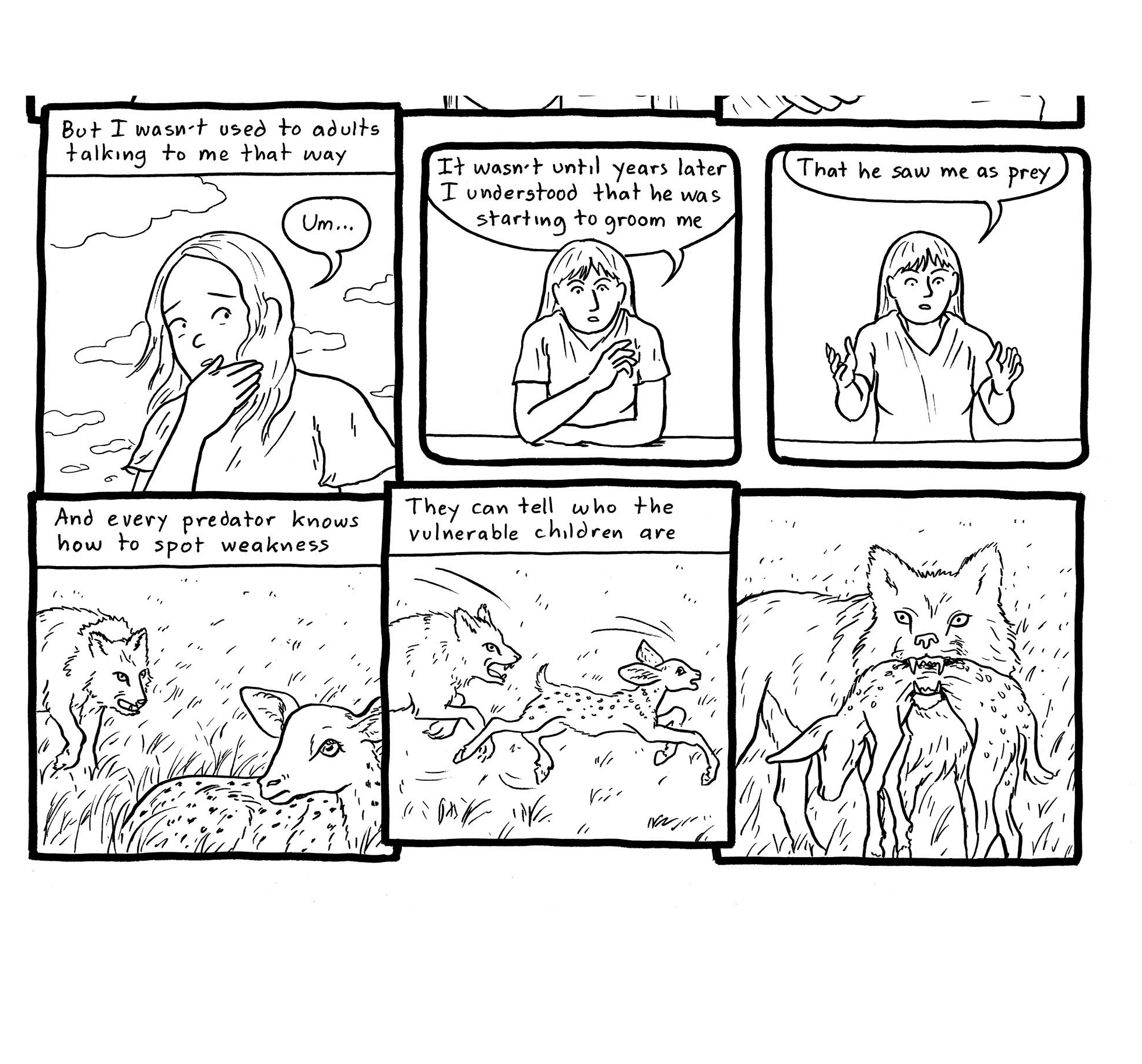 4 D+Q titles anticipated for spring in CBC Books
Our Little Secret by Emily Carrington
Artist Emily Carrington, now in her 50s, looks back on a traumatic winter when she was 15 years old. She lived with her single father in a drafty rural home, enduring the harsh cold winter of the Maritimes. Their neighbour, spying a vulnerable girl, offered his assistance — changing the course of her life for much worse. As an adult, Emily experiences depression, goes to therapy and battles against the justice system to find peace.
Our Little Secret
will be published on Feb. 22, 2022.
Carrington is a poet and illustrator of picture books. She was longlisted for the CBC Poetry Prize in 2017. Raised in Prince Edward Island, Carrington now lives on the Gulf Islands. 
Our Little Secret
is Carrington's debut book
Rave by Jessica Campbell 
Rave is a comic book by Jessica Campbell. (Drawn & Quarterly)
This graphic novel follows a 15-year-old girl named Lauren, who is a faithful member of an evangelical church. After her devout parents banish evolution textbooks from the house, Lauren goes to study and sleeps over at her classmate Mariah's house. The evening develops into something Lauren never expected, and she's left to sort out a lifetime's worth of internalized homophobia and Christian guilt.
Rave
will be available on April 5, 2022.
Jessica Campbell is an artist, originally from Victoria, whose work has been exhibited across the U.S. and Canada. Her previous books include 
Hot or Not: 20th Century Male Artists
and 
XTC69.
Time Zone J by Julie Doucet 
Time Zone J is a comic by Julie Doucet. (Drawn & Quarterly)
In 
Time Zone J, 
Montreal artist Julie Doucet draws from her old diary entries to chronicle a whirlwind love affair from her early 20s. After developing an intimate correspondence with a reader overseas — not unheard of in the 1980s, when comic artists often mailed their work and communicated with readers through letters — Doucet flies from Montreal to France to meet the soldier, who's on furlough for a few days.
Time Zone J
is available on April 19, 2022.
Julie Doucet began drawing and publishing mini comics in 1988, and was featured in the anthology 
Heck! Comic Art of the Late 1980s. 
She started her groundbreaking strip 
Dirty Plotte
 in the 1990s, becoming an underground heroine and winning the Harvey Award for best new talent. Her comics — part-dream, part-diary — have been published serially as well as in collected formats. She famously quit the male-dominated comics industry in the late 1990s to focus on her other artwork. 
Time Zone J
is her first inked comic since that announcement.
World Record Holders by Guy Delisle, translated by Helge Dascher
World Record Holders is a comic by Guy Delisle. (Drawn & Quarterly)
World Record Holders
 collects set pieces from Guy Delisle's illustrious career as a cartoonist. Delisle includes wistful memories from childhood, as well as awkward moments as a well-known artist. He writes about meeting an angry woman at one of his own exhibitions who claimed he destroyed her marriage, about a childish Bows and Arrows game that turns life-threatening and about how a coded message from space is received and debated.
World Record Holders
 is available on June 14, 2022.
Delisle is an award-winning artist, cartoonist and author who was born in Quebec City and now lives in France. His books include 
Factory Summers
and
Hostage
and the travelogues 
Burma Chronicles, Jerusalem: Chronicles from the Holy City, Pyongyang
 and 
Shenzhen.
Helge Dascher is a frequent translator of Delisle's comic books. She's also translated 
Aya 
by Marguerite Abouet and Clément Oubrerie, 
White Rapids 
by Pascal Blanchet and 
Paul Goes Fishing 
by Michel Rabagliati.