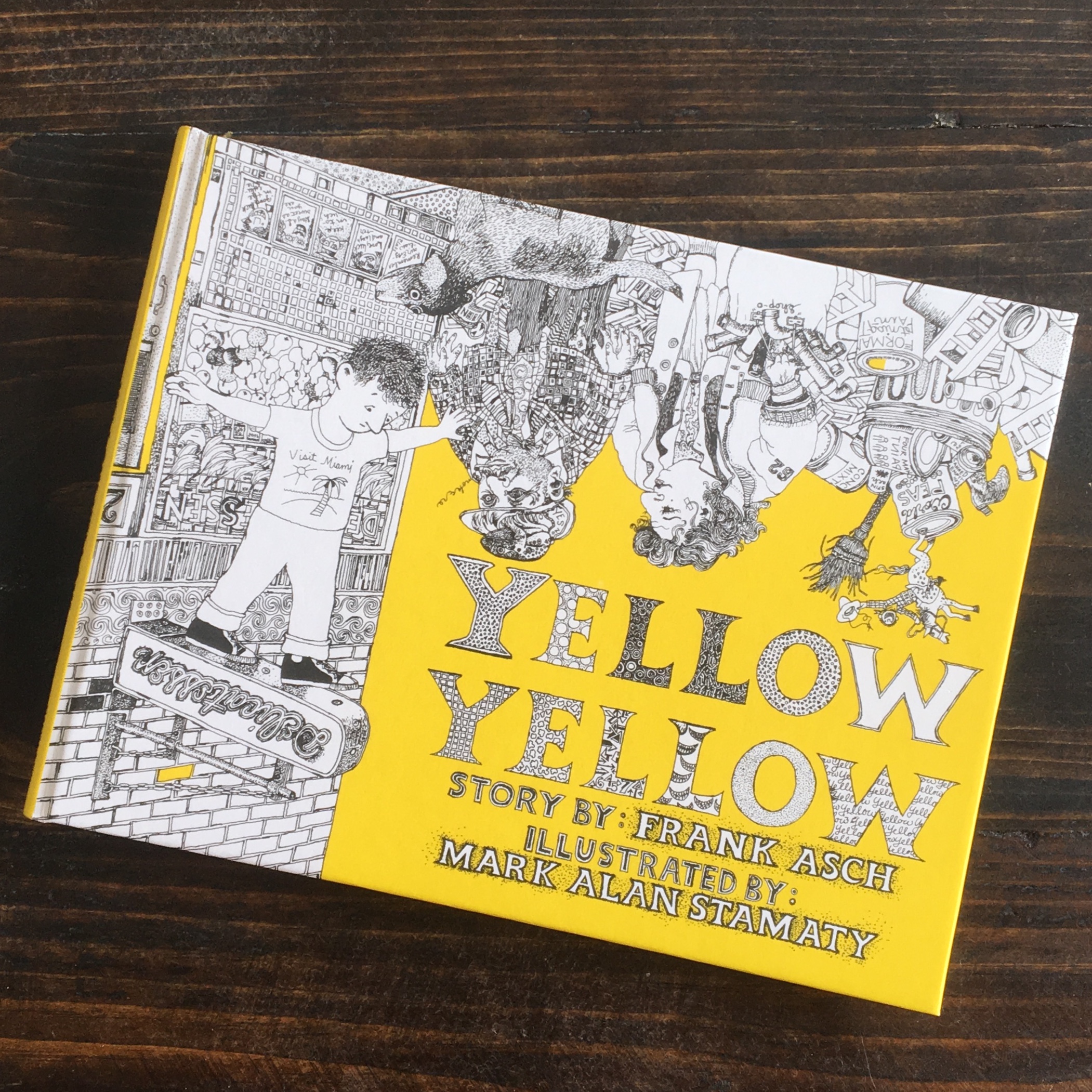 I came across Yellow Yellow when my friend Thomas Gabison of Actes Sud had said he was publishing it. Both of us were discussing how much we love the book, Who Needs Donuts? by Mark Alan Stamaty. Thomas had found the American reissue at the bottom of a pile of books at the infamous and now shuttered Paris bookshop Un Regard Moderne and immediately published a French edition. I had come across the same English reissue when my daughter was a toddler and immediately fell in love with the absurd and bizarre story of a suburban boy, Sam, who rides his tricycle into the city for donuts, the love story of donut collector Mr. Bikferd and Pretzel Annie, and the wonderful appliance of the old lady who mumbles "Who needs donuts when you've got love?" (Can we get a shout out for kids books with old ladies?!!)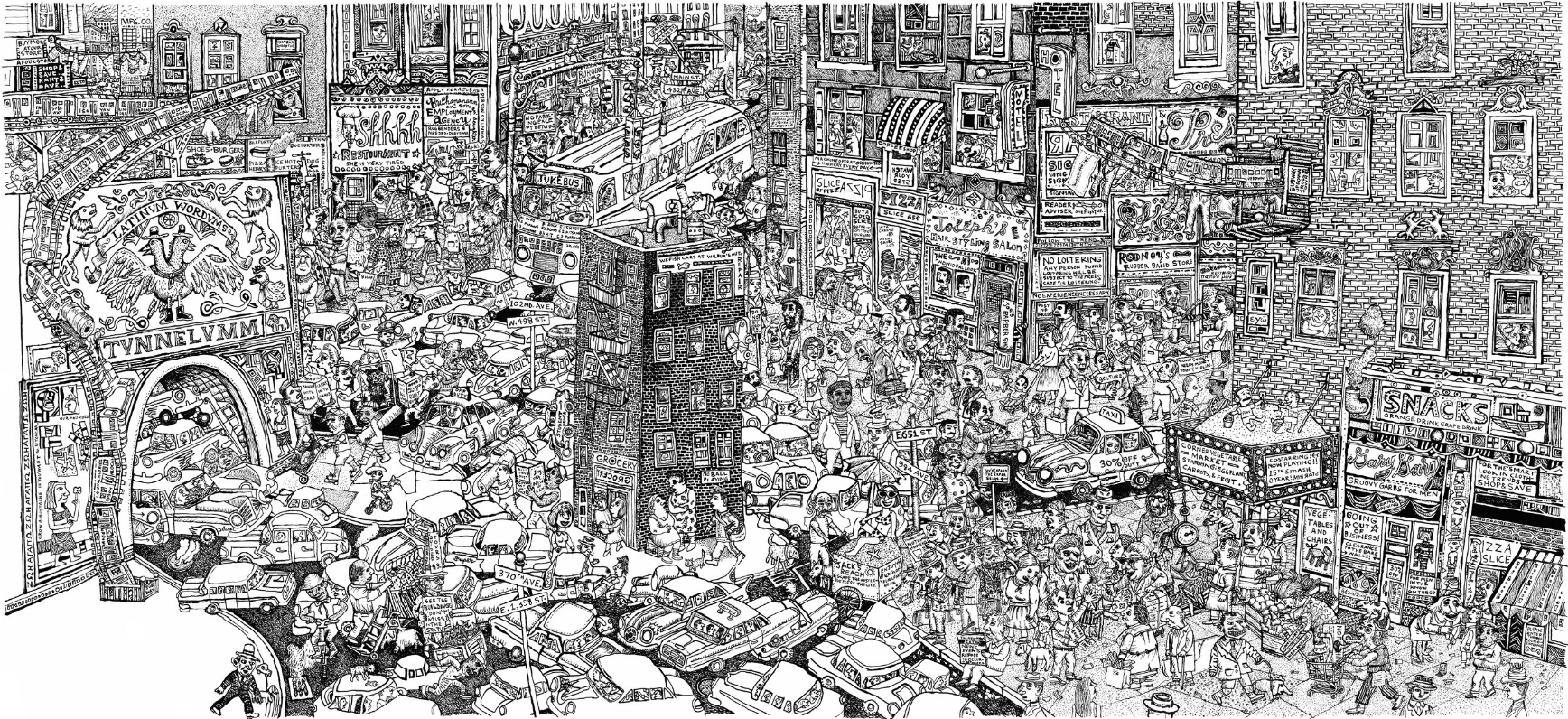 Image from Mark Alan Stamaty's Who Needs Donuts
I ordered a vintage copy of Yellow Yellow off the internet. This story is written by Frank Asch and drawn by Mark. The story that Frank writes is charming and simple and is only 100 words over 48 pages. A boy wanders down a NYC street, enters a construction site, finds a yellow hat, puts it on and goes about his day. He loves the attention he gets with his bright sunshiney hat, but eventually one day he meets the real owner of the hat and returns it. He then makes his own hat.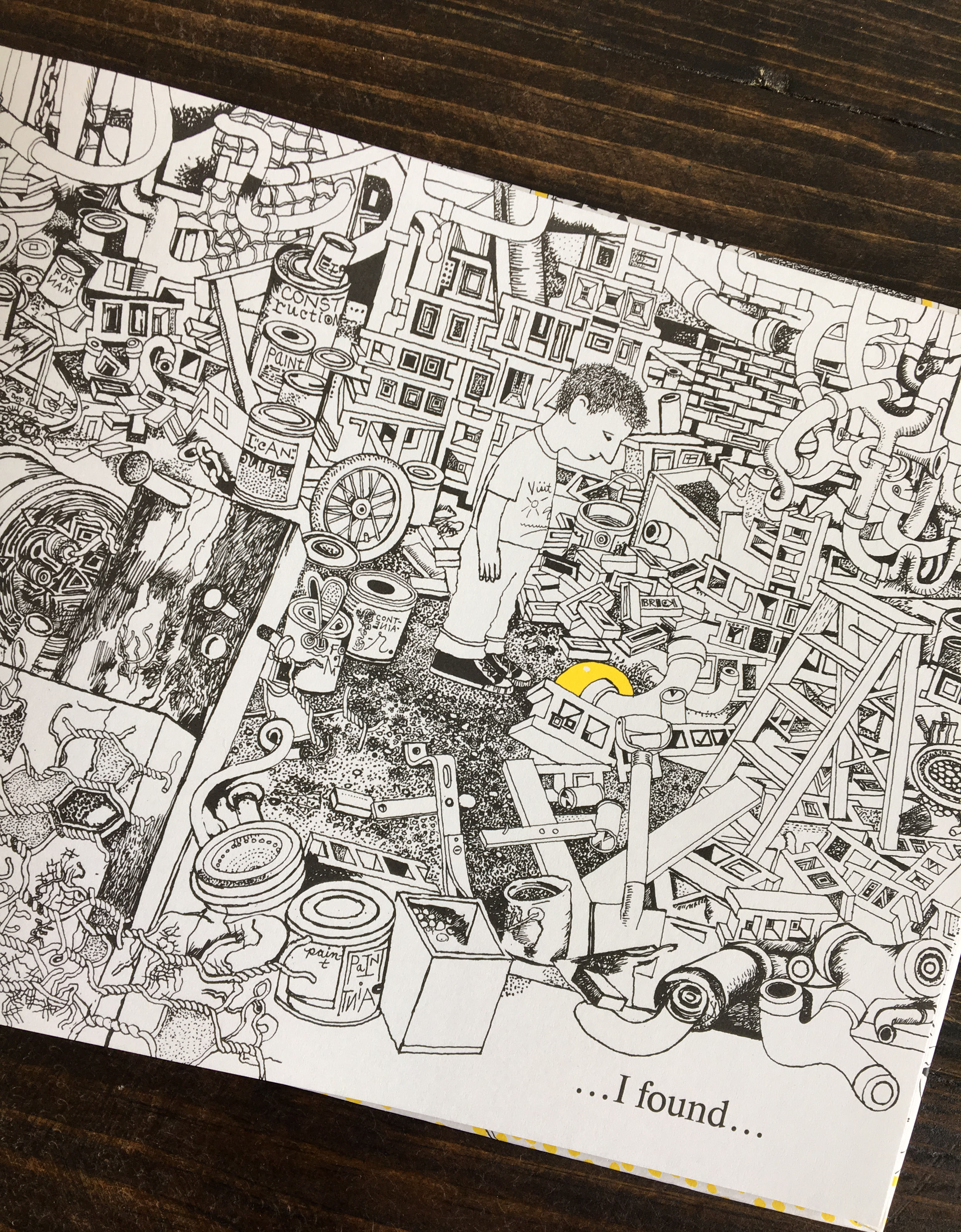 Reading this story as a parent, I loved the free range childhood of boy who wanders all alone down busy city street—a young urban explorer entertaining himself with being completely entranced with the world around him. No parent is to be found until many pages in. A mom who is delighted to received flowers in a yellow construction hat vase.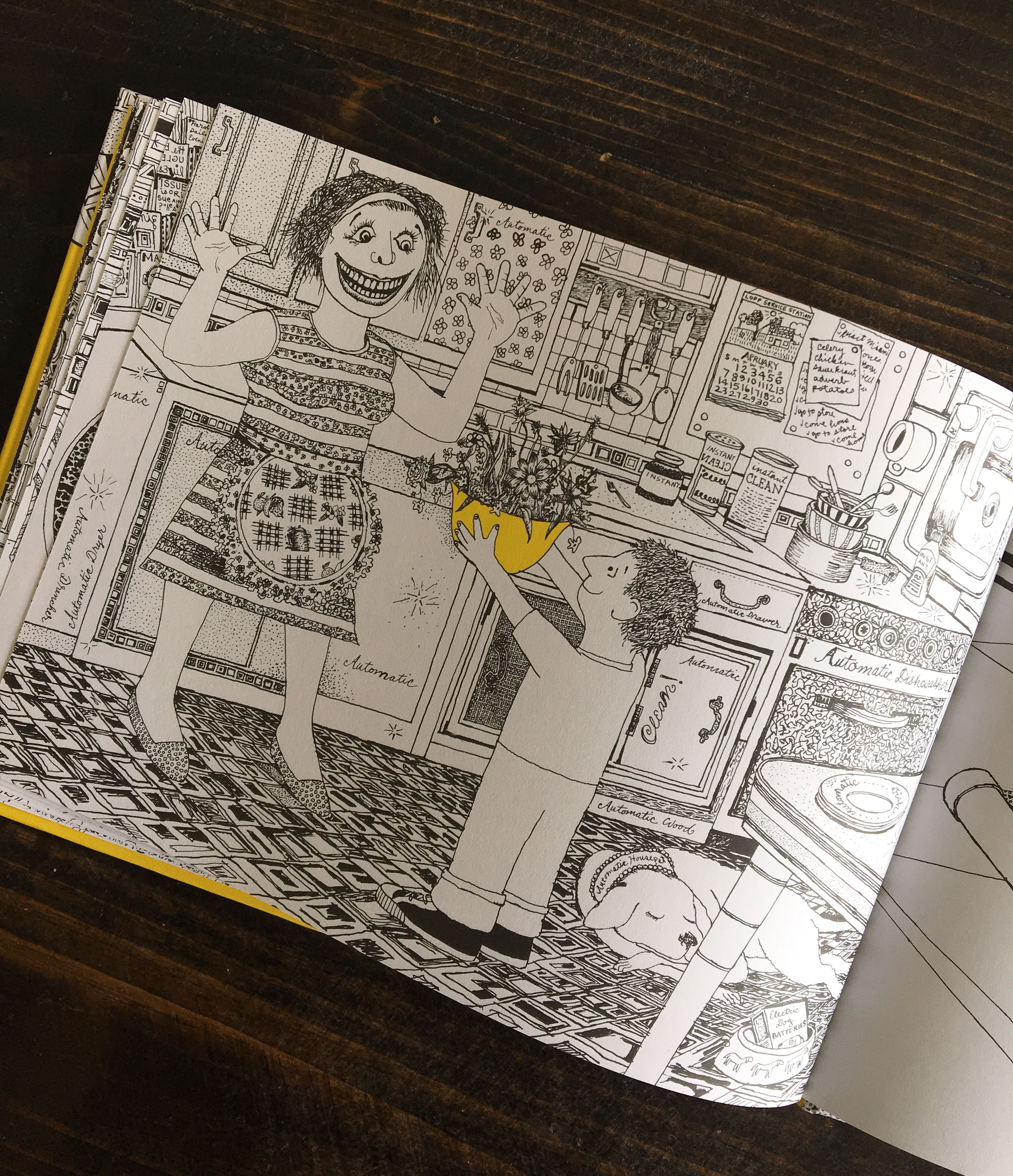 The magic of Yellow Yellow comes to life in Mark's drawings of course. Mark tells a million stories in the background. There's an old lady in a flowered dress riding a unicycle. A punk with fish for hair. On the construction site that the boy wanders into—so many pipes, locks, nails and cans of paint in colours called "peanut butter breath." Proudly wearing his yellow hat, he walks past a barber shop, a bookstore featuring a book "Pretentious First Novel By Young Author, " a delicatessen, a shoe store, a bargain store selling used toothbrushes and dehydrated water, shoe rapid, beauty parlour. Not a CVS or Bank of America in sight. This city is dirty, grungy, cluttered with wonderful and sparkling characters.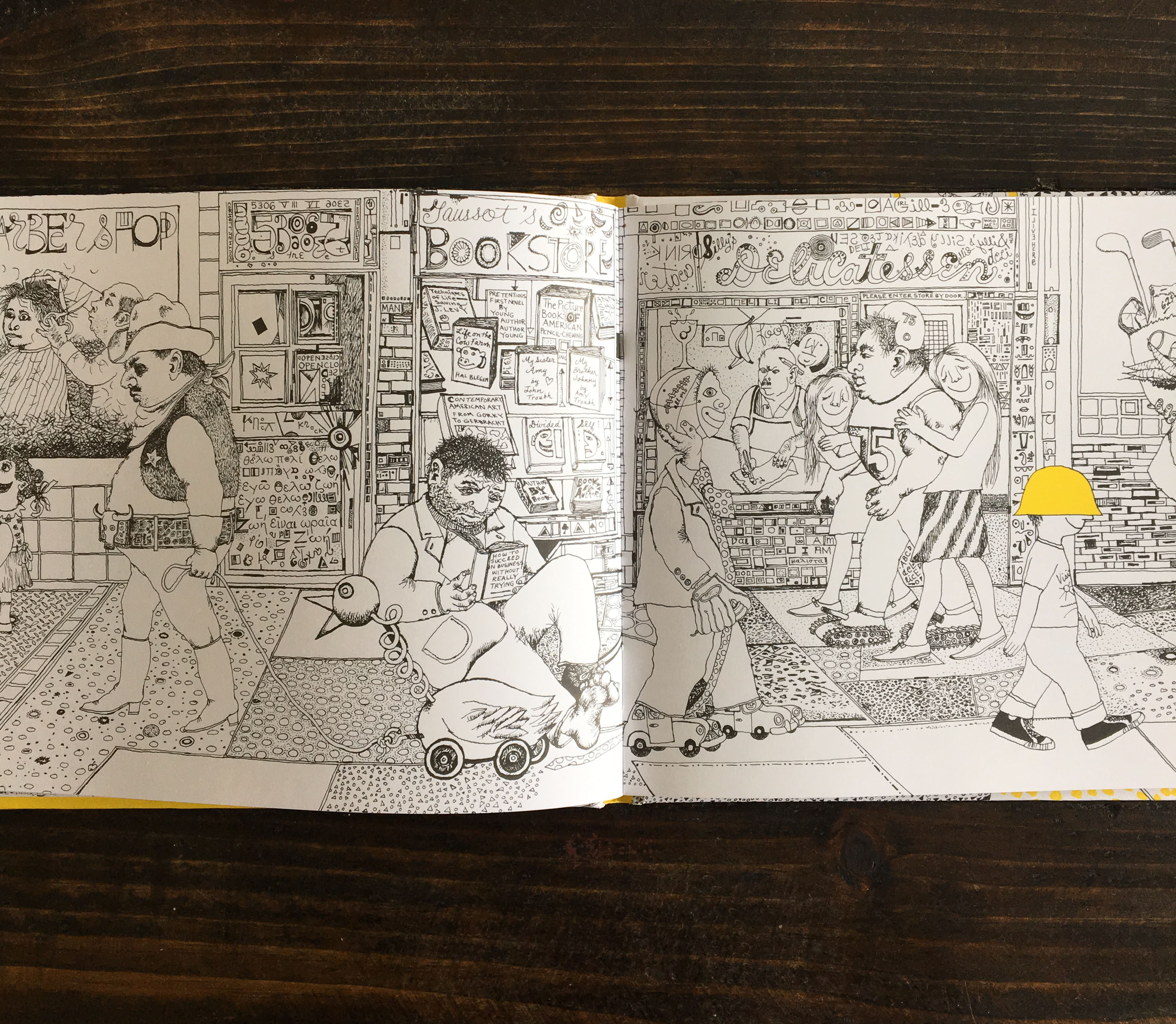 Mark's vibrant black and white drawings are jam packed and electrifying, they beg the reader to not turn the page and instead read the label of a paint can: "My Uncle Friedrich said: 'I love him who wants to create beyond himself…My friend, Kathe, said I want to make something beautiful.' But of course, I am only a can of paint in a story book. Now how can I know anything about anything…"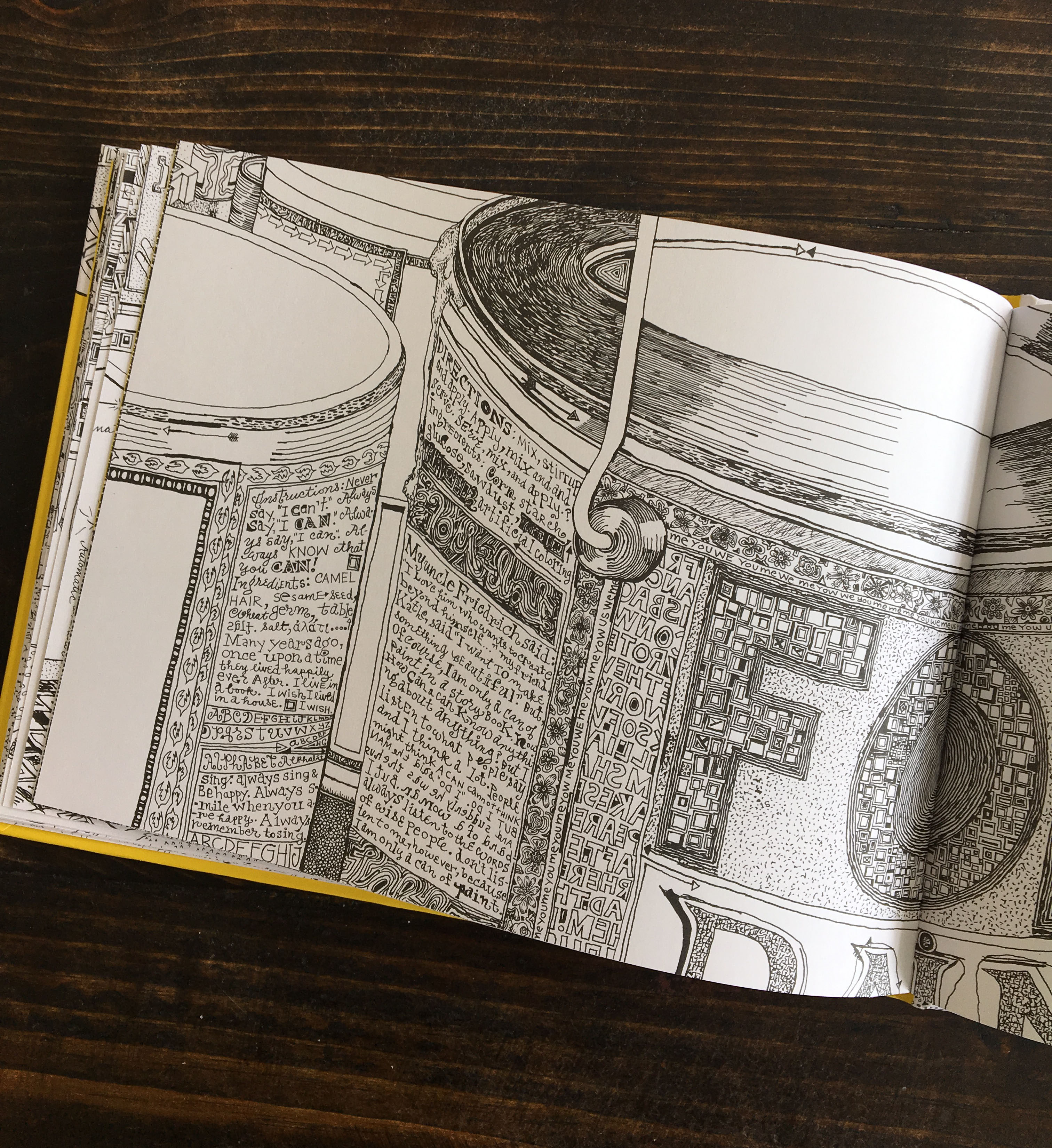 Just when you think you'll never be able to absorb all of the details in Mark's drawings, he pulls back and goes abstract. The scratchy black and white lines disappear. Marimekko-esque shapes of the most perfect yellow you will ever see dance across the page until you are dancing in a sea of yellow.