"Ge Ge Ge no Garo: Mizuki Shigeru and Alt-Manga"
by Ryan Holmberg
It's impressive when anyone lives past ninety. Let alone someone who fought and lost an arm in the jungles of Papua New Guinea during World War II, kept themselves running on black market shots of methamphetamines through the hardscrabble '50s, and drew around the clock while sustaining themselves on little more than rotten bananas because their manga sold so poorly until they finally struck gold at the hoary age of forty-five. In some ways, though, I've always been more amazed by the fact that Mizuki Shigeru didn't debut as a mangaka until 1958, when he was thirty-four, in an era when most cartoonists in Japan began drawing professionally as teenagers, and either had to reinvent themselves by their mid-twenties or accept their obsolescence and find work elsewhere.
Thinking about it now, Mizuki was probably the first Garo-related artist whose work I was exposed to. Ever since its breakout success as an anime in the late '60s, Mizuki's Ge Ge Ge no Kitarō has pervaded Japanese life. I watched episodes of the show on TV as a kid in Japan in the '80s, had keshi (mini eraser figures) of many of its characters, and avidly played the second Kitaro home video game (the RPG The Yokai Army's Challenge, 1987, never released in North America, I believe) on my Family Computer (a.k.a. Nintendo). I also watched Dragon Ball, Fist of the North Star, Kinnikuman, Doraemon, Q-Taro, and Pro Golfer Saru, but the infectiously slow theme song of Kitaro is the only one I can still mumble hum.
When I started researching Garo in the '00s, I remember being surprised when I first came across Kitaro's appearance on the cover of the magazine's March 1966 issue. It commemorates Mizuki receiving the coveted Kodansha Children's Comics Award for his work in Shōnen Magazine, specifically the story "Television Kid" ("Terebi kun," August 1965), about a kid who can travel, Willy Wonka-style, through television screens, sneaking between shooting sets, people's living rooms, and storefront displays. As I later learned, Mizuki was first invited to draw for Shōnen Magazine as part of a wider attempt to overhaul the magazine so that it would appeal more to a growing young adult audience. This they did in part by recruiting talent from the flagging "rental book" kashihon market. Aside from Mizuki, Umezu Kazuo and Kawasaki Noboru also thus began drawing for Kōdansha's leading boys' magazine, transforming manga and pop culture, as well as their own careers.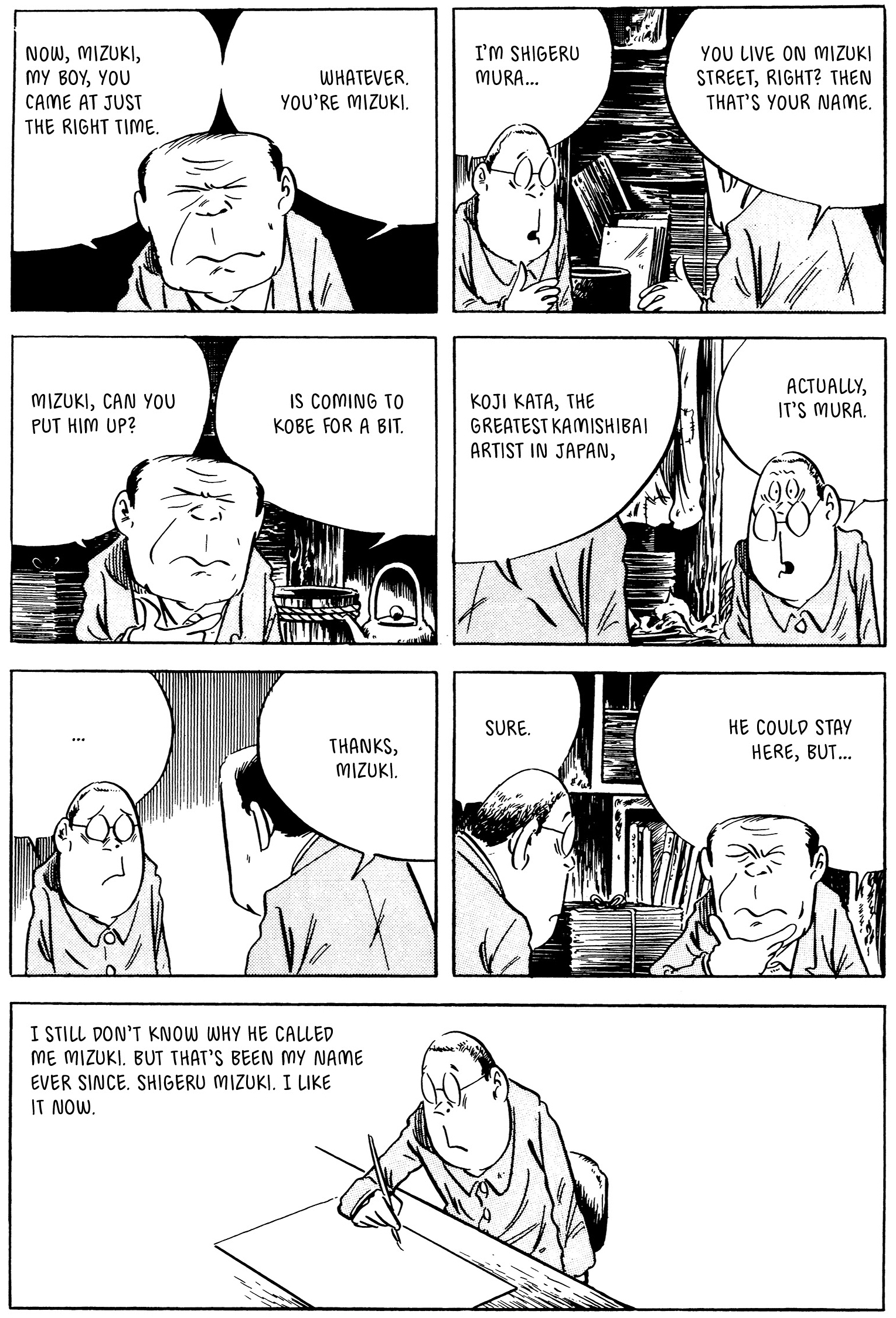 Until then, Mizuki had lived in abject poverty, as memorialized in The Wife of Ge Ge Ge (Ge ge ge no nyōbō, 2008), his wife Mura Nunoe's best-selling novel about their kashihon-era struggles, which was subsequently adapted as a hit TV series and movie. But things changed quickly after Mizuki became one of Shōnen Magazine's regular contributors, with new chapters and polished redraws of his kashihon series Graveyard Kitaro (Hakaba Kitarō) running there between 1965 and 1969. Eventually renamed Ge Ge Ge no Kitarō so as to not turn off readers and sponsors who might be creeped out by reference to cemeteries, this is the manga released in English by D+Q as the seven-volume Kitaro. Overloaded by the demands of weekly serialization and flooded by new commissions from other magazines, Mizuki created a studio, Mizuki Pro, in 1966. That same year, his Devil Kid (Akuma kun) was adapted as a live action TV show. In 1968, Kitaro was adapted as a TV anime, its characters spun out into a cornucopia of merch, from toys to shoes to notebooks. Its explosive popularity ensconced the word "yōkai" as standard Japanese vocabulary, helped Shōnen Magazine continue to grow beyond its already unprecedented print-run of a million copies per week, and eventually establish Mizuki Shigeru as a household name.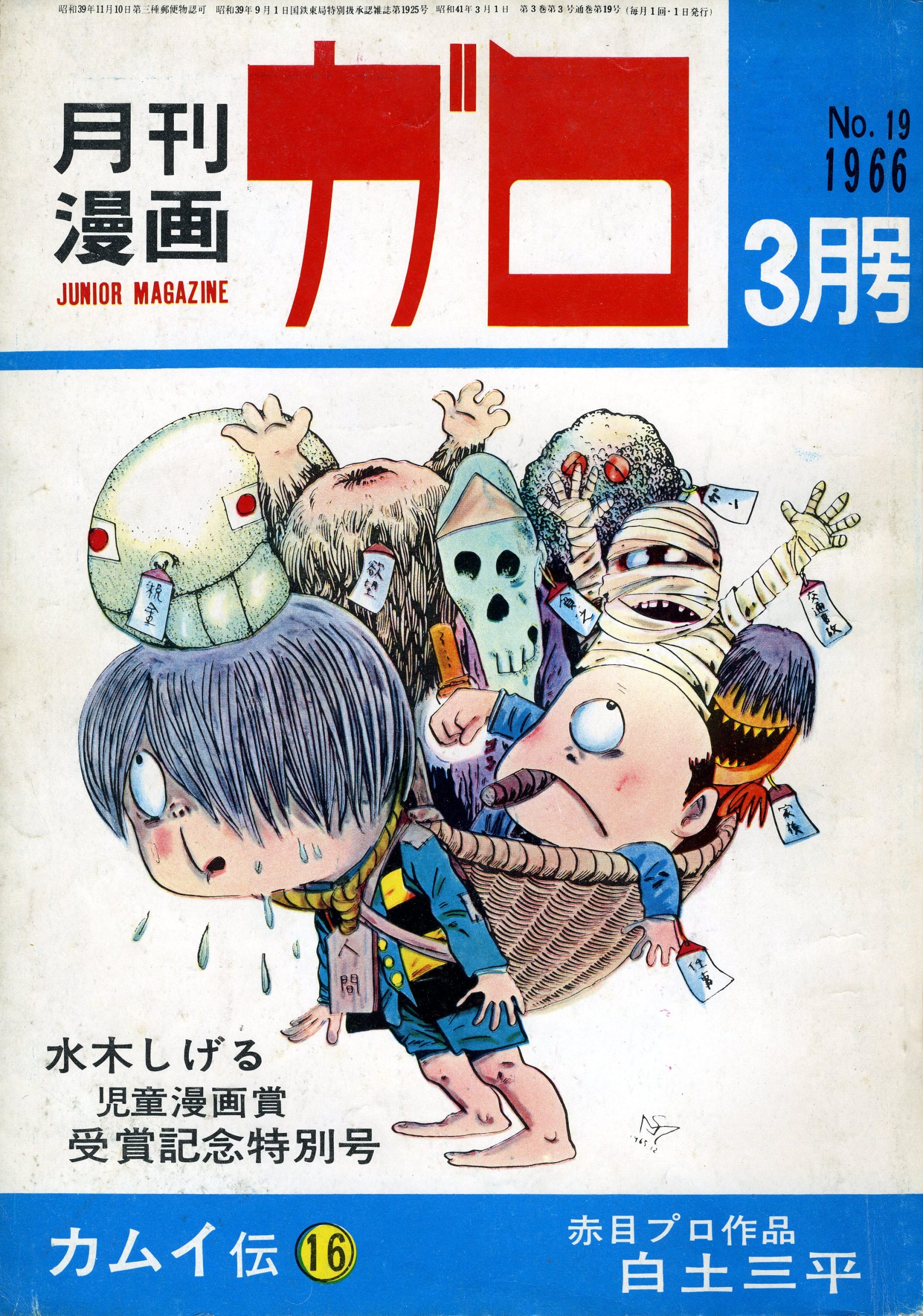 Shigeru Muzuki, Garo cover from 1966
That doesn't explain why Kitaro was on the cover of Garo, though. Or why Television Kid sneaks into a spot ad to nab a bar of "Garo Chocolate." Mizuki's association with the people who created Garo actually predates the magazine's inauguration in 1964. Previously, he had published a number of books with Sanyōsha, a kashihon publisher run by one Nagai Katsuichi, who later created Seirindō, Garo's publisher. Among them was his multi-volume series Kitaro's Night Tales (Kitarō yawa, 1960) and a few of the original Graveyard Kitaro volumes. Sanyōsha also published The Legend of Kagemaru (Ninja bugeichō: Kagemaru-den, 1959-62), the most famous kashihon title by Shirato Sanpei, Garo's founding artist. When Nagai created Seirindō in 1963, he naturally tapped Shirato to be his go-to artist. That led to The Secret Tales of the Ninja Arts (Ninpō Hiwa, 1963-65), a Shirato-fronted, kashihon periodical that is often seen as the prototype of Garo. Mizuki was one of its main contributors, as he was for Garo when it was founded in September 1964, drawing something for more issues than not until 1972—for longer, in fact, than Shirato.

Initially for Garo, Mizuki drew short parodies of historical pop culture legends like the rōnin Miyamoto Musashi and parables about the follies of believing too much in modernism at the expense of folk knowledge. Under his real name, Mura Shigeru, he also wrote short, spoofy articles about gekiga and the difficulties of being a professional cartoonist. In the late '60s, he and his studio contributed war and ghost stories to Garo, some of them rewrites of his kashihon work. Between 1967 and 1969, a redraw of Kitaro's Night Tales was serialized in Garo, presumably to boost the magazine's sales by tapping into the glimmer of one of shōnen manga's hottest properties. Between 1970 and 1972, the magazine also carried Mizuki's dramatization of the life of master swordsman and Tokugawa loyalist Kondō Isami, The Man Who Couldn't Catch a Star (Hoshi o tsukami sokoneru otoko). In 1979, his studio produced a series of brief entries about Japanese ghosts for Garo, under the title A Museum of Japanese Ghosts (Nihon yūrei kan). But otherwise, Mizuki's direct involvement with Garo phased out in the early '70s. If my count is correct, including the Kitaro one mentioned above, there are six Garo issues featuring Mizuki's work on their covers.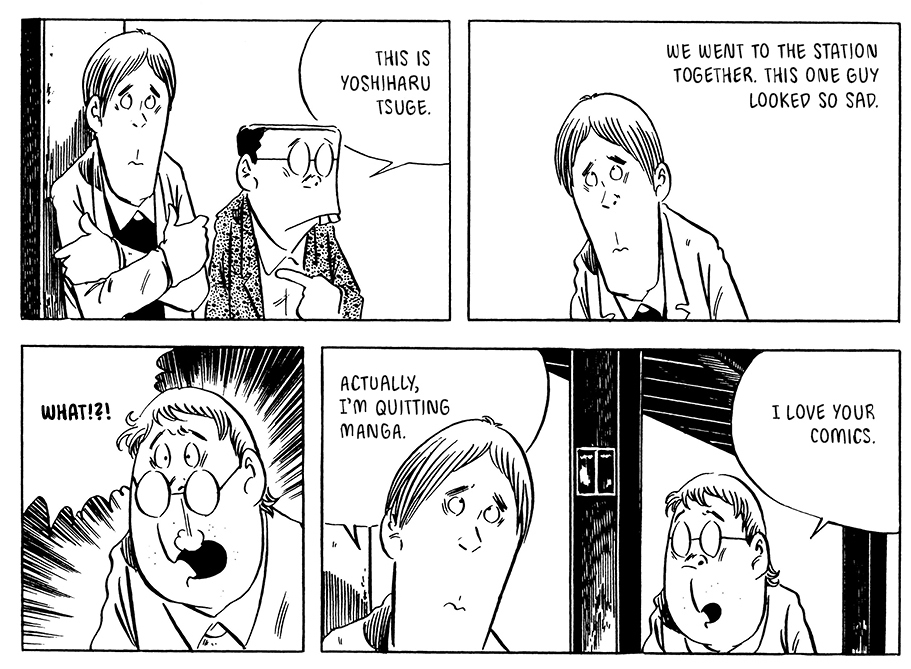 While the personnel of Shirato's studio, Akame Pro, ran Garo in its earliest days, after the creation of Mizuki Pro in 1966, it too became an essential conduit and support system for talent in the magazine's pages. As detailed in Red Flowers and the forthcoming Nejishiki from D+Q, Tsuge Yoshiharu worked for many years at Mizuki Pro, helping on such titles as the redraw of Devil Kid for Shōnen Magazine (1966-67) and some of Mizuki's shorts and redraws for Garo. The work provided Tsuge—who had been a professional cartoonist since the mid '50s but was suffering from worse destitution than Mizuki—with the financial stability he needed to travel the Japanese countryside and craft his pioneering experiments in "literary manga," translated in The Swamp and Red Flowers. Tsuge also adopted elements of Mizuki's drawing style, including the copying of found photographs to create realistic backgrounds, mainly sourced from Mizuki Pro's extensive archive of photos clipped from magazines and books. Interestingly, it seems that Tsuge may have been the one who directed Mizuki's attention specifically to the world of Japanese yokai. Until then, Mizuki's interests ranged more broadly across the world of the supernatural, from Japanese ghosts to American zombies and monsters. Among the many aspiring cartoonists who worked at Mizuki's studio in these years were future gekiga star Ikegami Ryōichi, Garo's first regular female contributor Tsurita Kuniko, Suzuki Ōji, and Furukawa Masuzō, who in 1980 created Mandarake, the vintage manga and related collectibles superstore—which, I imagine, many people reading this article have patronized more than a few times.
So, even if we set aside Mizuki's central role in the modernization of Japanese folklore and the creation of a global yōkai fandom, even if we ignore his many trenchant pages about the horrors of fascism and World War II, he is still incredibly important to the history of Japanese comics and postwar culture. Not only were Mizuki and his studio central participants in the transformation of the manga industry in the mid '60s from a scattered and unstable network of book and magazine publishers, into a streamlined, cross-demographic entertainment industry with its hands in all facets of the cross-platform "media mix," they also facilitated the flowering of alternative manga.
—Ryan Holmberg, translator of Yoshiharu Tsuge's The Swamp and Red Flowers, The Sky is Blue with a Single Cloud by Kuniko Tsurita, and Talk to My Back by Yamada Murasaki
New editions of Onward Toward Our Noble Deaths and the Showa: A History of Japan series by Mizuki hit stores August 2022!