PEOPLE! I am very excited about this book! And here it is in its completed glory! So far, our Enfant kids book line has just been the Moomin picture books by Tove Jansson (The Book About Moomin, Mymble, and Little My and Who Will Comfort Toffle?) but this year we decided to step it up with three new import series–Anna & Froga by Anouk Ricard, Pippi by Astrid Lindgren and Ingrid Vang Nyman, and our new color Moomin series featuring colored versions of the comic stories from Tove and Lars Jansson.

So the first of those books has arrived and it is called Anna & Froga: Want a Gumball?. Translated by our gifted long-time translator Helge Dascher, Anna & Froga is a smart funny kids comic about a group of friends who are not always nice to each other or conscious of feelings or interested in providing support for one another–in other words, friends.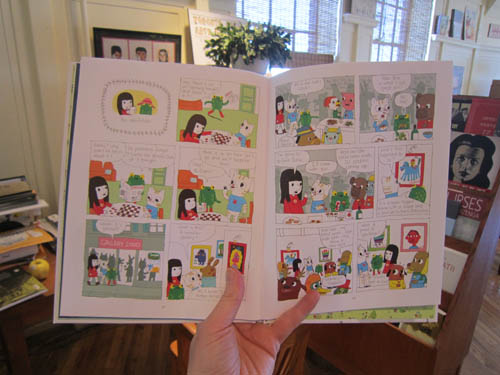 There are 3 more books in the series (in French) so far (with another volume coming soon) so this promises to be a long beautiful relationship. Look for our first volume in stores in July!