2021 has been an exciting, if nerve-wracking, year. Let's put pandemic and supply chain issues aside, and focus on the positive! We released 27 outstanding graphic novels including long-awaited works that were years in the making, breakout titles from newcomer cartoonists, unprecedented translations of vital material, and everything in between from authors around the globe. We published fiction that broke down barriers to win nods from prestigious awards (the Governor General's Awards and the Carnegie Medal), we published our first translation from Simplified Chinese, and we even got to see a theatrical adaptation of Adrian Tomine's comics!
In Canada, Joe Ollmann's Fictional Father became the first graphic novel nominated in the Adult Fiction category of the Governor General Literary Awards. In the USA, Keum Suk Gendry-Kim's The Waiting—the followup to her 2019 breakout Grass—is the first comic nominated for the ALA Carnegie Medal for Excellence in Fiction.
Cultural commentary in many provocative forms took centre stage this year. Aminder Dhaliwal took on minority discrimination and insidious microaggressions with her witty comic, Cyclopedia Exotica, which was beloved by The New York Times, Globe & Mail, Los Angeles Times, and more. Secret Life, beautifully drawn by Theo Ellsworth, adapted award-winning novelist Jeff VanderMeer's short story and vividly addressed the rampant absurdity of office politics. Darryl Cunningham's Billionaires: The Lives of the Rich and Powerful, offered a searing critique of the 1% and their impact on government policy, working conditions, and climate change.
Mirion Malle broke out onto the fiction scene with her moving novel about depression and sexual assault, This Is How I Disappear (trans. from the French by Aleshia Jensen and Bronwyn Haslam), heralded by The New York Times, BUST, Book Riot, and more. Weng Pixin's Let's Not Talk Anymore earned her new recognition in the LA Review of Books and Ms. Magazine as her story depicted intergenerational trauma, violence toward women, and forced migration.
To the joy of many readers, long-awaited comics finally arrived at bookstores everywhere including Guy Delisle's Factory Summers about working at a paper mill as a teenager in Quebec City (trans. from the French by Helge Dascher and Rob Aspinall). Our fourth book with Brecht Evens, The City of Belgium, gorgeously reminded us why we'll never go to a party again. And two we're still waiting for: Rutu Modan's satirical adventure story Tunnels will arrive later in November, translated by Ishai Mishory, and hailed by Nicole Krauss, Jason Lutes, The Guardian, and more. And Quebecois cartoonist Philippe Girard's Leonard Cohen: On a Wire (trans. from the French by Helge Dascher and Karen Houle) brings us the life story of one of Montreal's most iconic artists, five years after his death.
We have also translated several essential works from China, Japan, and Korea including Keum Suk Gendry-Kim's story of the division of North and South Korea with The Waiting, translated from Korean by Janet Hong. November brings the second in a long-awaited series of Yoshiharu Tsuge's alternative manga, Red Flowers, with an essay and translated from the Japanese by Ryan Holmberg. Shigeru Mizuki's Tono Monogatari, edited and translated by Zack Davisson, brought us folk tales from rural Japan of the 1910s. Lastly, we published the underground Beijeng comic artist Zuo Ma's Night Bus, a metaphysical depiction of grief starring an aged grandmother who wanders a disorienting cityscape. Translated from Simplified Chinese (our first!) by Orion Martin, Night Bus turned many heads, with special attention from The New York Times, New Yorker, and NPR.
We had a lot of fun in 2021, because laughter was still very much needed. Keiler Robert's My Begging Chart brought humour to the domestic stillness characterizing so many of our lives. Rebecca & Lucie in The Case of the Missing Neighborby Pascal Girard (trans. Aleshia Jensen) brought us on an adventure through Montreal streets, daycare centres, and grocery stores as we solved a neighbourhood mystery. In the end, Library by fine artists Michael Dumontier and Neil Farber took us home with their hilarious (and surprisingly revealing) collection of painted books, each igniting the flame in our bibliophilic hearts.
Just a gentle reminder to folks to support your local independent bookstores and comic shops. Thank you to our readers and to our cartoonists for another record-setting year.
Please enjoy our 2021 catalogue.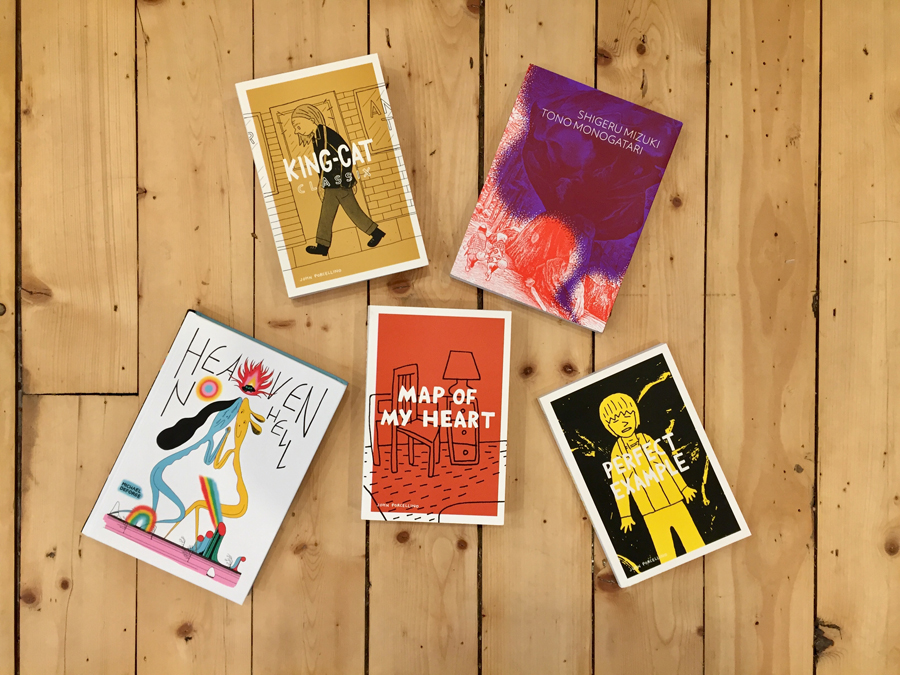 King-Cat Classix by John Porcellino — February 9, 2021
Perfect Example by John Porcellino — February 9, 2021
Map of My Heart by John Porcellino — February 9, 2021
Tono Monogatari by Shigeru Mizuki, translated by Zack Davisson — March 9, 2021
Heaven No Hell by Michael DeForge — March 23, 2021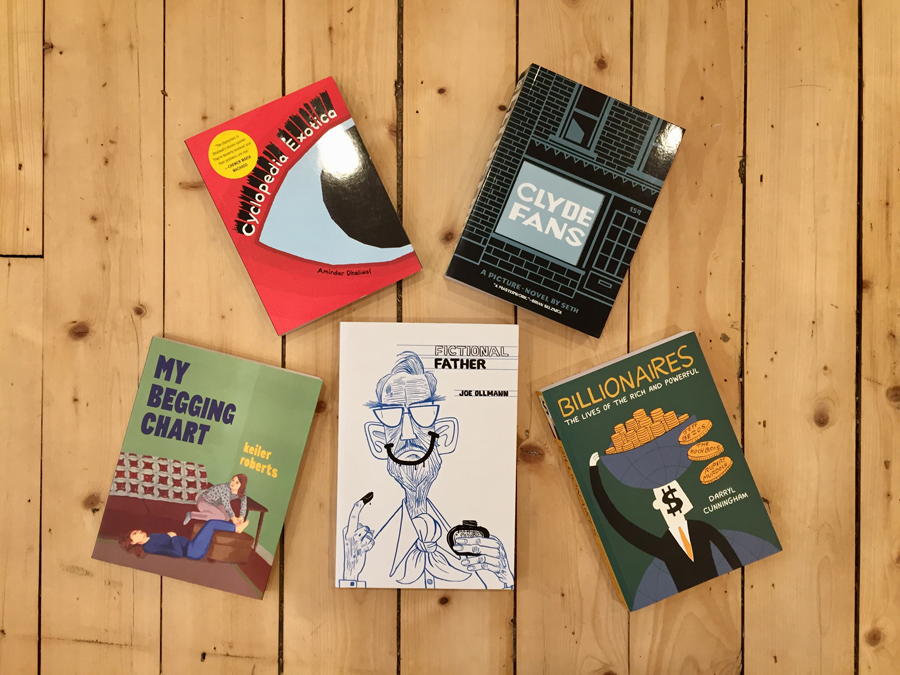 Clyde Fans (Paperback) by Seth — April 20, 2021
Billionaires: The Lives of the Rich and Powerful by Darryl Cunningham — May 4, 2021
Cyclopedia Exotica by Aminder Dhaliwal — May 11, 2021
Fictional Father by Joe Ollmann — May 18, 2021
My Begging Chart by Keiler Roberts — May 25, 2021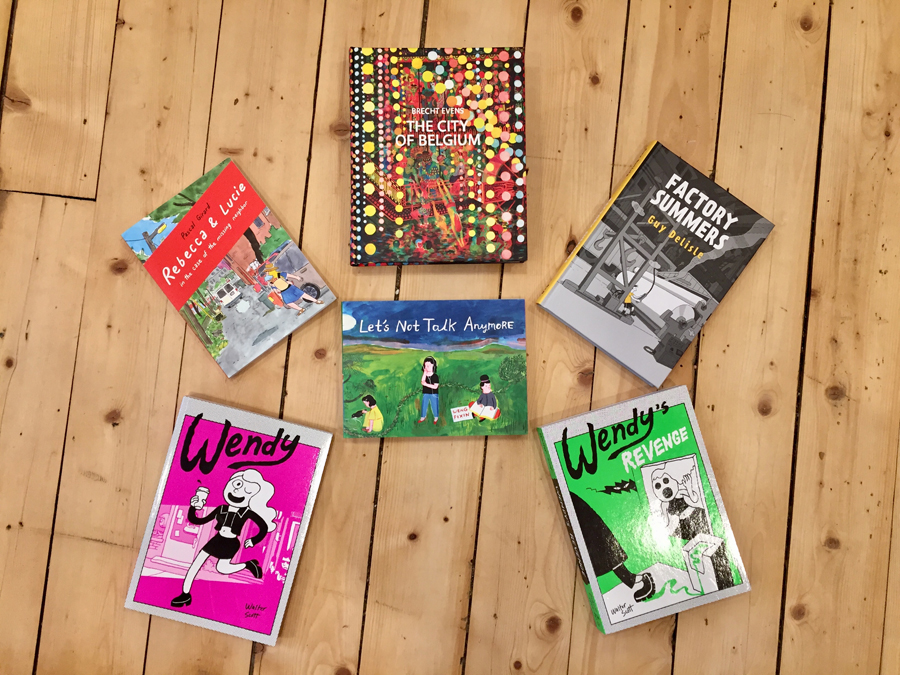 The City of Belgium by Brecht Evens — June 1, 2021
Factory Summers by Guy Delisle, translated by Helge Dascher and Rob Aspinall — June 15, 2021
Let's Not Talk Anymore by Weng Pixin — June 22, 2021
Rebecca & Lucie in The Case of the Missing Neighbor by Pascal Girard, translated by Aleshia Jensen — June 29, 2021
Wendy by Walter Scott — August 10, 2021
Wendy's Revenge by Walter Scott — August 10, 2021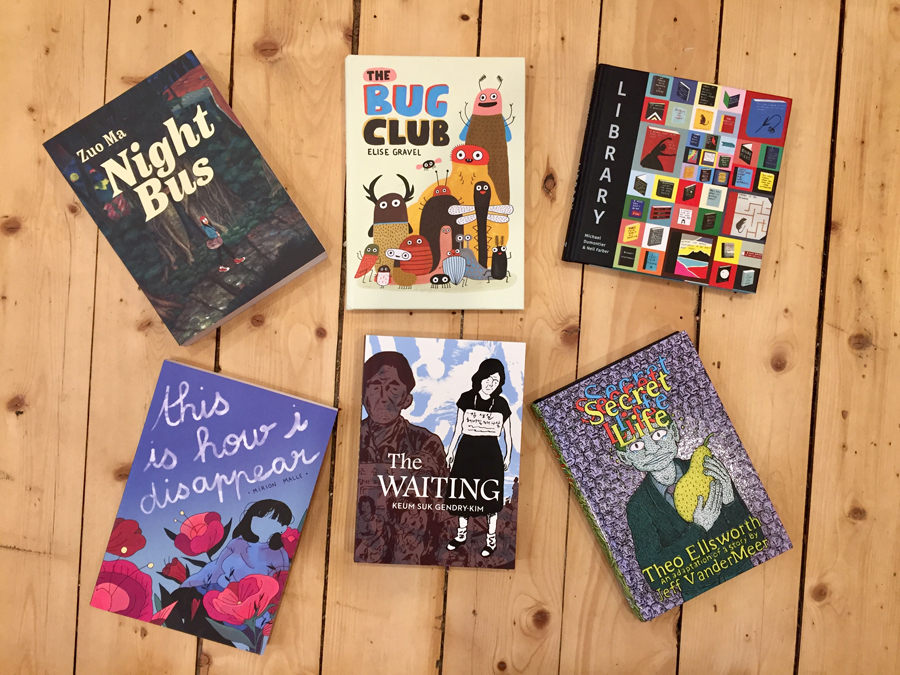 The Bug Club by Elise Gravel — August 10, 2021
Night Bus by Zuo Ma, translated by Orion Martin — August 24, 2021
Secret Life by Theo Ellsworth and Jeff VanderMeer — September 28, 2021
This Is How I Disappear by Mirion Malle, translated by Aleshia Jensen and Bronwyn Haslam — October 5, 2021
Library by Michael Dumontier and Neil Farber — October 12, 2021
The Waiting by Keum Suk Gendry-Kim, translated by Janet Hong — November 2, 2021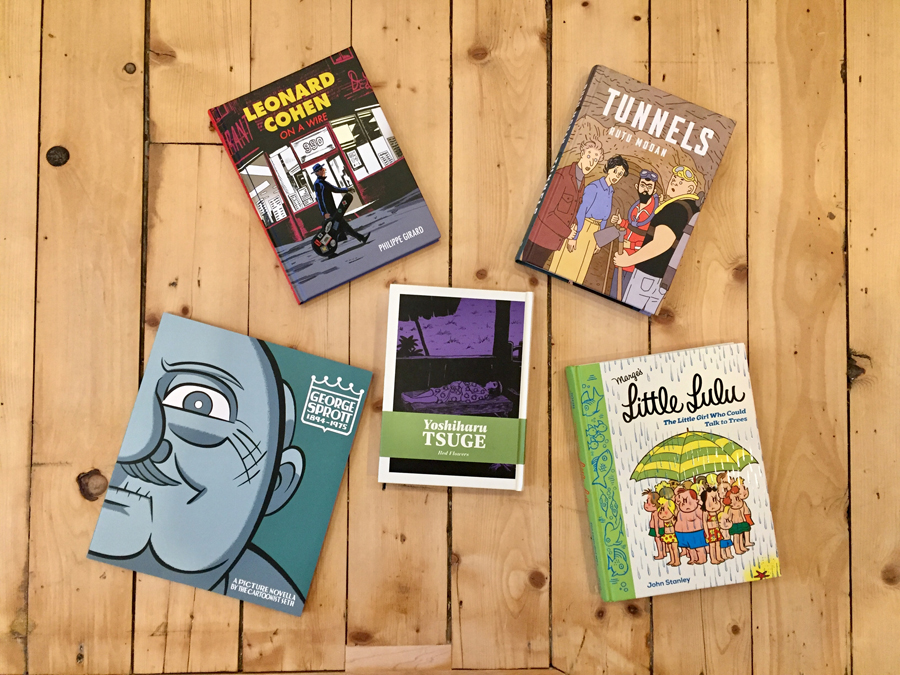 Tunnels by Rutu Modan, translated by Ishai Mishory — November 16, 2021
Leonard Cohen: On a Wire by Philippe Girard, translated by Helge Dascher and Karen Houle — November 16, 2021
Red Flowers by Yoshiharu Tsuge, translated by Ryan Holmberg — November 23, 2021
Little Lulu: The Little Girl Who Could Talk to Trees by John Stanley — December 14, 2021
George Sprott 1894-1975 by Seth — December 14, 2021