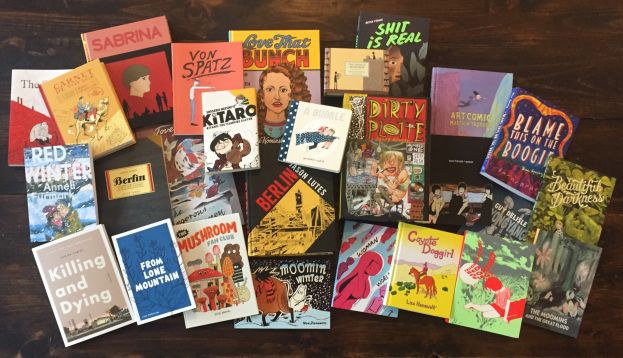 2018 has been an exciting year for books! This year we had the pleasure of publishing 27 of 'em, 11 books being translations, 4 by Canadians, and 7 reprints.
In 2018 we published numerous career-defining works: beginning with Love That Bunch which presents Aline Kominsky-Crumb's work from the 1970s up to 2014, then Berlin by Jason Lutes, the meticulously crafted, 20 years in-the-making story of life before the collapse of the Weimar Republic and, of course, Dirty Plotte: The Complete Julie Doucet which collects all of Doucet's Dirty Plotte issues, My New York Diary, and much more rarely seen work. Each of these books encapsulates their author's career span, giving a glimpse into how their styles have grown over decades of work.
Nick Drnaso's Sabrina had the honour of being the first ever graphic novel to be nominated for the Man Booker Prize. The book was widely accoladed, with the New York Times declaring it a "profoundly American nightmare," and Zadie Smith naming it "the best book—in any medium—about our current moment." Heralded by the New York Times Book Review and the LA Review of Books, From Lone Mountain by John Porcellino reminded us that nature can serve as an anchor in these politically turbulent times in his "magically minimal style," as PEN describes it. Jerome Ruillier's The Strange displays what life is like for undocumented immigrants, a story The Atlantic calls a "remarkable read." We published two very different love stories in translation that both came heralded by the Guardian: Anneli Furmark's Red Winter explored 1970s Swedish political turmoil while Aisha Franz's Shit Is Real looked deep into anxiety and the digital disconnect.
But wait, we published funny books too! Woman World, Aminder Dhaliwal's post-apocalyptic universe where men have gone extinct was praised by The Hollywood Reporter, Nylon, and NPR, where it was described as, "A remarkably sly and devastating critique of patriarchy," along with an original comic being featured in The New Yorker. Lisa Hanawalt's first graphic novel, Coyote Doggirl, was a delight for everyone, but especially the horse girls, and earned praise in Huffington Post, The Atlantic, NPR, and The New Yorker, which calls the book, "An introvert's paean to the pleasures of being alone." Similarly hilarious and offbeat are Von Spatz by Anna Haifisch, which i09 praised for its "puckish sensibilities" and the "raw, bizarre meditation on why we idiot humans bother to create anything" (Vulture) that is Art Comic by Matthew Thurber.
2018 also brought plenty of titles for our young readers. The Mushroom Fan Club will make a fungi scavenger out of us all, and we can find plenty of comparatively high-stakes adventure in Kitaro The Vampire Slayer, and the new paperback edition of Beautiful Darkness. Genevieve Castree's board book A Bubble delicately presents death to young readers with grace and sensitivity. And Moomin fans young and old can appreciate our new edition of Moomin Winter, along with reprints of the first and last Moomin stories written by Tove Jansson, The Moomins and the Great Flood and The Dangerous Journey respectively.
Publishers Weekly beat every other publication to it and already released their Best of 2018 list which ranks Bad Friends by Ancco as one of the top five graphic novels of the year! When it's released on November 6, Rina Ayuyang's Blame This on the Boogie will make readers everywhere swoon with its bold use of colour and "big-hearted charm," as Daniel Clowes put it.
Please enjoy perusing our 2018 catalogue.
— — — — — — — —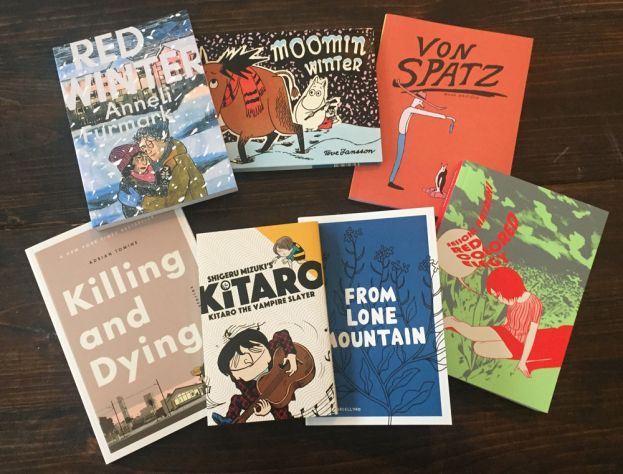 Kitaro the Vampire Slayer by Shigeru Mizuki — January 20, 2018
Red Winter by Anneli Furmark — January 23, 2018
Killing and Dying by Adrian Tomine — February 6, 2018
Red Colored Elegy by Seiichi Hayashi — February 20, 2018
Moomin Winter by Tove Jansson — February 27, 2018
Von Spatz by Anna Haifisch — March 13, 2018
From Lone Mountain by John Porcellino — March 20, 2018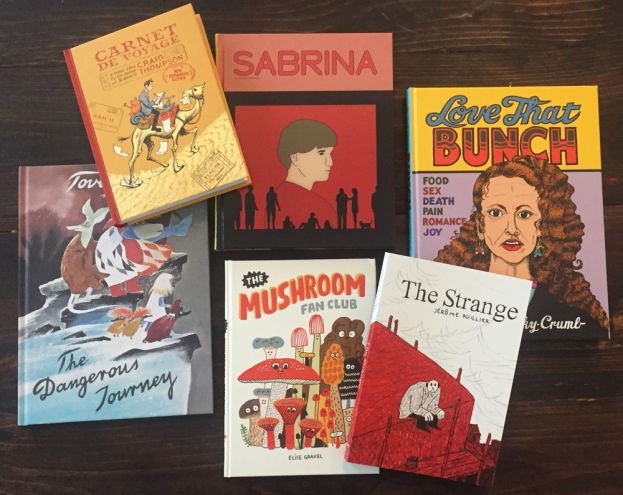 The Dangerous Journey by Tove Jansson — April 17, 2018
Carnet De Voyage by Craig Thompson — April 24, 2018
Love That Bunch by Aline Kominsky-Crumb — May 1, 2018
The Mushroom Fan Club by Elise Gravel — May 8, 2018
Sabrina by Nick Drnaso — May 22, 2018
The Strange by Jérôme Ruillier — June 12, 2018
A Bubble by Geneviève Castrée — June 26, 2018
Shit Is Real by Aisha Franz — July 10, 2018
The Moomins and the Great Flood by Tove Jansson — August 14, 2018
Coyote Doggirl by Lisa Hanawalt — August 21, 2018
Berlin by Jason Lutes — September 4, 2018
Berlin Book Three: City of Light by Jason Lutes — September 4, 2018
Woman World by Aminder Dhaliwal — September 11, 2018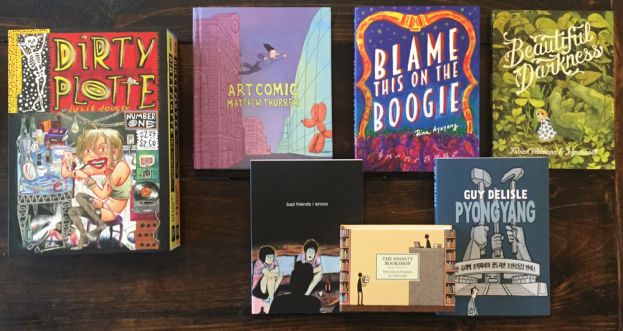 Pyongyang by Guy Delisle — October 2, 2018
Art Comic by Matthew Thurber — October 2, 2018
Bad Friends by Ancco — October 16, 2018
Dirty Plotte: The Complete Julie Doucet — October 23, 2018
Beautiful Darkness by Fabien Vehlmann and Kerascoët — October 30, 2018
Blame This on the Boogie by Rina Ayuyang — November 6, 2018
The Snooty Bookshop by Tom Gauld — November 13, 2018