The Toronto Comic Arts Festival is this very weekend and we couldn't be more excited to share all our big plans with you. Join us on Saturday for talks by Lynda Barry, Marc Bell, Kate Beaton, Michael DeForge, Julie Delporte, Julie Doucet, Matt Forsythe, Pascal Girard, Keith Jones, Adrian Tomine, and more!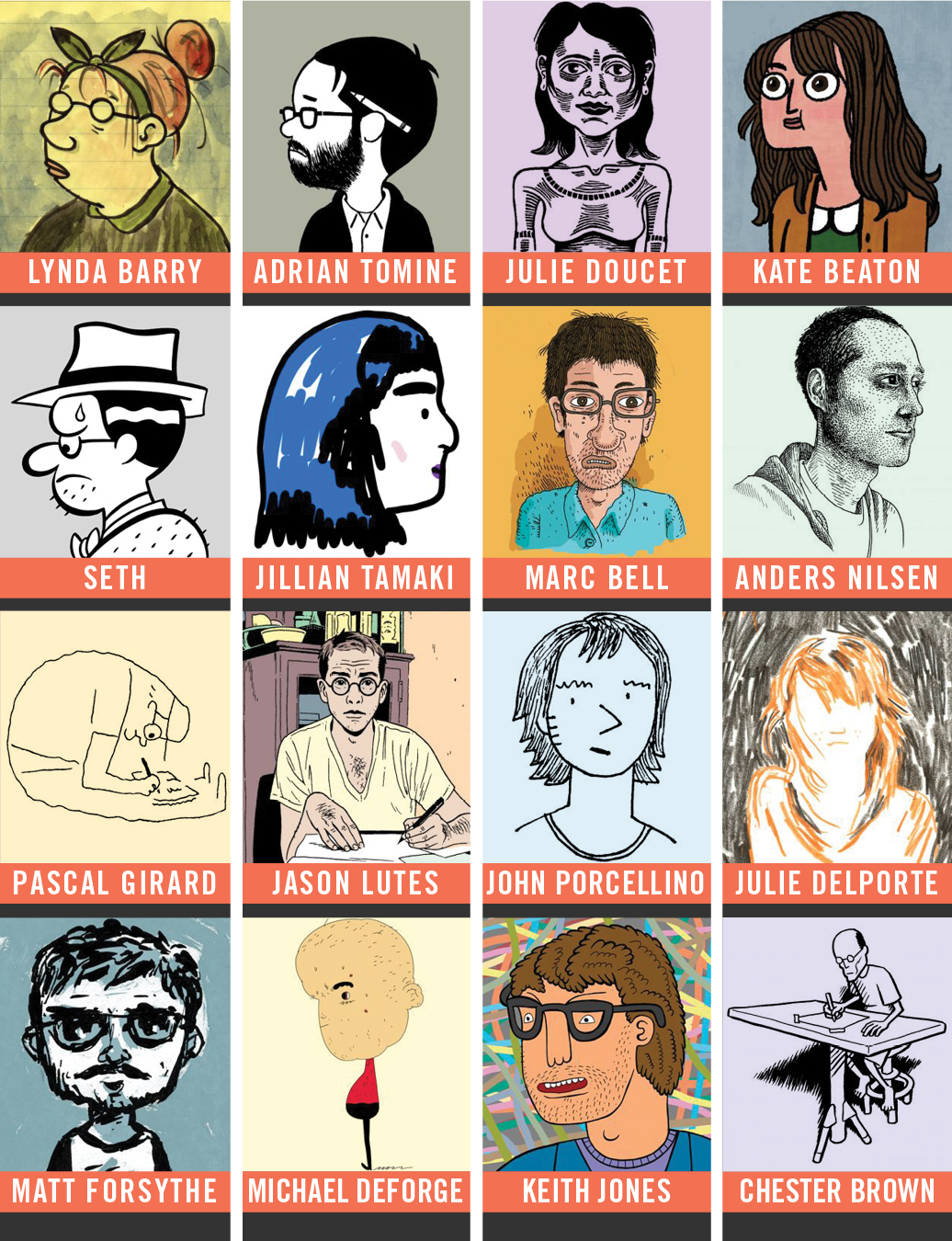 You know what's up on Friday already! The full throttle festival runs Saturday May 9th from 9 am to 5 pm and Sunday May 10th from 11 am to 5 pm in the Toronto Reference Library at 789 Yonge Street. You'll find D+Q in the same old spot right by the entrance, but we've also got a special place on the third floor of the library. The bulk of the D+Q programming will be taking place in this brand new space called the Hinton Learning Theatre, which is near the elevators on the third floor of the Reference Library. After each panel in this room, the authors will be available to sign copies of their books at a nearby table.
Please note that Kate Beaton will not be signing this weekend, and that Lynda Barry and Julie Doucet will be signing Saturday only. Here's what's up for Saturday chez D+Q:
PROGRAMMING SATURDAY MAY 9TH:
10 am to 11 am: HINTON LEARNING THEATRE (3rd floor, Reference Library)
Marc Bell in conversation with Kate Beaton
It's perhaps a little known fact that Marc Bell (Stroppy, Pure Pajamas) and Kate Beaton (Hark! A Vagrant) both attended Mount Allison University and both were editors of the school newspaper's comics section. As Beaton dug back into the archives she came across an era where the editor filled every available space with doodles and nonsense. That editor was, of course, Marc Bell. With the release of his first graphic novel Stroppy, two of the funniest and most affably nomadic cartoonists, Bell and Beaton, sit down and talk about how a character gets its voice, makes its choices, and why sometimes the best parts of comics are hidden in the corners of the panels.
11 am to 12 pm: HINTON LEARNING THEATRE
Translation & Bilingualism: Bonjour / Hello
Longtime D+Q translator Helge Dascher joins D+Q cartoonists Julie Delporte (Everywhere Antennas) and Pascal Girard (Petty Theft) for a wide-ranging discussion of the realities of translating comics and what is gained or lost in translation. They will also discuss how living in a bilingual city with French and English comics communities transforms their comics-making experience. Drawn & Quarterly Marketing Director Julia Pohl-Miranda moderates.
12 pm to 1 pm: HINTON LEARNING THEATRE
John Porcellino and Julie Doucet in conversation with Tom Devlin:
Julie Doucet (My New York Diary) and John Porcellino (The Hospital Suite) have been pen pals and friends for nearly twenty-five years. In this discussion, they look at their own and each other's approaches to art-making, whether in comics, diaries, or collage for Doucet or in the long-running, same-formatted King-Cat Comics & Stories for Porcellino. They'll talk about why they work the way they do and what they hope to learn by approaching storytelling using varying methods.
12:15 pm – 1 pm: Marriott Bloor Yorkville Forest Hill Ballroom (90 Bloor St. E.)
The Art of the Travelogue
The comics form lends itself beautifully to carnet de voyages, documents of trips, times, and places. Meet five of the foremost authors working in this genre, covering important, unexpected, and incredible trips, in comics. Featuring Lucy Knisley (Displacement), Boulet (Notes), Abby Denson (Cool Japan), Kate Lavut (CHiCO), Kate Beaton (Hark! A Vagrant), and Oliver East (Trains Are… Mint). Moderated by Johanna Draper Carlson (Comics Worth Reading).
1:30 pm – 2:30 pm: Marriott Bloor Yorkville Forest Hill Ballroom (90 Bloor St. E)
Lynda Barry, Funk Queen of the Universe, moderated by Nathalie Atkinson
Professor of comics (Syllabus), creativity guru (What It Is), groundbreaking alternative cartoonist (Ernie Pook's Comeek), award-winning graphic novelist (One! Hundred! Demons!), Lynda Barry needs no introduction. Globe & Mail columnist Nathalie Atkinson interviews Barry about her most recent book Syllabus and her work as an Assistant Professor in Interdisciplinary Creativity at the University of Wisconsin-Madison.
1:30 pm to 2:30 pm: The Pilot (22 Cumberland St.)
Etienne Davodeau in conversation with Pascal Girard
Etienne Davodeau has a long and venerated career in French comics, but his masterworks are only now beginning to appear in English. His 2014 release The Initiates, an autobiographical tale about a winemaker and comics artist who 'trade jobs' for a year, topped many critics lists! Now in 2015 Davodeau releases the acclaimed Lulu Anew, a bestseller which inspired a feature film in France! Meet Davodeau as he converses with his former collaborator, Quebecois cartoonist Pascal Girard (Petty Theft, Reunion) and moderator Thomas-Louis Côté, director of the Festival de la BD francophone à Quebec in what is sure to be a wonderful discussion.
2 pm to 3 pm: HINTON LEARNING THEATRE
Jillian Tamaki and Adrian Tomine in conversation, moderated by David Berry
Jillian Tamaki and Adrian Tomine are two of the most acclaimed cartoonists working today, both for their ability to command unique visual styles, and for the way they render realistic, and often funny, three-dimensional characters. National Post columnist David Berry will speak to these legends about their TCAF debut books, Optic Nerve 14 (Tomine) and SuperMutant Magic Academy (Tamaki).
3 pm to 4 pm: HINTON LEARNING THEATRE
Speculative Literary Comics
Drawn & Quarterly managing editor Tracy Hurren unpacks the constructed worlds of cartoonists Michael DeForge (First Year Healthy), Keith Jones (Catland Empire), and Matt Forsythe (Jinchalo) who operate outside of the usual world of independent cartoonists by designing a top-down approach to fantastical dreamscapes.
SIGNING SCHEDULE FOR SATURDAY MAY 9TH:
Signings take place at the D+Q booth on the ground floor of the Reference Library, next to the Hinton Learning Theatre on the third floor of the Reference Library, and in the Marriott Bloor Yorkville.
10 am – 11 am Anders Nilsen and Seth – D+Q booth
11 am – 12 pm Marc Bell – Hinton Learning Theatre
Jason Lutes and Adrian Tomine – D+Q booth
12 pm – 1 pm Pascal Girard and Julie Delporte – Hinton Learning Theatre
Seth and Jillian Tamaki – D+Q booth
1 pm – 2 pm Julie Doucet and John Porcellino – Hinton Learning Theatre
Chester Brown and Michael DeForge – D+Q booth
2 pm – 3 pm Chester Brown and Jason Lutes – D+Q booth
2:30 pm – 4 pm Lynda Barry – Marriott Bloor Yorkville's Yorkville Room (90 Bloor St. E.)
3 pm – 4 pm Jillian Tamaki and Adrian Tomine – Hinton Learning Theatre
Anders Nilsen and Marc Bell – D+Q booth
4 pm – 5pm Michael DeForge, Matt Forsythe, Keith Jones – Hinton Learning Theatre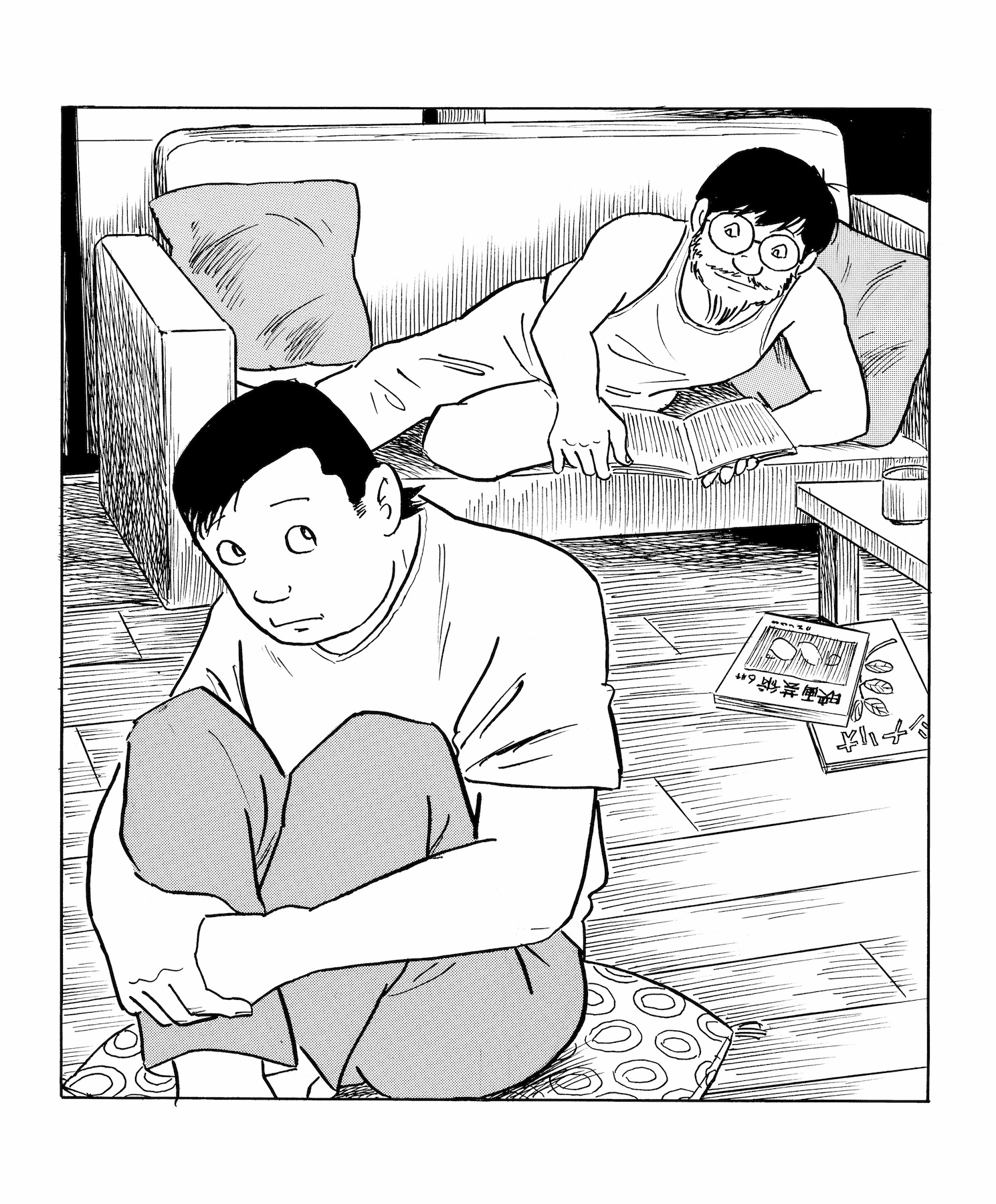 From Yoshihiro Tatsumi's contribution to D+Q 25
Screening of Tatsumi and tribute to Yoshihiro Tatsumi:
3 pm to 5 pm: The Japan Foundation Toronto (131 Bloor St. West, 2nd floor)
TATSUMI: Movie Screening and Tribute
Free event, open to the public. RSVP to guarantee seating.
In memory of the pioneering gekiga manga artist Yoshihiro Tatsumi, (June 10, 1935 – March 7, 2015), Toronto Comic Arts Festival and The Japan Foundation, Toronto present a special screening of Tatsumi, Eric Khoo's 2011 animated film. Tatsumi, a tribute to the life and work of Yoshihiro Tatsumi, will be introduced by TCAF's Christopher Butcher, and other local friends of the artist. Mr. Tatsumi was an honoured guest at TCAF in 2009, when he published his autobiographical manga, A Drifting Life.
The Doug Wright Awards:
8 pm to 9:30 pm: Marriott Bloor Yorkville (90 Bloor St. E.)
Free event, open to the public.
Founded in 2004, The Doug Wright Awards recognize the best in English-language comics (or translations of French) by Canadian cartoonists. Now in their 11th year, the awards will be handed out at a ceremony at Toronto's Marriott Bloor Yorkville Hotel on Saturday May 9, 2015 from 8 pm – 9:30 pm. Congratulations to all the nominees, including Michael DeForge (Ant Colony) and Julie Delporte (Everywhere Antennas).
Be sure to check out our Sunday, because that's not all, folks!